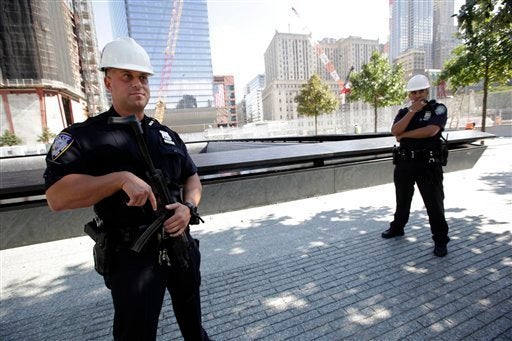 WASHINGTON -- As counterterrorism officials here and in New York search frantically to confirm a "credible" report of an "active plot" to set off explosive-laden car bombs in the cities hit on Sept. 11 a decade ago, one intelligence expert voiced doubts whether such an attack could practically be pulled off.
Reports that three men entered the United States after mid-August with the intent to set off a vehicle bomb on the Sunday anniversary of 9/11 raise questions about whether the suspected plot might be homegrown or wider than reported, said Scott Stewart, vice president of tactical intelligence for Stratfor, an Austin, Texas-based global intelligence firm.
"It would be really hard for three people traveling into the U.S. from Pakistan to pull together a VBIED (vehicle-borne improvised explosive device) attack in just a couple weeks," Stewart said in emails to The Huffington Post. "Unless they had some sort of network already in place gathering the materials required to construct large quantities of improvised explosives, I would anticipate a different sort of attack from three guys coming into the country with a very short operational lead time. Something more like small suicide devices or an armed assault."
Sources cited by ABC News said at least one of the men is a U.S. citizen and the two others may have green cards or other U.S. government documents. Little else is publicly known about whether or how long they may have been in the country previously or whether unknown co-conspirators were already in place.
But Stewart said that previous vehicle bomb attacks have taken much more time to plan and carry out than the few weeks between the men's suspected arrival and Sunday's anniversary ceremonies. Among them:
World Trade Center bombing, Feb. 26, 1993. The first attack on New York's twin towers killed six people and injured more than 1,000 when a truck bomb detonated in an underground parking garage. Convicted bomber Ramzi Yousef and another co-conspirator arrived in the U.S. in September 1992. With the help of a local grassroots cell, they worked for months to assemble the complex, 1,300-pound explosive device.
Oklahoma City bombing, April 19, 1995. Timothy McVeigh and Terry Nichols began gathering the ammonium nitrate fertilizer and other explosives used in the truck bombing in the summer and fall of 1994 and started surveillance of the Alfred P. Murrah Federal Building in December. The planning unfolded for months before the men carried out the attack that killed 168 people and stood as the worst act of terrorism on U.S. soil until 9/11.
Attempted Times Square car bombing, May 1, 2010. Faisal Shahzad, a Pakistani American, returned to the United States from his native country on Feb. 3, 2010, after receiving bomb-making training. Less than a month later, his improvised explosive device malfunctioned in New York's theater district. "Shahzad's device was really half-baked," Stewart said, suggesting the would-be bomber either was inept or had acted too hastily in setting up his plot.
Norway attacks, July 22, 2011. Suspect Anders Breivik is accused of setting off a car bomb outside government buildings in Oslo before going on a shooting rampage at a youth camp. He has claimed that he began planning for the attack nine years ago but apparently took his first concrete steps in May 2009, when he established a bogus farm in order to obtain fertilizers used to make explosives. He began buying components for the car bomb in December, more than six months before he allegedly carried out the attacks.
FBI spokesman Paul Bresson said Stewart's suggestion that there might not be enough time for suspected al Qaeda operatives to pull off a successful operation by Sunday "sounds like a lot of speculation and conjecture." Bresson said he had no other details to add beyond official statements released Thursday evening.
Even if the wanted men reportedly sent by al Qaeda's new leader, Ayman al-Zawahri, have had enough time to plan an attack timed for this Sunday, Stewart said the blanket publicity about the threat may reduce the risk.
"It is going to be very hard to conduct an attack into the teeth of an alert -- especially at a high-profile target," he said. "Security measures were already ratcheted up for the 9/11 anniversary. They will be taken up another notch now."
REAL LIFE. REAL NEWS. REAL VOICES.
Help us tell more of the stories that matter from voices that too often remain unheard.