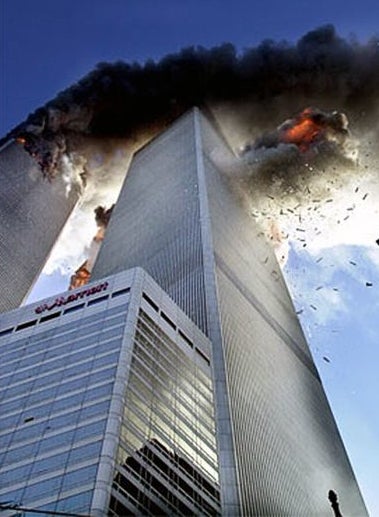 I woke up, as always, to the Channel 11 news and practically the first thing I saw was the plane crashing into the tower. I couldn't believe it initially, but they kept showing it over and over again until I had to accept the fact that it had actually happened.
"What idiot would crash a small plane into the most visible structure on the New York skyline?" I thought. Then the reports started coming in: It wasn't a small plane, it was a commercial airliner. What the hell was going on? It began to dawn on me that something big was happening here, that this might not be a freak accident.
I wasn't scared at all. In fact, the adrenaline was coursing through my system in the same way it does when I watch a good football game, or when I'm turned on by a spectacular woman. It never occurred to me to be frightened, just excited, and I couldn't take my eyes or ears off the television news.
Only one plane had struck by the time I was dressed and ready to leave for work, so I jumped in my car and turned on Howard Stern, who was covering the event in a quasi-journalistic fashion, with a lot of personal stuff that actually added to the drama. I lived in Ventura and worked in East LA County, so I had a long ride to just listen to the coverage.
Then the unbelievable: A second plane hit the tower, and it suddenly became clear that we were under attack. Soon after, the tower came down, and the Stern crew described every detail excruciatingly, painfully, and tearfully. I can't recall ever feeling so emotional over an event that was not really happening to me.
But it was happening to me. It was happening to all of us. The Pentagon was attacked next. Jesus, World War III was beginning! Those poor people in the buildings! What a horrible way to die!
It gradually became clear that I was heading out of Ventura, a sleepy ocean tourist town unlikely to be involved in any war, and into LA, a likely target. Should I turn around?
I was headed to a women's rehab ― Prototypes Women's Center in Pomona ― where I did vocational counseling. The residents would be terrified and in utter confusion, and they would need someone there to keep people calm. I had to keep going. Anyway, in an event of this magnitude, it seemed that there was no real safe place to be. Didn't an attack plane go down in Pennsylvania? Not even Pennsylvania, not even Ventura, was safe. It was all the same wherever you were. Nuclear weapons were being unleashed, it was just a matter of time, I thought. Lots of us were doomed anyway.
The funny thing is, I never, even after the second plane, the thing in Pennsylvania, the attack on the Pentagon, even after all of those things happened to us as a country, things unprecedented since Pearl Harbor, felt scared. The whole sequence of events was so unbelievable that it cut off my ability to react in any kind of familiar way.
What was really ironic, I thought at the time, was that when I was locked up in 1998 I used to pray that something catastrophic like this would happen. Maybe all the records would be destroyed, maybe all the security systems would break down, and I would somehow be a free man in a country ruled by anarchy. And here it was happening, just as I planned it, only three years too late.
What added to that irony was the constant reference to the "Twin Towers," which is the nickname of the the LA County Jail. Twin Towers means something completely different if you're a junkie criminal in LA.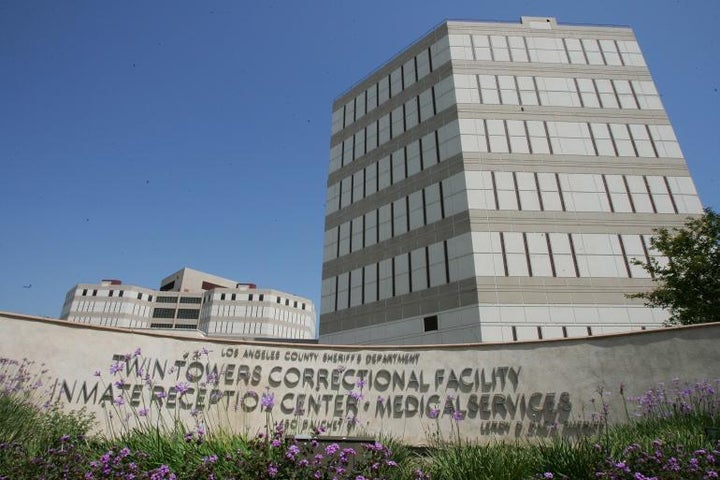 REAL LIFE. REAL NEWS. REAL VOICES.
Help us tell more of the stories that matter from voices that too often remain unheard.