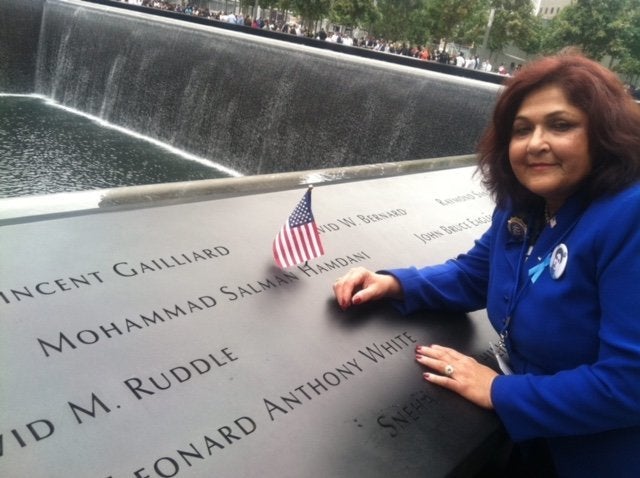 Now, some victims' family members are speaking out against Trump's order ― and claiming that his administration is using their loved ones' deaths to stoke fear. 
Terry McGovern, whose mother Ann McGovern died in the South Tower, said that she was "sickened" by Trump's use of September 11 to justify "hatred, bigotry, and religious discrimination."
"Don't use our loved ones, and especially my mother, to turn away refugees," McGovern said during a press conference call arranged by the group. "This is not about protecting Americans. This is about bigotry. I for one am really tired of the exploitation of 9/11 for agendas that have nothing to do with our loved ones."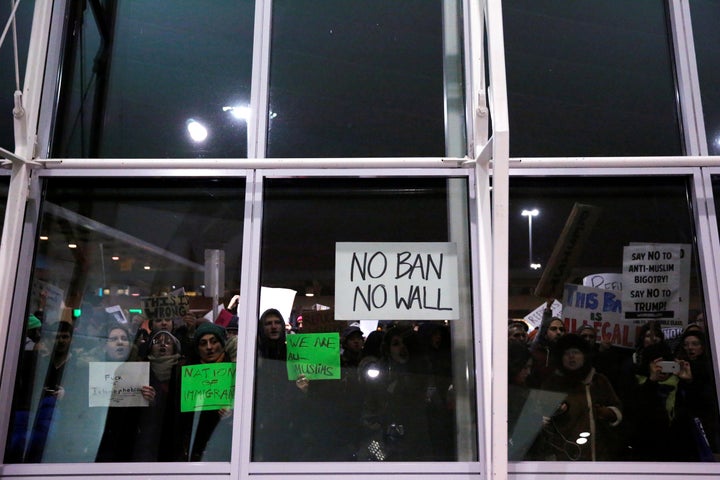 The stated purpose of Trump's executive order, which was announced last Friday, is to "protect the American people from terrorist attacks by foreign nationals admitted to the United States." The order suspends all refugee resettlement for 120 days and indefinitely blocks Syrian refugees. It also temporarily bans people from seven Muslim-majority countries ― Iran, Iraq, Libya, Somalia, Sudan, Syria and Yemen ― from entering the United States. Notably missing from that list are the countries the terrorists involved in the September 11 attacks originated from: Saudi Arabia, the United Arab Emirates, Egypt, and Lebanon. 
Talat Hamdani is an American Muslim whose son, Mohammad Salman Hamdani, lost his life at the Twin Towers as a first responder to the attacks. During the call, she said she believes Trump's order amounts to "religious persecution" and that she fears it will eventually lead to more stringent attacks on the American Muslims' freedoms.
"There is a lot of fear, intimidation and anxiety among the community," Hamdani said. "This order has disrupted our lives."
September 11th Families for Peaceful Tomorrows began in 2002 as a critique of U.S. military action in Afghanistan that claimed civilian lives.There are currently about 30 active members who participate regularly in the organization, although its official membership count is 241. The group has come together over the years to speak out whenever the tragic events of that day are used by politicians to justify other deaths.
The group does not represent all families of 9/11 victims. Kathleen Ganci, whose husband was the highest-ranking New York City Fire Department killed in the attacks, expressed her support for the ban to The New York Times.
"Walk in my shoes, is my point," Ganci said. "You can't just let people into this country because you have a big heart." 
But Emma Barker-Lasar, whose great-uncle Abraham Zelmanowitz died in the attacks, spoke of Trump's order as a fresh injustice that is "unacceptable to any reasonable person." 
"We cannot and should not allow them to be carried out in our names, or in the names of our loved ones," Barker-Lasar said during the call.
Other family members against the ban included Terry Rockefeller, John Sigmund, Andrew Rice, Barry Amundson and Adele Welty.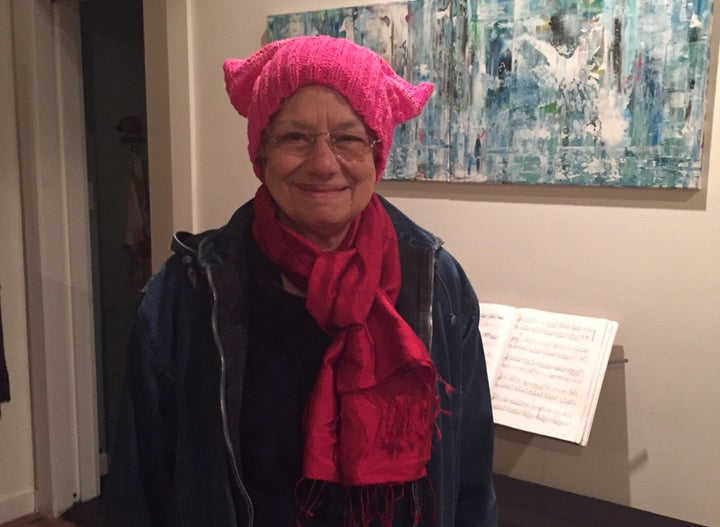 Welty, who lost her firefighter son Timothy Welty in the attacks, expressed concerns about the Islamophobic rhetoric Trump has used to target both refugees and American Muslims. She pointed out that this kind of discrimination against minorities has happened before in American history ― in the way the United States treated Japanese Americans and Jewish refugees during World War II. 
Welty spoke of own experiences as a child growing up in an Italian immigrant family. She said she remembered being associated with stereotypes about the mafia, just because of her heritage.
It's that same "bigoted paranoia" in American society today that refuses to distinguish between terrorism and religion, she said.
"I get very emotional about it because it's very real to me from my own childhood and I see it happening now to poor [American Muslim] children," Welty said. "It's wrong, it's moronic ... We want to welcome everyone onto our shores. This is supposed to be a safe haven."
Calling all HuffPost superfans!
Sign up for membership to become a founding member and help shape HuffPost's next chapter
BEFORE YOU GO
PHOTO GALLERY
Nationwide Protests Against Trump's Executive Order