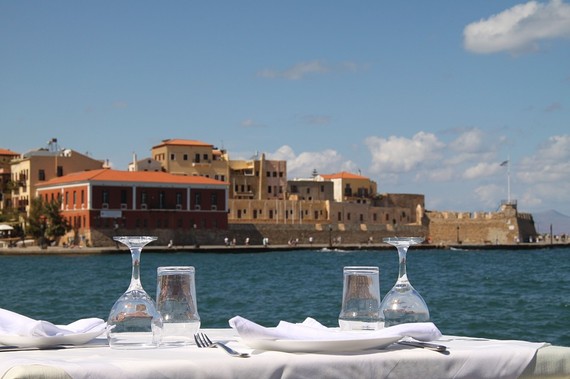 Greece ranks among the world's most popular summer destinations. Its countless islands looms exotic in the eyes of millions of visitors. As a friend once quipped, "if you ask people where Greece is located, you'll hardly ever get a correct response. But everyone knows where Mykonos is!"
Of course Greece is more than Mykonos and isn't only for summer. I've always thought of September as the best month for a vacation and I was always drawn to destinations off the beaten path of the travel guides and top five travel websites.
And, of course, what adds value to a destination is good food. What's the best way to cap the day on your vacation? Good company, good friends, good talk amid clinking glasses and a table of traditional local goodies is the archetypal image of Greek summer.
With this in mind, I decided to compile my own Top 5 restaurants and destinations where someone can experience the best of Greece, including its offerings for the palate.
Taverna Stelios
Theologos, Thassos
The island of Thassos is located in northern Greece. It's one of the greenest islands, where verdant mountains and charming beaches create a perfect harmony. The fact that it's off the beaten track means prices are quite affordable for anyone who wishes to get to know both the island and its hospitable inhabitants.
Theologos is the island's northernmost village. It's a traditional settlement that dates back to the early 13th century and the go-to destination for locals with a craving for roast, especially goat. Taverna Stelios stands out among local eateries. Side dishes and salads are exceptional but don't overindulge. The roasted goat I sampled isn't simply the best I ever had but judging from the quantity I consumed without risking a heart attack, it's the cleanest and healthiest meat! The reason is simple. All meat served is free-range and grazes on wild grasses. Consuming less than a kilo of this delectable meat should be considered a sin! And prices are about 30 per cent less than what you'd estimate.
Tsipouradiko Kavouras
Volos
Volos is one of Greece's large port-cities and is set on the Pagasitikos Gulf. The city is built along the foothills of the Pelion range, whose gorgeous beaches and picturesque mountain villages are easily reached from Volos.
Volos's most charming secrets nestles among the lanes overlooking the harbor.
Kavouras is the capping stone of Volos's famed tsipouradika. There are two rules everyone who takes part in the tsipouro gastronomical ritual must know. First, every tsipouradiko makes its own tsipouro--a distilled spirit, ranging from 36 to 45 proof, first produced seven centuries ago by the monks of Mount Athos. The second is that you do not order food: you just order the tsipouro. When served, it will be accompanied by two or three plates of meze. Every time you order a new round, new dishes are brought to the table with it--and every course is a bit more complex. So, the first round of drinks may be served with pickles, the next with steaming mussels or mackerel, the next with another seafood specialty. I'm sure that by the time you get to the lobster course, you'll have consumed enough tsipouro to use it as a dance prop!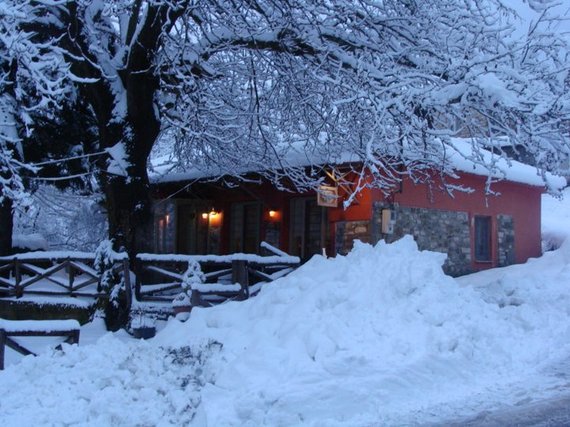 903
Pezoula, Lake Plastira
Lake Plastira is an artificial lake created in the late 1950s as a part of a local dam project. It's located in central Greece, near the towns of Karditsa and Trikala. The area's tourist development, which began some 10 or 15 years ago, was halted by the country's slide into recession. Nonetheless, Lake Plastira offers a solid tourism infrastructure and a unique alpine-like landscape that rewards visitors.
903 is set in Pezoula, one of several pretty settlements arrayed around the lake. The homey ambience is what sets this taverna apart: you really do feel like you're dining in a friend's home. The young chef uses mostly locally-sourced ingredients but adds clever tweaks to traditional dishes. The menu ranges from wonderful salads and local appetizers to coq with home-made square noodles or pork shank cooked with orange. It's a great destination for late September as the roaring fire and wonderful red house wine will warm the first autumn chill in body and soul.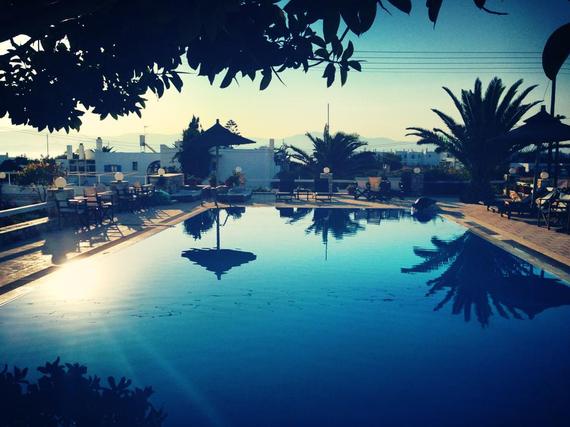 Margarita Studios
Ambelas, Paros
Paros is one of the most popular islands in the Cyclades group. Mykonos and Santorini may top that list, but Paros offers everything the other Cycladic islands do and with a definitely more varied landscape and tradition.
One of the island's hidden gems is at Ampela. It's a small, family-run taverna in the Margarita's Studios complex of boutique suites. The taverna is run by grandma Margarita and her daughter Stella. There's a lot I could write about the amazing dishes that will come to your table but let me state that the garidomakaronada (spaghetti with shrimp) made only with fresh shrimp is one of the best in the world. Indeed, world-class chefs should visit Paros to learn a few things from grandma and her daughter. As for everyone else, they'll leave Paros feeling as if they have family awaiting them in the Cyclades.
Monastiri
Old Harbor, Hania
Hania is the second most populous city of Greece's largest island, Crete. It has its own port and airport. If someone wants a taste of the real Greece, then Hania is the first place they should go. And, of course, along with Ikaria, Crete is famous for its healthy and flavorful diet. Scores of vegetables and wild greens grow on Crete that are not found anywhere else in the world.
Hania's old harbor was built during Venetian rule in the 14th century and is one of Crete's gems. This is where you'll find Monastiri. Aside from the unique setting, it's one of the best places to become acquainted with traditional Cretan cuisine. Unique local dishes featuring lamb, rice, and Cretan butter (made from the cream of cows who have recently given birth), and local wild greens "drowning" in the finest quality olive oil in the world. Crete's amber-colored wine can only be drunk if you're on the island as it doesn't bottle or travel well. Beware, though. Meals end with sweets and tsikoudia (the local variant of tsipouro) are "sweetly dangerous".
Popular in the Community