Remember the cameraman whom Anna Wintour called fat in the "September Issue?" Well, that man, cinematographer Bob Richman has hit the gym, director R.J. Cutler revealed at a recent IFC screening.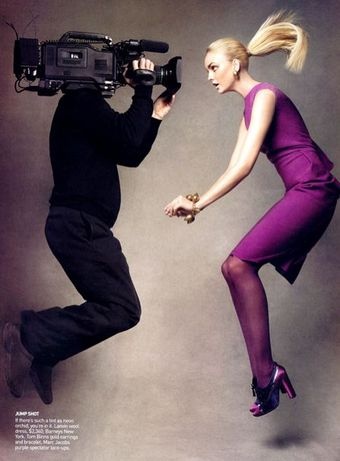 "When Anna Wintour tells you that you're overweight, the next thing you do is go to the gym, as Andre pointed out...tut the truth is, I mean, for crying out loud, that poor guy, he's lugging around a 50-pound camera on his shoulder for nine months, following Anna around, and she's like giving him her back as much as she can, and then he spends a weekend leaping up in the air, modeling to rescue her September issue, and what does she say when she sees the pictures? 'You look fat.' So, God bless her," Cutler said.
Cutler also said that he's working on an animated feature film with Grace Coddington based on her book Catwalk Cats. And he talked about the unseen footage to be released with the "September Issue" DVD on February 23, including Andre Leon Talley explaining how to dress for a summer vacay with Karl Lagerfeld, and Anna and Bee Shaffer mother/daughter time. We can't wait to see!

Popular in the Community