If the sequester goes into effect Friday evening, kicking off a gradual $85 billion reduction in government spending, one of the services that could see its budget slashed is the low-income nutrition program known as WIC, which offers food vouchers and health care resources to underprivileged new mothers and young children.
We asked HuffPost readers how the cuts to WIC might affect people in their community. Below is a sampling of what we heard. If you'd like to share your story, send us a note at openreporting@huffingtonpost.com.
We heard from several people who said that cuts to the WIC program could disrupt the lives of people they knew and loved. One reader from Wisconsin wrote to tell us:
My daughter has a six-week-old baby daughter and receives WIC benefits, as she was a full-time student/part-time worker when she became pregnant, and the father is not contributing a dime. This would certainly affect her and her infant, and may, in fact, jeopardize her ability to continue breastfeeding (which may, in the long run, cost taxpayers more due to increased chance of illness for the child).
A reader in northwestern Georgia wrote to say:
My wife runs a very large local food bank that depends on charitable food contributions. They are already in beg mode, with shelves emptying faster than they can be replenished. WIC clients at the food bank, sometimes just augmenting weak WIC offerings for families, are increasing dramatically as WIC rolls are already being depleted of funding.
Another reader in Georgia saw the potential for dire consequences in her part of the state.
There are more people on WIC than ever before, not to mention SNAP. Any cuts to this program would have a ripple effect on my community. People will either go to food charities, do without, or steal what they need. That's how bad it could get.
We got a number of letters from people who said the WIC program had made a difference in their lives. Monica Logan, writing from Clayton County, Ga., told us:
This is a very sensitive topic for me because WIC was there for me when I raised my three children. Their ages are 22, 20, and 18 now. WIC not only allowed me to give them nourishing food, but also kept me in the know concerning their overall health. This program was a key part of me raising healthy, happy children. For my husband and me, it removed the burden of making a decision as to whether to pay for the bills and go without food or not pay bills.

I can report that now two of my three children attend GA State University, and the third child received an acceptance letter last week from the same school! I know that there were more events that contributed to my children's success, but one major part of it was their foundational nourishment. Without a doubt, WIC was there for my family. I know it is viable for other families as well. Please do not cut WIC, it is necessary!
Not every letter we received was about WIC. Some of them focused on other assistance programs vulnerable to budget cuts. B.P., a reader in Hagerstown, Md., wrote to tell us:
Maryland would lose approximately $877,000 in funds that provide meals for seniors. [Ed. note: B.P.'s numbers come from this White House fact sheet.] Not a large program, but one that affects many people here in poor Western Maryland. We are well provided for, but we know quite a few seniors who are not, who depend on these meals. It seems as if the poor are always the ones taking the biggest hits.

However, we also know of many young adults who are "playing the system." Several young couples of our acquaintance have delayed marrying until the woman has her baby so she can get all her medical care for free. This also concerns us. There has got to be a way to weed out these cheaters!
As an MD and current MPH student in Ohio, I see firsthand the lack of funding in a general sense for public health and funding for treatment services for persons with addictions. I am outraged that Republicans are more concerned about preserving the tax breaks and loopholes some of our wealthier members of society enjoy.

I see people daily in my line of work who have been imprisoned by the disease of addiction and really want to change their lives. I've seen people commit suicide because it was preferable to having live with the disease of addiction, with its attendant relapses and emotional suffering. And what do we do as a society? We continue to marginalize and stigmatize these people. Although science has proven that addiction is a brain disease, we treat people with this affliction as if they had leprosy.

Shame on us for not being educated enough, compassionate enough, or sophisticated enough to understand the complexity of addiction and the permanent "stain" it leaves on people's lives.
Some letters have been edited for length and clarity.
Before You Go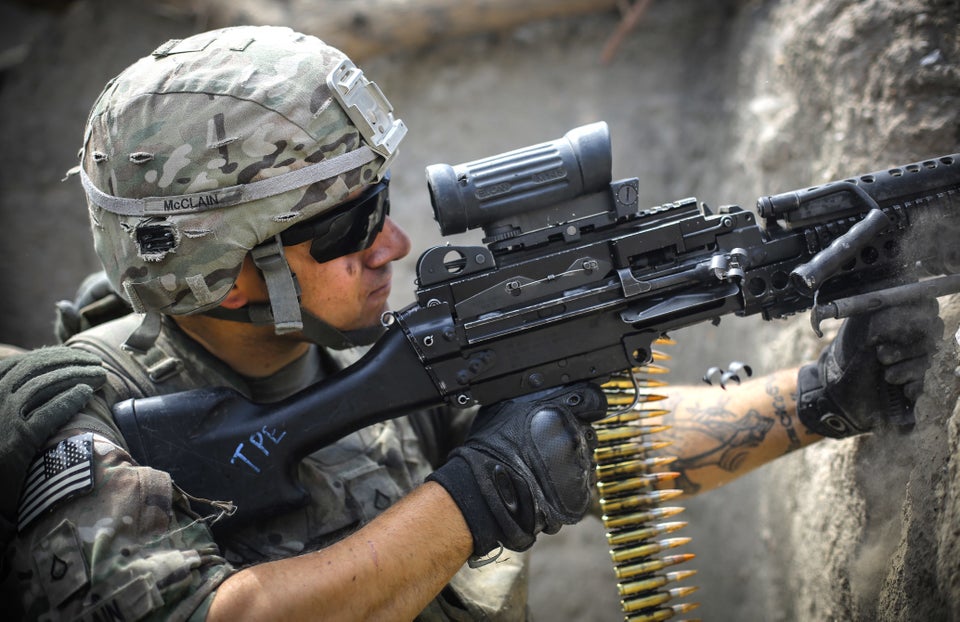 What Sequestration Would Cut
Popular in the Community