WASHINGTON -- At Temple University in Philadelphia, a group of 22 graduate students and researchers have been exploring ways to help repair the heart after trauma. Under the leadership of Dr. Steven Houser, they are testing three potential therapies, one of which they hope will fundamentally transform the way that patients recover from a heart attack.
Like most medical research projects, the prospect of reaching a major breakthrough is tantalizing but not probable. "Every scientist thinks their work is going to be earth-shattering," Houser said. "But sometimes it actually is."
In mid-April, however, Houser's odds grew longer. The National Institutes of Health informed the group at Temple that the $1.5 million grant funding their research would be reduced by 10 percent, a consequence of the federal budget cuts known as sequestration.
Houser was left with no good options. He could either fire staff or cut back on the research. In an interview with The Huffington Post, he floated the possibility of testing two methods instead of three.
"My hope is that we are going to be able to do part of what we want to do on all three therapeutics," he said. "However, we won't be able to test all aspects of what we want to test. So it is much more likely that we will miss something important."
The prospect of being so close to making substantive strides in cardiac care, only to have budget politics get in the way, gnawed at him. "We have the best tools that we've ever had to make rapid progress towards developing novel therapies. It's not even close to 30 years ago," he said. "I call it the best of times and the worst of times. We have so many wonderful things we can do right now but we end up in this political climate."
Across the country, medical and scientific researchers are starting to have experiences identical to Houser's. For the first two months, life under sequestration was fraught with fear of tough budget cuts but the cuts themselves had not yet gone into effect. Now, as agencies begin to implement them, budget reductions are causing alarm within the research and development community.
"You will start seeing project cancellations or reduced awards or number of awards over the course of the next month," said Matthew Hourihan, Director of the Research and Development Budget and Policy Program at the American Association for the Advancement of Science. "One impact that we have seen is on the university community itself. Either universities are stemming back the financial aid made available to students or some schools have reduced enrollment and acceptance."
According to the AAAS, the government is set to decrease funding for research and development by a net $9.3 billion this fiscal year alone. The cuts will come from the Department of Defense ($6.4 billion), the National Institutes of Health ($1.5 billion), NASA ($749 million), the Department of Energy ($479 million) and the National Science Foundation ($227 million).
The effects of such belt-tightening are growing harder to ignore. At a recent town hall in Washington state, Seattle scientists told Sen. Patty Murray (D-Wash.) that the University of Washington School of Medicine was bracing for a $24 million cut this year. At the University of Texas, officials are figuring out ways to keep research fellows and graduate student assistants at work despite a cut in federal grants that helps cover the cost of 2,000 jobs. The University of South Florida's Moffitt Cancer Center, which studies a variety of diseases, has been receiving smaller checks from the NIH. Virginia Tech's Carilion Research Institute, which is conducting biomedical research on depression, substance abuse and posttraumatic stress disorder, has seen a loss of $640,000 in grant money, while preparing for another $1 million to be slashed. The University of Kentucky, meanwhile, has reduced the size of its incoming graduate class in preparation for cuts.
At the University of Kansas, Juniper Gardens, a behavioral and education research center, has been left in limbo after sequestration forced a delay in the announcement of grant awards. Charles Greenwood, the director of Juniper Gardens, likened the situation to "closing off the vein." His outstanding grants, six in all, will fund projects that enhance social and emotional development for children with severe behavior problems or autism and help educators understand how to work with children with or at risk for disabilities. Annually, the program receives about $6.5 million in federal grants.
In the past, Juniper Garden's work has had a nationwide impact. Early Head Start programs across the country and even in Australia have used the center's material. Now, however, Greenwood is wondering what he will will have to do if the money doesn't come through.
"They are going to get smaller," he says of his 70-member staff, "because 90 percent of the salaries of these people come from federal grant and research contracts, only 10 percent comes from the University of Kansas. This is a very highly specialized community of researchers, like the air traffic controllers. They are not going to have a job or they'll be forced to look for a job somewhere else."
Like other doctors and researchers interviewed, Greenwood said he would look to foundations and private philanthropy to help fill the void left by sequestration. But that isn't a satisfactory replacement, he said, in part because the money tends to have specific strings attached.
"It is a hell of a way to run science," he says. "We have had science since World War II. In the United States we were smart enough to develop a competitive process where the best ideas out there come up through the agencies responsible. And we get the best minds in the country to compete and the best ones win. Now, if it is up to philanthropy then you are just going to get someone's theory."
Mainly, however, Greenwood and others are worried that the budget cuts will cause irrevocable damage to science in America. Investment in research and development was already declining prior to sequestration. NIH reported that it had offered 400 fewer grants in 2012 than in 2010. And as Jonathan Links, the chief risk officer at Johns Hopkins University, told The Huffington Post, funders were cutting back even further in anticipation of sequestration taking place.
"It does seem clear that program officers are now being told moving forward to behave with sequestration. It is shifting from anticipation of to actual sequestration behavior," said Links. "It is going to be cuts to grants and contracts and other sponsored activities. And our best guess is it is going to be some combination of cuts to future years of already funded grants, cuts to new awards, and cuts in the number of grants."
If sequestration continues beyond this fiscal year, Links and others worry the situation will become even more dire. Projects that have already suffered setbacks would be forced to endure more. Andy Rosenberg of the Union of Concerned Scientists warned of a major brain drain, in which talented researchers would bolt for greener -- and stabler -- pastures. Temple's Houser offered an even gloomier prediction.
"All hell will break loose," he said.
Before You Go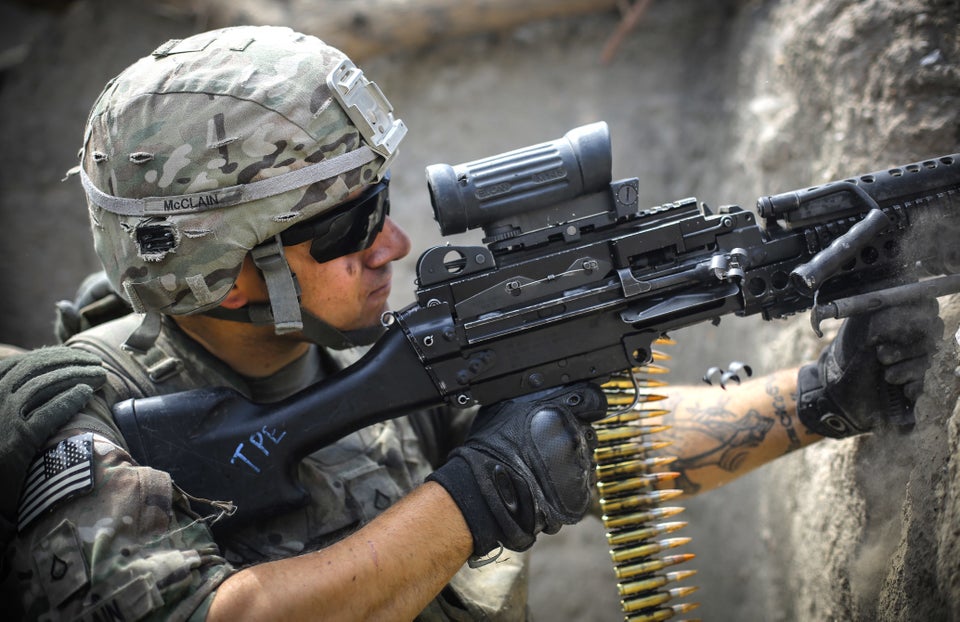 What Sequestration Would Cut
Popular in the Community