In a few months, Técnico Corp. is supposed to begin repair work on the USS Oscar Austin, a naval destroyer that recently returned to its home port of Norfolk, Va., after seven months patrolling pirate-infested waters off the coast of Africa. In the marine services industry's jargon, it is a "heads and beds" job -- new toilets and bunks for a 380-person crew.
But if a round of blunt-nosed federal budget cuts known as the sequester begins as expected March 1, the Pentagon will cancel Técnico's contract to repair the Oscar Austin and five other warships, said Ray Wittersheim, the company's president and CEO.
Técnico, based in Chesapeake, Va., is at the edge of an economic precipice, Wittersheim said. On June 1, work for 120 employees -- more than a quarter of the company -- will evaporate, he said. More than 100 employees may lose their jobs, he said.
"We will be finishing up existing work and have nothing to substitute," Wittersheim said. "I'm hoping for a political compromise so these jobs will not be cancelled. But unfortunately, we have to think about the worst scenario."
If anything stands as a symbol of Washington's strained partisanship, it's the so-called sequester, which President Barack Obama and congressional Republicans agreed to in 2011 as a way to force compromise on broader spending and debt issues. The plan was to concoct a deal so distasteful and crudely applied that lawmakers from both parties would do whatever necessary to avoid it.
But with just a few days remaining before the deadline, and with $85 billion in spending cuts looming, neither side shows a willingness to give. Obama has insisted that revenue increases, including the elimination of some corporate tax loopholes, be part of any deal. Republicans have refused, maintaining they already agreed to revenue increases in the fiscal cliff deal.
Meanwhile, communities likely to feel the most pain -- those with large concentrations of defense contractors, like the Tidewater region of eastern Virginia, home to Técnico and hundreds of other defense-related companies -- are scrambling to prepare. To underscore the region's importance, Obama is set to visit a submarine design company in Newport News on Tuesday.
Norfolk is home to the Navy's main shipyard hub and the eastern headquarters for the U.S. fleet. Approximately 45 percent of all economic activity in the region, which includes the cities of Hampton and Newport News, is military-related, according to the Norfolk Department of Economic Development. Practically all businesses, big and small, depend on defense spending, from the contractors who work directly for the Navy and Air Force, to restaurants that depend on steady paychecks to keep seats filled.
Earlier this month, the Navy cancelled the deployment of the the USS Truman from the Norfolk base. Nearly 90,000 Navy and Pentagon civil employees working in coastal Virginia would be furloughed under the sequester, the White House has said.
This figure does not include what might happen at private ship repair contractors like Técnico. All told, 280 contractors in the region employ 40,000 workers, according to William Crowe, the president of the Virginia Ship Repair Association.
The cuts will be "catastrophic" if not averted or quickly reversed, Crowe said. He declined to predict how many workers would lose their jobs. He said all of the businesses in the region are worried, and layoffs at many are inevitable if the spending cuts take effect.
Craig Quigley is executive director of the Hampton Roads Military & Federal Facilities Alliance, a group of government and corporate representatives. Quigley said he met with congressional aides on Monday to remind them that the sequester will "manifest itself in a thousand ways" that cannot be predicted.
One of the more obvious ramifications would be a drop in spending. Several small businesses in the Norfolk area told The Huffington Post on Monday that they are already feeling the pinch.
Poppa's Pub and Grill offers live music and karaoke five nights a week and is less than a half-mile from the Norfolk naval base. By midnight, the bar is typically filled with off-duty military and defense industry workers, said owner Randy Estenson. In recent weeks, though, crowds have dwindled significantly, he said. "I can only attribute it to the fact that people are afraid of what's going on," he said.
Estenson said he has laid off a bartender and a cook since the start of the year, reducing his staff to 18 from 20, and has slashed hours for all his employees. That will continue if business does not get better, he said. "We have had some times where thing have slowed down a little," he added, "But nothing like now."
A few miles away, Jermaine Lewis manages barber shop Kuttin' Edges, which specializes in military haircuts. He is also bracing for a downturn in business if government spending cuts affect military jobs. On any given day, dozens of naval sailors come in for all-even clipper cut with squared-off sideburns for $17, he said. Lewis said he worries business may drop 30 percent.
"Even we go from 60 haircuts per day to 40, it's definitely a change," Lewis said in a call with The Huffington Post. Prices, he said, will not change because there is too much competition. Instead, he's said the shop will have to hustle a little harder. "We will have to make our services more known."
CORRECTION: An earlier version of this story incorrectly identified the city of Hampton as Hampton Roads.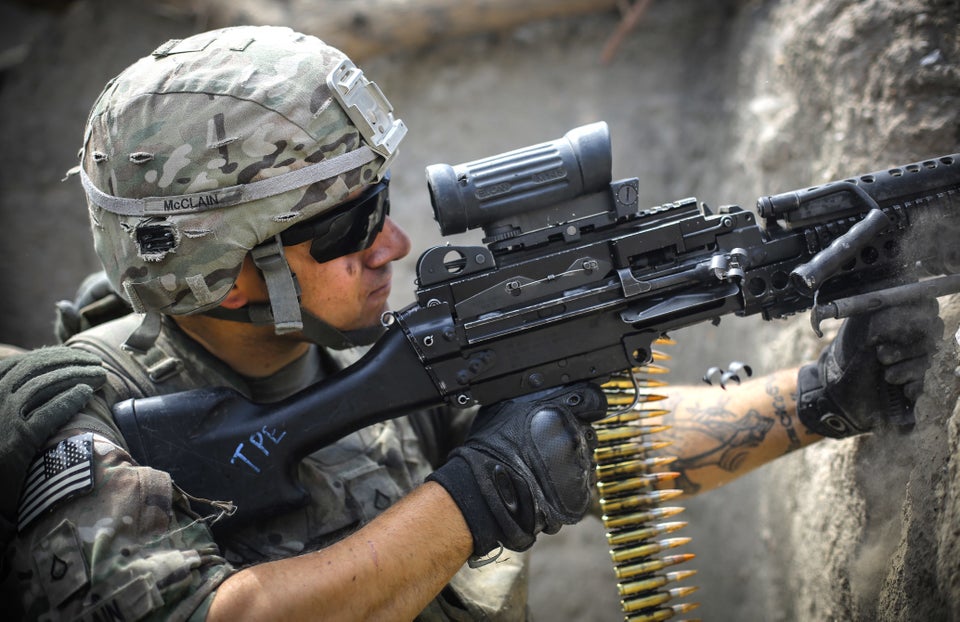 What Sequestration Would Cut