 Teresa Armstrong is steamed.
The Virginia mother of four has spent the last few weeks watching, reading and listening to politicians argue about the country's finances but fail to reach a deal to prevent impending across-the-board cuts to federal spending. She doesn't understand how they can bicker endlessly while the consequences for her daughter, Angela, hang in the balance.
The squabbling politicians, Armstrong said, aren't setting a good example for children. "It's like they just don't understand that their lack of agreement has real-time effects on people's lives," she said. "People here are describing it as an educational Pearl Harbor -- you just don't know what will happen."
Under sequestration, which is scheduled to go into effect Friday, federal education spending would be reduced significantly. Special-education students in particular would take a huge hit, with Individuals with Disabilities Education Act funding slated to lose $591 million over 10 years. U.S. Secretary of Education Arne Duncan has been barnstorming cable talk shows and White House press briefings, calling these blind cuts "dumb." And even though most of the school cuts wouldn't take place until the 2013-14 academic year, school districts have already been thrown into chaos as they budget for September.
What's often lost amid the arguing is the fate of people like Angela, who was diagnosed with Down syndrome as a young kid. Angela is now 14 and in the seventh grade at J. Michael Lunsford Middle School in Loudoun County, Va., where she receives special-education services that her mother describes as "essential." With the school's help, Angela "dances her way through the day," Armstrong said, switching between general and self-contained classes. She's learned how to read, write and type.
Angela is now due for special-education eligibility testing -- she was last evaluated in 2004. But school district officials have told Armstrong they're not sure when or if they can schedule the expensive battery that's supposed to test her child's intellectual progress. "I'm concerned there will be a lack of funding and teachers available to administer the tests, and to provide these services," Armstrong said from her car, as Angela listened to Taylor Swift on her headphones. "I haven't been able to get a lot of answers -- a no, or a yes -- from the school district."
The confusion is getting to Armstrong. "They're encouraging me to go with less formal testing, but I don't want that," she said. "But on the other hand, what are they supposed to do?"
As in Armstrong's case, the sequester's cuts would push school districts further from parents, says Laura Kaloi, the public policy director for the National Council on Learning Disabilities. "Resources are always tight, so cuts will create further tension between what parents think their kids need and what schools think they can offer," Kaloi said. "There's the risk that they can reduce the number of students schools will consider for evaluation and eligibility determinations."
The budget fight has gotten personal for Mary Kusler, a longtime lobbyist for the National Education Association, the nation's largest teachers union. Her nephew, Cody, of central Texas, has severe autism, and she faces the same worries as Armstrong. "I worry about the impact of his services, given the overall lack of funding going to Texas public schools to begin with," Kusler said. "We shouldn't be short-changing these kids because Congress can't come to an agreement." The IDEA cut, she adds, would bring spending back to 2008 levels.
While the bulk of education spending in the United States comes from state and property tax bases, the most vulnerable children have long relied on the federal government. It is these kids who will be hit hardest by the sequester's cuts, advocates say. Duncan expressed those sentiments at a White House briefing Wednesday, where he said he'll be forced to cut Title I money for poor children and money for special education students.
"People say, what if you had more discretion?" Duncan said. "Those two pots together," he continued, "they dwarf anything else. So the only choice I could make would be to hurt fewer poor children and help more special needs kids, or do the opposite. ... There's no good answer."
There's also been no good answer for Heather Herakovic, a mother in Trumbull County, Ohio. Her 5-year-old son has a severe speech disability, but with the help of Head Start, a federally-funded private pre-school program, he's been able to repeat some words. He can't say words on his own, still -- when he tries to say "help," it comes out without the "h" and the "p."
Her son is slated to enter kindergarten next year, and Herakovic is worried that after the education cuts, he won't be able to get the extra help he needs from a speech therapist. "He'd be able to go to kindergarten, but I don't know if anyone would be able to understand him," she said.
And if those services stop, that's it. Herakovic can't afford to pay for a private speech therapist. Even if she could, she would not be able to reach one -- her husband uses the family's only car and returns with it at 9:00 p.m. "It makes me angry," she said. "I feel like we just don't matter. Some people in Congress, they're bullies -- if you don't do exactly what they want, they're going to screw your kids."
Before You Go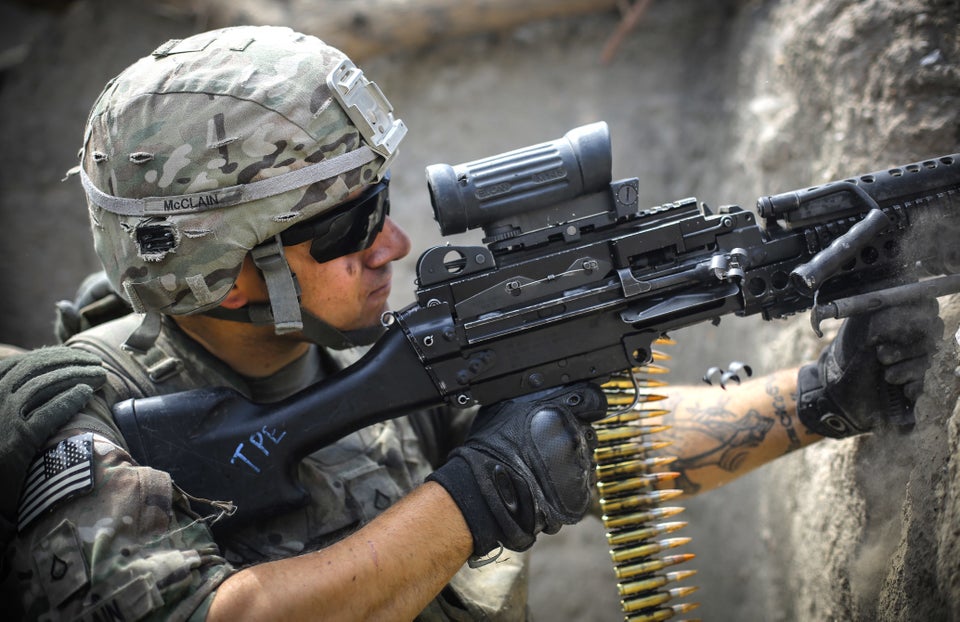 What Sequestration Would Cut
Popular in the Community