WASHINGTON -- It was a bake sale doomed to fail, with several cookies priced at more than $100 million. But the lack of sales was expected. The real goal was to demonstrate the drastic effects sequestration has had -- and will continue to have -- on education.
"Our kids deserve more than cookie crumbs," said Myrna Mandlawitz, president of the Committee for Education Funding, the coalition of education groups that hosted the bake sale Wednesday in the Russell Senate Office Building on Capitol Hill.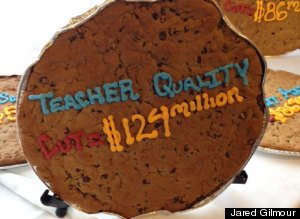 Among the baked goods for sale were a $727 million cookie, intended to make up for Title I aid cuts, and a $401 million cookie, whose profits were slated to replace Head Start cuts. Other large chocolate chip cookies frosted with "Teacher Quality Cut = $124 million" and "Trio/Gear Up Cut = $57 million" sat on a table near speakers Sen. Tim Kaine (D-Va.) and representatives from education advocacy groups. The baggies of Oreo cookie crumbs were to be dropped off at congressional offices later in the day.
Federal funding accounts for less than 10 percent of education spending nationwide, but some programs and school districts are much more dependent on it. Federal money finances programs for low-income and disabled students, particularly through the Individuals with Disabilities Education Act. It is critical for schools on military bases and Indian reservations.
And Head Start has been hit hard by sequestration. It has already cut 57,000 children from its programming -- at a moment when the Obama administration is pushing for a major preschool expansion.
Joel Packer, director of the Committee for Education Funding, said that "school districts with the greatest needs -- with the highest concentration of poverty, with the most children with disabilities -- are going to be hurt the most."
According to Packer, sequestration's across-the-board 5 percent budget cut has slashed almost $3 billion from federal education spending this year.
"Congress needs to look at a balanced approach to cutting spending," he said. "Education is good for the economy and it's good for global competitiveness. We're moving backwards."
Kaine argued that American education is harmed by both the ongoing sequestration and the threatened government shutdown.
"You can't be pro-education and not be willing to find budget compromises, and you can't be pro-education and pro-sequester," Kaine said. "You can't."
Mary Kusler, director of government relations at the National Education Association, the nation's largest teachers union, warned that the broadest impacts of sequestration are still to come.
"Most of the K-12 school districts across the country have yet to receive the first round of sequestered money," Kusler said, noting that this year's reduced federal funds, released in July, don't trickle down to districts until around October. "By the time we're seeing the impact on the students -- the students who are most in need -- it will be after the fiscal year has ended."
Sequestration's cuts also come after years of other reductions in education spending. Funding totals today are comparable to those in 2004, Kusler said, but today there are 6 million more students in the K-12 system than in 2004.
Packer emphasized that federal investment in education helps fill in gaps that state and local programs don't cover. Sequestration has already crippled the federal government's ability to provide impact grants for schools on Indian reservations and military bases. Because of the cuts, the 1,300 schools that receive impact grants will receive $60 million less this year, according to federal data.
With the support of federal education spending, more students can graduate from high school and go to college, Packer said.
"It not only helps them. It also helps the economy," he said. "They're less likely to be getting social services and likely to contribute more in taxes."
Before You Go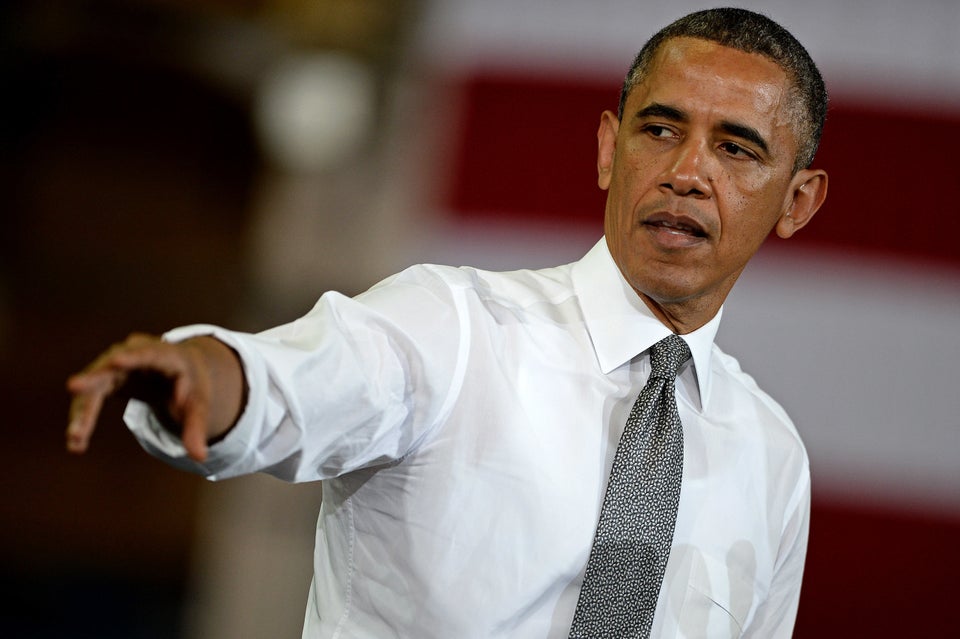 The Second-Term Curse
Popular in the Community