 Mt. Adams serves Washington's Yakima Reservation -- many of its students are Native Americans who live in poverty. That means that unlike most U.S. school districts, Strom counts on a funding stream straight from the federal government, called "Impact Aid," to pay for one-fifth of his budget. This school year, Strom cut five teachers and five assistants -- small cuts that feel big in a tiny rural district that only has 63 teachers to begin with. "We've had challenges covering the playground," Strom said. "There were a few times when we were lean on safety."
Impact Aid is supposed to make up for decreased property taxes in school systems based on federal land. So the school districts that rely on the funding most significantly often serve large swathes of Native American children and the children of military personnel. While the cuts to most federal education funding streams such as Title I for poor students or special education money won't go into effect until next school year, Department of Defense schools and school districts relying on Impact Aid lost out over the weekend, with the stroke of Obama's pen.
Some, like Strom, have been preparing for these cuts ever since they knew they were a possibility. But the cuts are particularly painful as more and more is expected from teachers and schools in terms of student performance. "We're very challenged for student achievement in Mt. Adams," Strom said. Mt. Adams' schools rank in the third tier of academic performance within Washington's school accountability system. "We've done a lot of work on the educational side, trying to have solid assessments, instruction and curriculum -- all those things are in place from the previous years," he said. "But if you bring in sequestration and have to reduce staffing, it challenges the work we've done in previous years."
For example, Mt. Adams had introduced an intervention program for low-performing students in middle school, making sure that underperforming students got more class time to zero in on what they needed. "That had to go," Strom said, because of sequestration -- and test scores dropped slightly, when before the cut they had started to increase. And since Strom's district is high-poverty, it depends on the federal government for 80 percent of its budget, some of which will likely be cut next school year due to sequestration -- meaning things could get worse for Strom's students.
Unlike Strom, the Department of Defense schools still don't know exactly how the cuts are going to shake out. Department of Defense Education Activity schools serve 84,304 students in 126 international schools and 68 schools in the U.S. They employ 15,304 staffers, including 8,341 teachers. "DoDEA is reviewing all areas of its budget for potential savings," Commander Leslie Hull-Ryde, a Defense Department spokeswoman, told HuffPost in an email. "As we continue to closely review the DODEA's budget on how to most effectively implement the furlough, we are committed to mitigating the impact of sequestration on our students." A Jan. 31 memo signed by DoDEA director Marilee Fitzgerald said that "we advised that we would consider a furlough of up to 30 calendar days or 22 discontinuous workdays along with other actions, such as imposing hiring freezes and releasing temporary employees for above-school level operations."
But getting those 22 days in before the quickly-approaching end of the school year would be hard for many schools, especially those that are helping students prepare for Advanced Placement exams and end-of-year standardized tests. While in the past school districts have shortened the school year to make up for budget shortfalls, federal guidelines strongly encourage agencies to issue discontinuous furlough days to mitigate their impact on employees and services.
"Any furlough days will hurt the children's education completely," said Michael Priser, president of the Federal Education Association union, a group that advocates for such teachers. "Many of their parents are fighting wars in Afghanistan while their kids' education is about to get hurt."
In other immediately impacted districts, the sequester comes on top of years of other cuts. Greg Lynch is the superintendent of Central Kitsap schools in Washington, an Impact Aid district that serves the Kitsap Navy Base. Central Kitsap has over 10,000 students, 48 percent of which are connected to the military. Over the last five years, Lynch has reduced the budget by $15 million -- cutting corners and squeezing the margins in an effort to not cut into classroom teaching. "It's been a perfect storm for us," Lynch said. But Lynch says he's cut so much there's not much else he can snip without hurting that core. "There is nothing we can do without touching the classroom. There is never any fluff after you've already cut $15 million."
Sequestration would cost Lynch $450,000 -- half immediately from Impact Aid, and half from programs like Title I -- which comes out to roughly the cost of 7.5 teaching salaries. "We've reduced interventions before and after school and summer opportunities -- a loss for kids who need additional attention," Lynch said. He has also had over a week of furlough days over the last few years. Like Strom, he's had to deal with the "moral dilemma" of increasing expectations and decreasing budgets. "We're all coming up short of where we want to be," he said.
On Monday, the superintendents of school districts that rely significantly on federal aid went to Washington, D.C. to attend a conference and to lobby Congress to stop the sequester before the next school year starts. Among them was Billy Walker, the superintendent of Texas' Randolph Field Independent School District, which serves the children of Randolph Air Force Base staff. Walker cut 13 positions out of last year's budget and one more this year.
"We didn't take our band and cheerleaders to football games," Walker said. "We're in the process right now for finding similar cuts. We're trying to determine what sequestration is really going to be for next year, but we really don't know."
Are you a federal employee who received a furlough notice? Please send it to us at openreporting@huffingtonpost.com. We will keep your personal information private.
Before You Go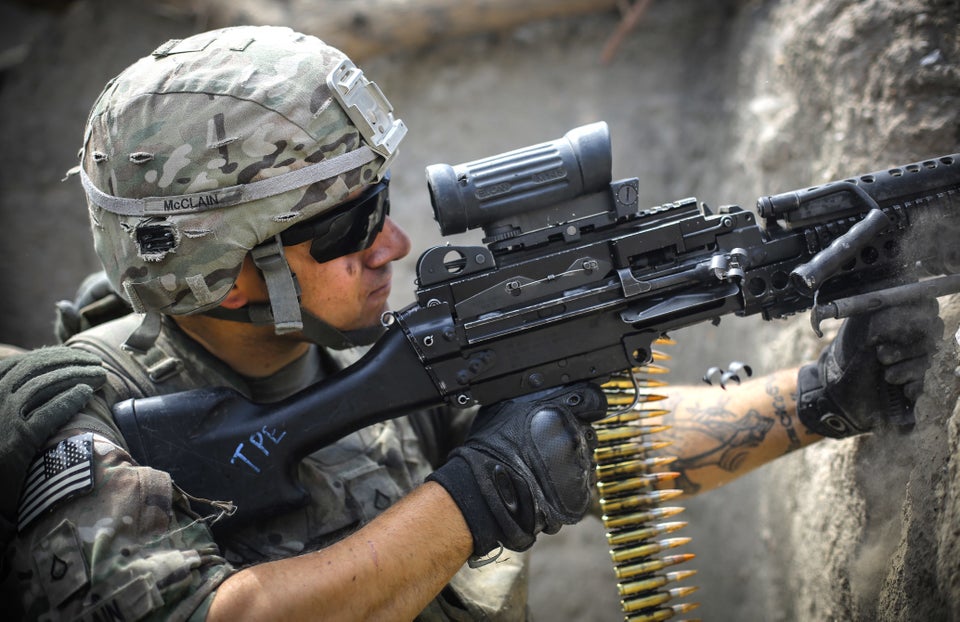 What Sequestration Would Cut
Popular in the Community