CHARLOTTESVILLE, Va. -- On the first floor of Jordan Hall at the University of Virginia School of Medicine is a 12-by-8 room that, at first glance, looks like a rundown storage space. The floor is a mix of white, teal and purple tiles, in a pattern reminiscent of the 1970s. Trash cans are without tops and half filled. There are rust stains on the tiles, and a loose air vent dangles a bit from the ceiling.
It is only when you see four incubators attached to six tanks of carbon dioxide that you get the feeling something more intriguing is taking place here.
Inside these incubators Dr. Anindya Dutta stores cell cultures that he believes hold the key to a massive advancement in health care. He has identified the specific strands of microRNA, the molecule that plays a large role in gene expression, that are responsible for promoting the formation and fusion of muscular tissue.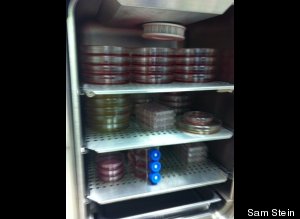 A look inside the incubator at the cell cultures being stored by Dr. Dutta and his team.
The implications for such a discovery are tantalizing. People who suffer from diseases like muscular dystrophy would have easier treatments, and the elderly would fall less often and recover faster when they did. And so, as Dutta has me look into the microscope next to those carbon dioxide tanks, there is a notable hint of excitement in his voice.
"If you can find ways to manipulate this muscle differentiation process it would do a huge amount for human health," he says. He explains that I'm seeing how myoblasts can be manipulated into becoming myotubes. Memories of high school biology class come flooding back.
You wouldn't know from his giddy, optimistic tone that Dutta is currently navigating the biggest obstacle of his career. Five years after he received a $1.3 million grant from the National Institutes of Health to undertake this microRNA project, he's nearly out of cash. His proposal was placed in the 2nd percentile of all grants reviewed by NIH in 2007, meaning that it was deemed more promising than 98 percent of the proposed projects.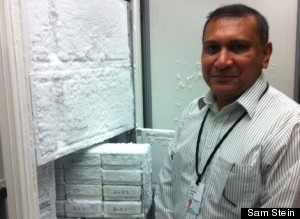 Dr. Dutta in front of a freezer in his UVA lab.
When he asked for the same amount of money in 2012, his proposal was scored in the 18th percentile. In years past that score may have been good enough, but in the age of sequestration, NIH is supporting a much smaller pool of applicants. Late last month he was told that there would be no funding. UVA has stepped in to help, but Dutta estimates that 40 of his colleagues are in the same boat.
"I am living off of fumes," he says.
A feeling of despair has taken hold within research communities like Dutta's, Top officials at academic and medical institutions have grown convinced that years of stagnant budgets and recent cuts have ushered in the dark ages of science in America.
"It is like a slowly growing cancer," Steven Warren, vice chancellor for research at the University of Kansas said of sequestration at a recent gathering of academic officials in Washington, D.C. "It's going to do a lot of destruction over time."
If sequestration is a cancerous tumor inside the world of science, how far has it spread?
In 2013 alone, NIH, the primary federal spigot for projects impacting human health, will be forced to cut $1.7 billion from its budget. Government agencies across the board are making similar reductions in their research budgets as well. The length of some grants have been shortened, while others have decreased in size and still others have been eliminated altogether. Though they aren't supposed to do so, university officials have begun siphoning money from funded projects to those feeling the pinch, in hopes that if they hang on long enough, help will eventually come.
At the University of Virginia, hopes are wearing thin. After our first phone interview in July, Dutta ended the conversation with thanks. "I appreciate you doing this story because we need your help, buddy," he said. "We are in deep shit."
When I visited the campus in August, he showed me how deep the shit actually is. Much of the five-room lab that he runs would not be there but for the grace of the federal government, from the $15,000 freezers and the $30,000 high-performance liquid chromatography machine to the post-doctoral fellows there on grants. All told, NIH funding for just the School of Medicine totaled $95.1 million between July 1, 2012 and June 30, 2013.
With sequestration, all of this investment could be undermined. During that same time period, existing awards from NIH were cut by $1.9 million. Dutta, meanwhile, has spent his days looking for grant money elsewhere and sending pleading emails to his congressman, Rep. Robert Hurt (R-Va.). But he has little to show for it. He's recently begun contemplating the possibility of ending his project altogether.
Sitting in his office across the hall from the lab, with a few awards hanging on the wall and a single window looking out toward an adjacent building, he described his current situation as a professional and emotional low point.
Dutta moved to the United States in 1983, after graduating from Christian Medical College, Vellore, in India. At 54, he has thinning, graying hair and a tiny bit of pudginess on his frame, of which he is acutely sensitive (he jokingly sucks in his stomach before every picture I take). He keeps a stash of Coke Zero in the corner of his office room. The soda makes him feel full during those long, busy days when he can't take a break to eat.
Science is his overriding passion. As we walk among rows of beakers, centrifuges and test tubes in the lab -- with researchers, almost all of them foreign-born, buzzing about -- he glows over the advances made by his colleagues.
He notes that last summer, with the approval of the Institutional Animal Care and Use Committee, his own team tested the significance of the specific microRNA strands on a group of injured mice. In one batch, they let the mice's muscles heal naturally. In another, they "sponged" out the microRNA to see how it adversely affected the healing process. The difference was remarkable.
"In those mice, the differentiation was really poor," he said of the latter group. "What we found in these cells and culture was that these microRNAs were important for muscle differentiation ... Now, the next step is figuring out how to put the microRNA back in."
Except he may no longer have mice on which to take that next step. Leaning forward in his office chair, he confides that if he wants to keep his postdoctoral fellow he may have to euthanize the mice to save money.
"Isn't that terrible?" he asks. "Basically the mice are always the first thing you let go."
"I guess you can't euthanize the postdoctoral fellow," I respond, hoping to lighten the mood.
A few days later, Dutta tells me that because of the budget cuts, he had informed the post-doctoral fellow that he would be losing his spot this December.
'WE NEEDED ANOTHER STIMULUS. INSTEAD WE GOT SEQUESTRATION.'
In January 2002, President George W. Bush unveiled a five-year budget proposal that called for a doubling in NIH funding. It was an unprecedented show of commitment to the scientific community that promised 36,000 new projects and major breakthroughs in medical research.
In many ways, it proved to be a high-water mark. By 2007, NIH funding had jumped to $29.2 billion, a massive increase from its $20.4 billion level at the start of Bush's presidency. By the time President Barack Obama took office, it had gone up to $30.8 billion. The 2009 stimulus package known as the American Recovery and Reinvestment Act put a significant amount of money behind scientific research as well. But under sequestration, many of those gains were lost. This year, the agency's budget has gone back down to $29.1 billion.
NIH did not respond to repeated requests for comment for this article.
Over the past few months, The Huffington Post has set out to understand the breadth of these cuts. The roughly two dozen scientists and academic officials interviewed were naturally distraught over the impact sequestration is having on their own work and institutions. The nature of the business is to assume you're on the cusp of a major breakthrough.
But beyond that, they shuddered at the damage being done to the field at large. Yes, they conceded, the NIH's budget remains large at $29 billion. But without more investment, the nation's role as an international leader in scientific research is at risk. Moreover, the money being cut now will have lasting damage, both economic and medical, as cures to diseases are left undiscovered and treatments left unearthed.
In the interim, the stagnant budgets and sequestration have caused researchers to go to extreme lengths just to stay afloat.
Dr. Olga Gursky is among the more fortunate scientists working today. She received a $1.5 million NIH grant last month to study microproteins and how they can help cure cardiovascular diseases. The money effectively saved her lab at Boston University School of Medicine. She spent the year before it arrived surviving without one of her funding streams, after a grant she secured through the stimulus package expired.
"We needed another stimulus," she said. "Instead of the stimulus we got sequestration."
To cut costs when federal funding wasn't there, Gursky slashed salaries and began sneaking into science symposiums and pestering friends for guest passes to lectures. It was a humbling way to save a few hundred dollars -- one that reminded her of the climate she experienced in 1988 when, armed with an MS in physics from Moscow State University, she fled the Soviet Union as a political refugee.
"I have seen this movie before, and I would hate to see it happen in America," she said in a still-thick Russian accent. "The trends I have observing here ... compounded by the effects of sequestration, I believe is eerily reminiscent."
Sneaking into conferences is one way to stick to a budget. Another tactic is to look to private funding to help fill the void.
On Aug. 8, Steve Wynn, the billionaire chairman of hotel chain Wynn Resorts, announced he would donate $25 million to the University of Iowa to study cures for rare eye diseases. Researchers were grateful. But they noted that such funding streams are unpredictable. Wynn is supporting the university's Institute for Vision Research in large part because he suffers from retinitis pigmentosa, and there is only a finite universe of wealthy philanthropists out there to help combat diseases from which they personally suffer.
For-profit companies can play a role too. But they are much more likely to support projects with a clear return on investment, leaving explorative research like that being done by Dr. William Jackson at the Medical College of Wisconsin in the lurch.
Since 2007, Jackson has studied how viruses create a pool of membranes inside a cell. He hypothesized that viruses went into these "acidic vessels" in order to turn the cell into a factory for other viruses, meaning that if he could stop the development of these membrane pools, he could stop the spread of the virus itself. Most promisingly, he found that chloroquine, which is used to fight malaria, could be used to disrupt this process.
Despite the potential ramifications of such a finding -- everything from the common cold to foot-and-mouth disease is thought to follow this pattern -- the private sector won't fund the work. "There is no money to be made from chloroquine," Jackson said. "Only if the drug companies found something they could copyright or patent would they do it."
So Jackson is leaning on public funds. He applied for an NIH grant in February and it was reviewed in June, but the NIH won't give him a final answer until Congress settles on a budget this fall. Right now, he has $235,000 in "bridge" money to get him to next summer. If nothing changes and the grant application is declined, his lab will close.
"Medical research is not like building widgets. We cannot turn it on and off," he said noting that, among other things, his staff would move on and his project would be tarred as unsuccessful.
Without a billionaire benefactor or a private company to prop them up, some scientists have begun turning over the proverbial couch cushions.
One of those scientists is Yuntao Wu of George Mason University. Over the past few years, Wu and his lab have been at the forefront of HIV research. His team has studied how genistein, a compound found in plants like soybeans, could essentially impede the communication between a cell's surface sensors and its interior. In this way, they believe it can be developed into a treatment for the virus.
The work's been featured in several top scientific articles. But Wu's attempts this spring to get $100,000 to $200,000 in grant money from NIH were unsuccessful. He blames the sequestration, noting that he had received a total of $1.2 million in NIH funding over the past four years.
To address the current crisis, Wu let go of his technician, stopped doing some research and submitted 10 new grant applications since February. He compared the process to scratching away at lottery tickets.
Along the way, he took out a $35,000 loan to keep his Virginia-based lab open and turned to online fundraising tools. A non-profit organization called Day2 Inc. has begun a charity drive online to help raise $35,000 to help him with repayment (a little more than $20,000 has been raised so far).
"If I'm not funded in the next six months, I will be forced to abandon most of my research project," he said. "Some of these projects have been invested in for years."
Recently, he's begun thinking about leaving the country for greener pastures.
"I am starting to set up collaboration with Chinese researchers because the funding here dried up. This will permit me to at least keep some of my project alive," he said. "It has been very frustrating for me. I am in the middle of my career and the most productive time of my life."
'TIME MARCHES ON AND NOT ALL OF US GET TO MARCH WITH IT'
More often than not, researchers dealing with budget cuts that have been compounded by sequestration find themselves in Wu's predicament. Having exhausted all forms of cost-cutting and fundraising, they are scaling back their projects, contemplating moving or thinking about ending their work altogether.
Dr. Roland Dunbrack, who works at the Fox Chase Cancer Center in Philadelphia, has been studying the design of antibody proteins in hopes of developing a version not seen in nature. The general idea is to use computer technology to configure antibodies to better fit the diseases they target.
He applied for an NIH grant in February 2012 but a decision was delayed, first to see if sequestration went into effect and then to see if Congress could pass a budget. When NIH's National Institute of General Medical Sciences announced that it would be scaling back on new grants as opposed to cutting current ones to deal with sequestration, he knew he was in trouble.
Dunbrack has adjusted. He hasn't hired researchers, outside of one student from the Drexel University College of Medicine who is working off a separate funding stream. And he's narrowed the scope of his research.
"Basically, there are things I'm not doing because we don't have the money to do them. There is a kind of analysis of these protein structures written into this grant that I thought was very innovative that at the moment we are not doing," Dunbrack said. "This one student can't do everything."
At the Washington University School of Medicine, Dr. John Turk has also begun downsizing.
For the past 26 years, he's been developing cultured cell lines and colonies of genetically modified mice for the purpose of advancing diabetes treatments. By tracing an enzyme to messenger RNA and tracing that messenger RNA to a DNA sequence that affects the production of insulin, he believes that in 10 to 20 years he could find a specific control to "retard or prevent the development of diabetes and associated complications of diabetes."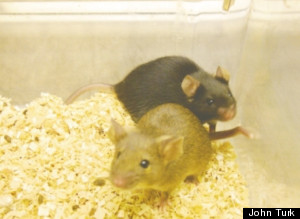 But after receiving continuous NIH support, Turk now finds himself in what he calls the "worst funding environment during my career." His grant expired in July 2011, and while his renewal application listed 60 publications in good journals, two of the three reviewers were not enthusiastic. His amended application, which was reviewed this February, scored better, in the 14th percentile. By then, the agency was preparing for sequestration.
So he filed a new application that he hopes will get him funding sometime in the fall of 2014. Getting his department to pick up the tab until then is a difficult task. He's assembled what he calls a "skeleton crew" of researchers and redirected money from elsewhere. The previously inconceivable prospect now exists that he might have to close down his lab and euthanize his mice.
"You would need a recipient who would be willing to assume the expense of caring for them," he explained. "We would offer them to other investigators. But few people are doing the research we are doing and everyone is facing similar budget cuts. ... Research that has taken a quarter of a century to develop would be lost."
"Time marches on, I guess," he said, "and not all of us get to march with it."
THE ONSLAUGHT OF BRAIN DRAIN
It's not just projects receiving NIH grants that have been set back by sequestration. Various other government agencies have seen their research budgets slashed as well. Early estimates from the American Association for the Advancement of Science projected that $9.3 billion would be cut from research and development projects in 2013 alone, including $6.4 billion from the Department of Defense.
Tom Antonsen and Phil Sprangle, two professors at the University of Maryland, said they've experienced funding shortages from the Defense Department that could hamper their work
"I can start off by saying one word: It's devastating," Sprangle said in a phone interview. "It's a disaster. I guess that's two words."
Sprangle, an electromagnetic physicist, recently submitted a proposal to the Defense Threat Reduction Agency to improve radioactivity detection methods. He believes that with the right breakthrough, port security screening and weapons monitoring, among other things, could be done at a safe distance of more than 100 meters away.
"It's a totally new concept," he said. But it was not good enough to get a grant.
"They have no money this year," he said. "It was put on a list of proposals that were scientifically acceptable and if money came in they would fund it. This is the first time I've experienced that."
He's been working in the field for 40 years.
The problem, Antonsen said, was not just how the lack of funding would impact graybeards like himself, but also the newcomers to the field. Young scientists who had spent 12 years studying for their PhDs would find the climate inhospitable, and future generations would look elsewhere.
"We used to be able to tell people that there was some kind of job security," he said. "That would be a compensation for not being paid as much. Now, if you are taking a big risk in investing 12 years of your life to learn how to do the science, people will think twice."
The non-technical term for this is "brain drain." It had been happening for years prior to sequestration, though the recent cuts have accelerated it. Antonsen, a plasma physicist who studies the production and interaction of electromagnetic fields with matter, said he has lost two staffers so far: one has left the country and another accepted a job at a Wall Street bank. A third is currently looking for work outside the field.
Boston University's Gursky said that her program in Physiology and Biophysics had had no incoming graduate students during the last two academic years, while the overall number of matriculating PhD students at other programs had "dropped sharply." Dutta said a prospective hire in India had recently turned down a job offer in favor of going to Germany.
"That was unheard of not too long ago," he said.
One of Dutta's colleagues at the University of Virginia, Patrick Grant, an Associate Professor of Biochemistry and Molecular Genetics, said his lab was down to two researchers from a peak of a dozen. His federal funding ran out last year.
On the shelves outside Grant's office were old, empty champagne bottles from happier times. They had markings on them, noting student graduations or work being published in scientific journals.
"I wouldn't advise people to go into science," he said. "I think it's a tough career to follow. It's not the career that I thought it was, or that it was for me a couple of years ago."
Fixing sequestration's cuts to scientific research actually ranks fairly highly on the list of legislative priorities. Obama routinely touts the need to reinvest in the field and recruit new scientists. In April, he proposed a $100 million plan to map the human brain.
Support for NIH, meanwhile, has a rich bipartisan tradition, in large part because it's easy to recognize the important work the agency does. This past week, it was announced that NIH scientists had successfully tested, on a small group of people, a vaccine for malaria -- a disease that kills one million people a year.
More recently, public universities have stepped up a lobbying campaign to reverse the cuts, with 165 professors and college presidents recently writing to Obama and Congress, urging them to take immediate action.
Perhaps most importantly, NIH has one of the most powerful members of the U.S. Senate squarely in its corner. Just one month after sequestration went into effect, Senate Majority Leader Harry Reid (D-Nev.) met NIH Director Dr. Francis Collins at a conference in Los Angeles. The two discussed budget cuts and rode together to Reid's next event. In the car, Collins laid out in detail how dire the funding situation was. Reid asked if he could come visit the NIH campus and if Collins, in return, would come brief the Democratic caucus.

Two months later, in mid-June, Reid took the trip to NIH headquarters in Bethesda, Md. He gave a floor speech about the dangers of the cuts three days later. The following month, Collins briefed Senate Democrats during their weekly lunch. A source with knowledge of the remarks said he brought up the prospect that the universal flu vaccine that is potentially five years from discovery could end up being delayed. He reminded attendees that 35,000 people die of the flu every year.

But it hasn't been enough. No bill has been introduced in the Senate to replace the cuts to the NIH's budget. Meanwhile, the Democratic budget -- which would replace all of the sequester -- is mired in a standoff with Republicans, who want to replace the defense cuts contained in sequestration while expanding the domestic cuts.
Reid, who associates say has been drawn to the issue because of his wife's bout with breast cancer, has continued to beat the drum. During a press briefing in late July, he brought up the topic of NIH funding again. And he's provided assurances to officials there and colleagues on the Hill that he will work on labor and health-related funding bills before military funding appropriations to ensure that scientific research doesn't get the short shrift.

But in his statement to The Huffington Post, it was evident that the majority leader continues to see the politics of budget cuts as overwhelming the crisis confronting science.

"I am working to find a bipartisan solution to reverse the damaging effects of the sequester, including the harmful cuts to NIH funding," Reid said. "There's absolutely no reason why Republicans shouldn't be able to support funding for life-saving cures and treatments."
HuffPost Readers: We're working on a project to document the nationwide impact of sequestration, and we want to know what the budget cuts have meant for you. If you or someone you know has been affected by reductions to research or other programs, or has been laid off or furloughed, we'd like to hear your story.
Call us at (860) 348-3376 and you can leave a message to record your story in your own words. Please be sure to include your name and phone number. You can also send us a note at openreporting@huffingtonpost.com. We will never use your name or any identifying details without your permission.
Before You Go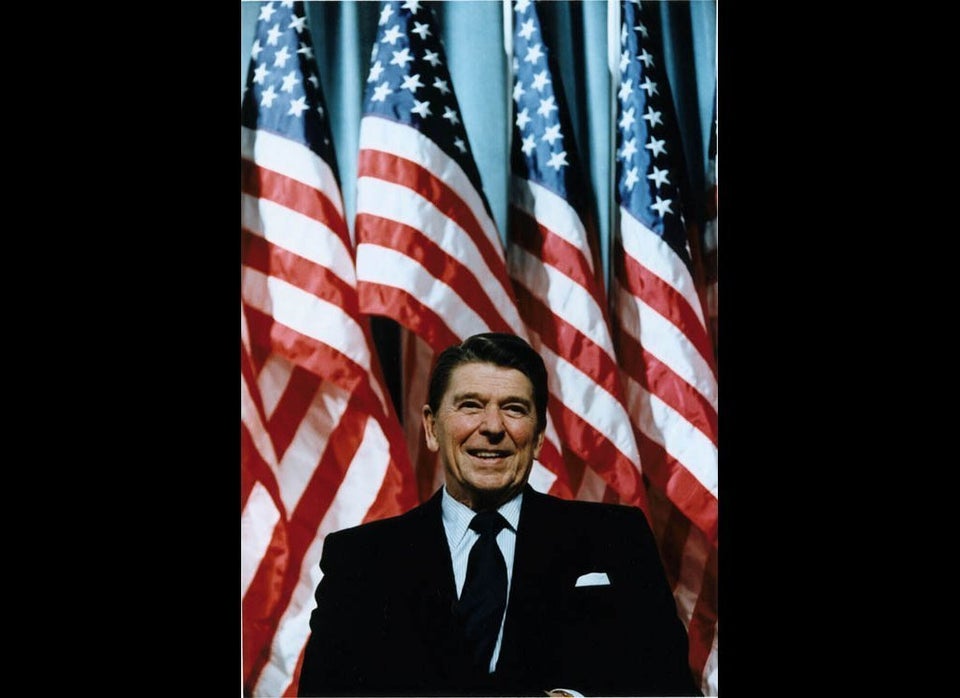 Politicians Mess Up Science
Popular in the Community