WASHINGTON -- With little evidence that Congress will be able to find a budget fix, officials at one of America's most iconic medical research centers are warning that cuts brought about by sequestration could dramatically set back decades-long work.

The Framingham Heart Study in Framingham, Mass. -- the longest running cardiovascular research project in the country -- saw a major funding stream slashed by $4 million this year after lawmakers couldn't agree on a sequester replacement. Some of the effects have already been felt. Last month, the organization announced that this fall it would let go 19 staffers out of a staff of about 90, in addition to eliminating certain ancillary studies.
But now, with a critical research period on the horizon, officials are worried that the project's basic mission could also be harmed.
"You're going to lose a major investment that we've been making over the last 65 years," said Dr. Karen Antman, dean of Boston University School of Medicine, which co-runs the Framingham Heart Study. "This is an iconic trial that has more than proven its value from a public health point of view ... It's made an enormous difference by identifying diabetes, hypertension, hyperlipidemia, and other risk factors. We've really decreased deaths from cardiovascular disease. That human laboratory would be lost."
Those who work in the field of medicine describe Framingham as essential to studying and caring for cardiovascular disease. Established in 1948, the organization has monitored and tested three generations of Framingham residents (more than 15,000 in total) to compile one of the most comprehensive epidemiological data sets. In the process, it has issued more than 2,200 papers, on everything from the hazards of cigarette smoke, to the consequences of high cholesterol and blood pressure, and what makes people vulnerable to strokes.
"It is probably the most fundamental study that has contributed to our understanding of the natural history of risk factors for cardiovascular disease, how it is passed on in families, and understanding the implications of structural abnormalities," said Dr. Mariell Jessup, a University of Pennsylvania cardiologist and president of the American Heart Association. "So much of what we know about cardiovascular disease and stroke comes from cohort studies like the Framingham study."
For cohort studies to be effective, however, continuity is required and massive amounts of medical information must be updated and maintained. When money is tight, that's not an easy task.
Framingham compiles tissue banks and blood samples, conducts psychological tests and physical exams, and performs MRIs and heart echoes, among other things. All of this is done for the purpose of connecting the dots between biological and physiological variables and cardiovascular diseases.
The latest round of testing is set to be done in the next two to three years on the children and grandchildren of the original cohort, Antman said. But absent a new revenue stream, that round of data collection could end up being delayed. It would be like if NASA spent years developing a rover before sending it to Mars, only to be told upon the rover's return that the agency only had the money to study the photos it had brought back, not the rock or soil samples.
"We are very much are committed to getting funding for the exams within the next several years because if we miss an exam cycle we won't have data on which we can do the research," Antman said. "Not having the exams funded is a real problem."
Framingham's shortcoming, at least in this political age, is that it depends on government funding to do its work. The Study is a project of the National Heart, Lung and Blood Institute (NHLBI), which is itself a subsidiary of the National Institutes of Health. And like nearly every program dependent on NIH funding, it is getting more or less screwed by sequestration.
According to a BU official, the NIH annually provides roughly $21 million in funding to the Framingham study, some of which funds multi-year grants. Of that, some $10 million is sent by the NHLBI to Boston University for basic infrastructure needs and grants for ancillary studies. But sequestration has chopped that account down to $5.9 million.
The Study is limited in how it can refigure its current operations to help absorb the sequester blow. The additional approximately $5.4 million in grants that BU faculty receive annually for specific research projects would help, but that money cannot be used for anything other than those projects, per NIH guidelines. So Antman said that she is looking for other sources of funds to fill the gap, though she acknowledged that the current financial climate is "absolutely" the worst she's experienced in 30 years in biomedicine.
Others in the field are left watching with sympathy and concern.
"We can't even begin to estimate how this is going to impact the science that we are learning. Just do a Google search or a PubMed search to see how many articles come out with the word Framingham in them and take out all those articles," said Jessup. "We are in the age of being able to put together the pieces of what disease looks ... one could postulate that we won't understand that now as much."
Before You Go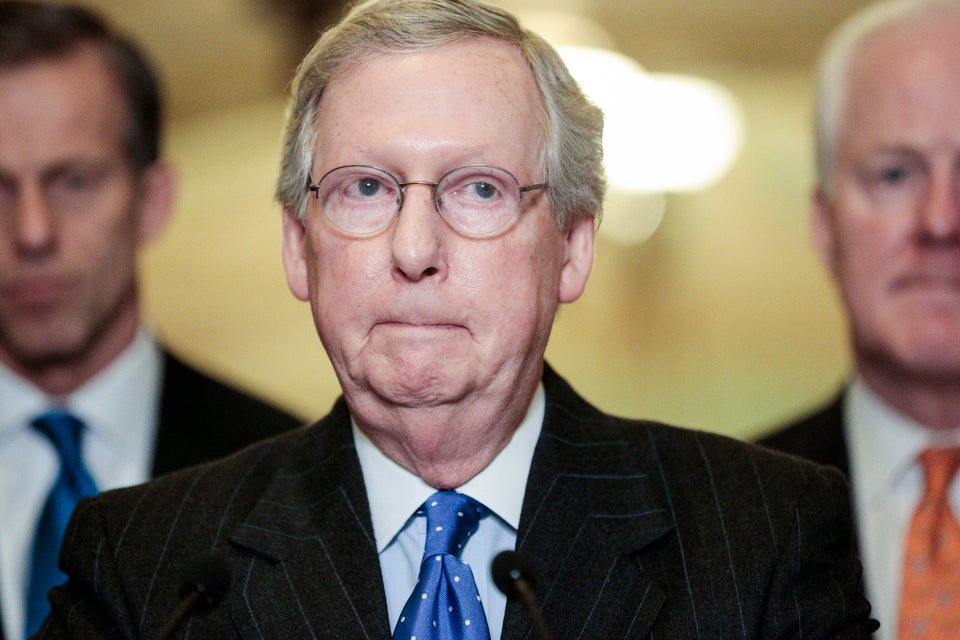 Say Cheese! Mitch McConnell Smiles
Popular in the Community