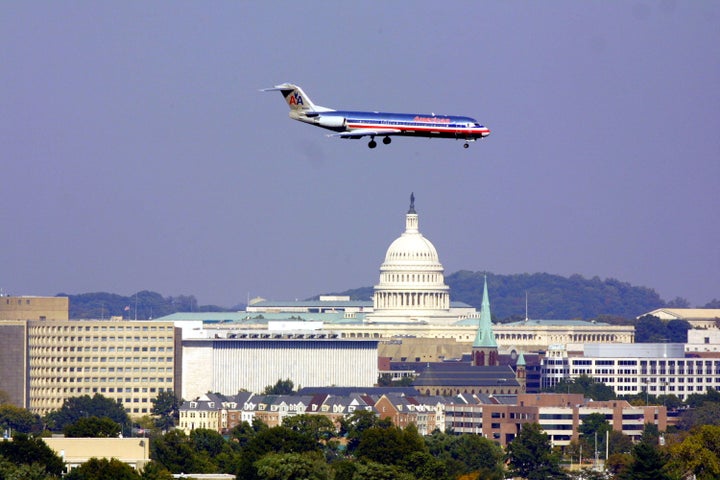 WASHINGTON -- On March 6, Louella Hollingsworth was presented with the League Medal of Safety Award by the National Air Traffic Controllers Association for helping save the life of a pilot in danger.
A week later she was informed that she was being furloughed, one of a snowballing number of casualties from sequestration.
Hollingsworth's story is not the least bit unusual. Across the country, air traffic towers are being shuttered and controllers are looking at reduced pay or pink slips, as a result of Congress' inability to avert the mandatory spending cuts that took effect at the beginning of March. According to Sarah Dunn of the National Air Traffic Controller Association, 14,752 controllers will be forced to take a pay cut. The Federal Aviation Administration alone is facing a 5.1 percent reduction in its operating budget.
"All of the controllers around all of our facility were seeing furlough orders," Hollingsworth said in an interview. "And as far as I know, just from the news that I've watched, every [air traffic control] employee will face furlough."
The fact that Hollingsworth received an award and a furlough notice in the same week is one of the most illustrative examples to date of how indiscriminate sequestration's punishment can be and how incongruously it's been covered.
Throughout the country, people have faced furloughs or job losses, seen social services cut, educational assistance axed, and scientific research halted abruptly. On the national level, however, the majority of press coverage has been devoted to shinier items, in particular the decision to end White House tours and whether or not the White House Easter Egg Roll would meet a similar fate.
When ABC News covered Hollingsworth's award on March 14, the station didn't mention that she was facing a pay cut over the next six months. A local Texas television station buried that information at the end of its broadcast.
Sequestration is now as much a part of Hollingsworth's life as the accolade she earned beforehand. From April through September she will lose 11 days' worth of pay.
"It's not a good hit," she says. "But I'll be OK. I can pay my bills. Some people, some of the controllers that may be at smaller facilities, I could see that it would be a real financial hardship. There are different situations, single-parent homes, things like that."
The real problem with sequestration, Hollingsworth said, was that it could prevent her from doing the very job that earned her the safety award in the first place. One day in November, she was monitoring flights in her Dallas/Fort Worth airspace when it became alarmingly clear that a twin propeller plane on its way to Michigan was facing problems. The pilot was unresponsive when she told him to gain altitude. Hollingsworth checked to see if there was a radio problem. When she contacted the pilot directly, all she could hear was heavy breathing.
A few minutes passed. "I just wanted him to talk to me," she recalled. "I was very concerned because I didn't want him to pass out. If he passed out then there nothing we can do. Pilots in the past have crashed."
The pilot was suffering from hypoxia, or lack of oxygen. As he hovered around 27,000 feet flying into Arkansas, Hollingsworth kept trying to get him to talk. She was monitoring his flight along with 10 to 15 other planes in her airspace.
Eventually, she heard a sound, but the pilot's words were nearly unintelligible. "He was slurring too bad," she recalled. "Basically, he didn't have enough oxygen."
Hollingsworth had to get the pilot to fly to a lower altitude and put on an oxygen mask. Her colleague, Jeremy, jumped in, coordinating flights to ensure that it would be safe for the pilot to descend. He got clearance down to 18,000 feet. The pilot eventually flew down to 22,000 feet and finally down to 20,000. It was then that "his voice started sounding better," she recalled.
The experience was one of the most intense Hollingsworth has had in her 25 years as an air traffic controller, she said. Because of the way she handled it, she was one of 12 controllers given the safety award. Now, as she contemplates life under sequestration, she worries that she won't be able to rise to the occasion again.
"The situation I worked back in November, if we had a furlough situation then, I don't think I would have had an extra person to help me," she said. "And the person sitting next to me, Jeremy, he helped me a whole lot with coordination and made sure everything else was in order while I paid attention to this one airplane. There was a supervisor back there, coordinating things on the phone. When things like this happen, there's a lot of people, it's not just the one person talking to the airplane, that's doing a lot of work. If they cut back on staffing, that person may not be there to help."
HuffPost Readers: Have the federal budget cuts kicking in this month had an impact on you specifically or on your community? Have you lost work, has a program you rely on been cut back, has a project been halted? The Huffington Post wants to hear from you on how you're being affected by sequestration. Send your stories, links to news reports on the impact in your area, photos and anything else you want to share here. Include a number if you'd like to be interviewed. Let us know if you want to remain anonymous.
Calling all HuffPost superfans!
Sign up for membership to become a founding member and help shape HuffPost's next chapter
BEFORE YOU GO
PHOTO GALLERY
What Sequestration Would Cut