When Travis Stephens first heard the word "sequestration," he thought it was nothing to worry about.
"They said the sequestration -- they talked about it a year ago and everybody said it will never get to that," Stephens said. "It's pretty frustrating. I don't fully understand it."
Stephens said that he doesn't pay much attention to politics, but he does know the regular budgeting process has been dysfunctional during the years of Barack Obama's presidency and that sequestration is a symptom of that dysfunction. The cuts kicked in last month and forced the federal government to find $85 billion worth of savings this year. Now Stephens is out of a job.
Stephens, a 32-year-old father of two who lives in Richland, Wash., spent several years as a radiological control technician for one of several companies tasked by the U.S. Department of Energy with cleaning up nuclear waste at the Hanford Nuclear Reservation in Washington state. The biggest challenge at the site is dealing with 53 million gallons of nuclear sludge stored in leaky underground tanks.
Of the 9,000 workers at the site, more than 200 members of the Hanford Atomic Metal Trades Council like Stephens received layoff notices last month, and more than 2,000 non-union workers will have to take unpaid days off this year.
"The sad thing about this is the work still needs to get done," Dave Molnaa, president of the council, said in an interview. "They expect it to get done with fewer people, and our concern is the health and safety of employees."
The Department of Energy has said that while sequestration could affect cleanup at the Hanford Nuclear Reservation, there won't be a risk to the workforce or general public.
Orlando Kremmer, a Richland resident and longtime pipefitter who worked at Hanford for the past three years, also lost his job last week. He'd made it through previous rounds of layoffs at Hanford and had never heard of a thing called "sequestration" before.
"That job was the one I thought was my retirement job," Kremmer, 57, said in an interview. "I thought I'll be all right until I retire. I thought everything was looking good, and it went from that to unemployment."
Kremmer said he wants to know why, if President Barack Obama and congressional leaders are always talking about the importance of creating jobs, have they pursued a policy that economists say will cost the economy 750,000 jobs.
"How in the hell is that helping the United States?" he said. "You get in your fifties and stuff, you gotta build your retirement up. This is going to hurt me in the long-run. I just don't think it's OK."
The Hanford Nuclear Reservation is the most contaminated nuclear site in America, and the Energy Department has been trying to clean it up since the end of the Cold War.
Stephens said a staffing firm told him the job outlook is not great for people in his field, and he's not holding out hope of getting his old job back anytime soon. (The Labor Department says job growth for nuclear technicians will keep pace with the overall economy over the next 10 years.)
One reason Stephens is scrambling to find work is that he needs to maintain his health insurance because his wife was recently diagnosed with rheumatoid arthritis. Stephens has applied for nuclear tech jobs all over the country, he said.
"At this point I'm willing to go anywhere," Stephens said. "Tennessee, Nevada, New Mexico, California, Utah."
His last day on the job coincided with his fifth anniversary. He and his wife had dinner at a Texas Roadhouse and then drinks with friends and coworkers.
"Overall it was a pretty good time. We saw a lot of coworkers who were not laid off and people who were laid off," he said, noting that the laid-off people were slightly less cheerful than the others.
"All the people who were still employed were pretty cheery and trying to keep everyone in good spirits," he said. "It was a nice to get a little friendly support form all the coworkers."
Before You Go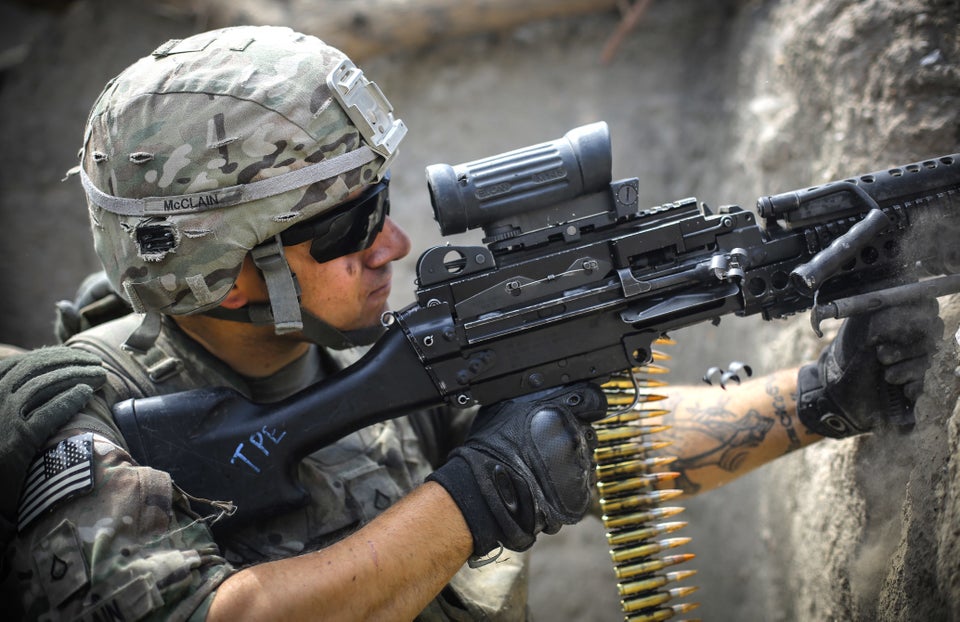 What Sequestration Would Cut
Popular in the Community