Forced by the sequestration funding cuts to scale back their voucher programs, state and local housing agencies were helping about 100,000 fewer families in June 2014 than in December 2012, before the cuts took effect (see graph). Our new paper shows that agencies are beginning to restore some vouchers to use in the final months of 2014 and explains that Congress can support these efforts by raising voucher funding for 2015, as a Senate bill would do.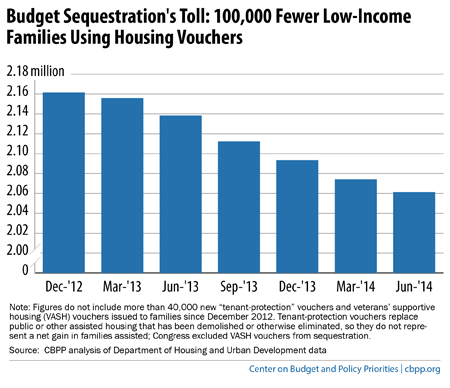 The sequestration cuts have come at a particularly bad time. The number of renter households paying unaffordable housing costs is at historic highs, according to a recent report by Harvard's Joint Center for Housing Studies. The "spread of severe cost burdens [where renters pay more than half their income for housing] during the Great Recession and its aftermath is particularly alarming," it warns.
To its credit, Congress provided enough voucher funding in 2014 to enable agencies to restore some lost vouchers, and many housing agencies have begun to issue more unused vouchers to families on waiting lists. As a result, agencies are likely to restore vouchers for between 20,000 and 40,000 families by the end of this year, we estimate.
It's essential that Congress provide enough funds in 2015 to renew all of the vouchers issued in 2014 and make further progress in reversing the voucher losses under sequestration. To achieve this goal, Congress should fund vouchers at least at the level that the Senate Appropriations Committee approved in June.
Otherwise, some agencies may have to retreat from their recent progress. For instance, freezing voucher renewal funding at the 2014 level would lock in the loss of up to 85,000 of the 100,000 vouchers eliminated under sequestration.
Related Posts:
Popular in the Community