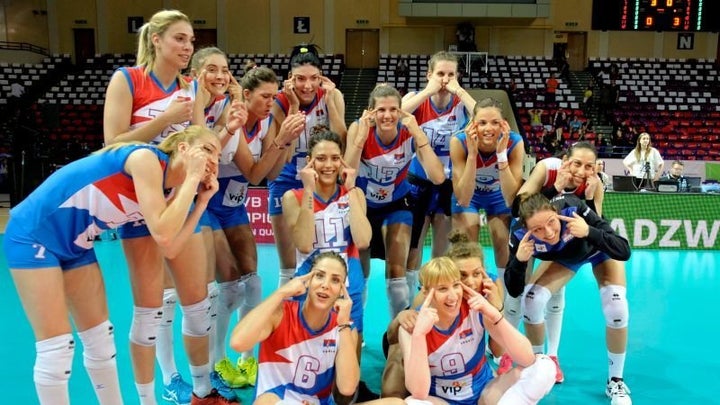 The photo, which was originally featured in an FIVB story about the game, has since been removed, according to Deadspin. But that doesn't mean people were OK with the photo's brief appearance.
The FIVB told HuffPost in a statement that the organization is aware that the photograph was "culturally insensitive."
"The FIVB does not condone the actions of the Serbian team," the statement said. "The FIVB will work with the Serbian Volleyball Federation to ensure that the players understand that their behavior has led to undesirable consequences and that such culturally insensitive actions do not happen again."
The Serbian women's volleyball team isn't alone in thinking that this pose is totally kosher. In 2008, the Spanish men's Olympics basketball team posed for a similar photo right before they left for the games in Beijing.
Earlier this month, Ezequiel Lavezzi, an Argentinian footballer who plays soccer in China, apologized after he shot a promo photo making the racist gesture in uniform.
In a statement, Lavezzi explained his actions:
"We were given instructions by the official photographer," he said. "And I was trying to make some interesting photos by making some funny faces, which would be used afterwards for entertainment purposes."
Much like the volleyball team photo above, there's nothing funny about it.
June 1 - This post was updated to include the FIVB's response.
Popular in the Community