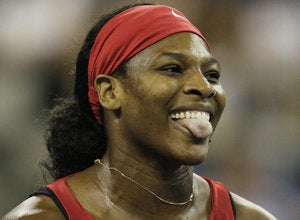 Yesterday, the folks at Gatorade introduced a new campaign for G2, their low-cal sports drink with less calories (just 25 vs. regular Gatorade's 50) -- appealing to more types of athletes.
The campaign features an everyday athlete, matched up with a pro athlete who happens to have the same name. What does all this mean to you? It means that I had the opportunity to interview the world's top-ranked female tennis player Serena Williams yesterday -- who appears in the next G2 ad -- and you get to come along for the ride.
The younger of the Williams sisters spoke to me from Hollywood's painfully hip Roosevelt Hotel -- just coming off of an amazing win in the Australian Open and losing to her sister in the semis in Dubai.
I wanted to jump right in and talk about her 10th Grand Slam title and the controversy in Dubai and all the rest -- but Serena was definitely focused on the G2 campaign, as she had just selected the "Serena" who would appear with her in the new campaign. The event at the Roosevelt was emceed by the woman with the elastic voice, none other than Nancy O'Dell of "Access Hollywood" and "Dancing with the Stars." Five everyday athletes named "Serena" came in from around the country to share stories of how sports and exercise helped them overcome a personal challenge and reach an important life goal. (Check out missionG.com for more info, and also to share your everyday athlete story.)
Luckily, I'm a big fan of Gatorade and their cool programs (I'm particularly obsessed with Replay), so I did want to hear more about the G2 campaign.
EB: So you're in LA to select the "Everyday Serena" to appear in your ad. Which "Serena" story inspired you the most?
SW: It would have to be Serena Cuevas from San Diego. She got in a car accident at the age of 17 -- just as she was in the prime of her dancing career. She was told she might never dance again. It just got me thinking about what if something happened to me when I was that young -- would I have tried to keep playing tennis? But this Serena, she didn't give up. This was a turning point for her. She recovered and went on to compete in dance competitions, and she even started her own dance company -- Deseo Dance Company. She really inspired me.
EB: Very cool. So what's your favorite G2 flavor?
SW: That's easy: The purple one. Grape ...
EB: Congrats on the Australian Open ... such a great accomplishment. Now what was it like playing in Dubai?
SW: Dubai was fine. It's a super metropolitan area -- lots of Londoners, Asians, Americans. I actually was almost disappointed, because I felt like I was still in the United States.
EB: So on my web site GoGameFace.com and in my book GameFace, for women who love pro sports but not stats, I talk about the fact that I'm a passionate female fan - but I don't follow a lot of women's sports. I do follow women's tennis (I always have) and I also follow athletes like you and Venus, plus Danica Patrick. What intrigues me is when the level of play is comparable to men, and I like it when women beat men with no handicaps and no ladies tees, etc. Would you ever consider a Billie Jean King/Bobby Riggs type match up? Maybe against Andy Roddick, who I read that you already beat?
SW: Probably not at this point in my career. I'm focused on being the best on the women's tour. You know, I play women's tennis ...
EB: Gotcha. OK, how about you and Venus against the Mannings?
SW: We would definitely beat them.
SW: Yes. And we will win because we're better than they are.
EB: I believe you! So how is your fashion Aneres line going?
SW: It's going really well ... we have a new collection coming out in April. There are so many things going on with G2, my fashion line, featuring the other Serena in the magazine.
EB: Gotcha. So my readers are going to kill me if I don't ask. I know you have been rumored to have been dating some people (including Common) ... Are you dating anyone?
SW: Right now, I'm dating my tennis racquet.
EB: That is so cool because I'm dating my computer! We should go on a double date.
EB: So has Venus set a date yet for her wedding to Hank? Has she picked a dress yet? Or are you helping to design it?
SW: That is so funny. She is not engaged and everyone still talks about it. I'm going to have to call her now and tell her that people are still asking about it. Last time, I sent her a bottle of champagne to congratulate her. I'm going to have to send her another one.
EB: Or send her a bottle of grape G2!
EB: So I also read that you have a new memoir coming out in the fall?
SW: Yes, it's this book I've been writing ... it's been really intense, but a great experience.
EB: And I read on your web site about a screenplay you were talking about writing?
SW: I love to write. I always have. A goal of mine is to definitely write a screenplay ...
EB: You know, some people have said that you have so much going on between the fashion line and your endorsements and your writing -- or are you one of these people that thrive on having more and more things thrown at you?
SW: It's all about managing your time. Yeah I have a lot of things going on, but tennis is number one, and it has enabled me to have opportunities like this with G2 and my fashion line and my book. But I know that it's tennis that paves the way for me - so it's important for me to put all my effort and focus into tennis.
EB: So Serena, is there anything you are not good at?
SW: Yes, I am not good at any sports outside of tennis.
EB: I find that really hard to believe.
SW: No seriously, I am terrible at basketball. Track is kind of a no-brainer, but yeah, anything other than tennis, I'm not good at it.
EB: Well, I will tell you that my friend Deborah interviewed you once and beat you in ping-pong. And I also know that Conan O'Brien beat you at Wii tennis ... May I challenge you to a game of Scrabble?
SW: I'm the worst speller in the world.
SW: You would win. I read a lot and I love to write, but I'm a horrible speller.
EB: I'm going to friend you on facebook and challenge you to a game.

SW: Um, OK.
POST-INTERVIEW UPDATE:
Approximately three seconds after the conclusion of the interview, I am here to report that the real Serena Williams does not appear to have a facebook profile. I can't believe she didn't mention it during the interview! In the meantime, I friended someone who I thought was Serena -- I mean, her name is Serena Williams. I'm currently waiting for her to accept me. However, in my heart, I do not think it's the real Serena.
(Type in "Serena Williams" in the search bar for facebook. You will see a Serena Williams profile, but I do not believe it is not the same woman I spoke to from the painfully hip Roosevelt Hotel. This Serena Williams could have been one of the G2 "Everyday Athlete" finalists, though.)
I did, however, became a fan of Serena Williams on facebook and challenged her to a game of Scrabble on her wall -- also adding a little trash talk. I will let you know if our Scrabble challenge is, just like the Oreo lick-off, on like Donkey Kong. That's: D-O-N-K-E-Y K-O-N-G. Just practicing.

REAL LIFE. REAL NEWS. REAL VOICES.
Help us tell more of the stories that matter from voices that too often remain unheard.