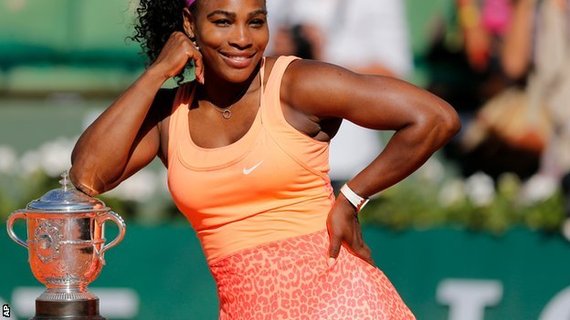 In 2006, The New York Times Magazine published a seminal piece of sports journalism, one of those essays set to be studied, anthologized and dissected for years to come. David Foster Wallace's "Roger Federer as Religious Experience" spawned from 20 minutes spent with the Swiss tennis champ at Wimbledon and hundreds, maybe thousands, of hours watching him. What resulted was unsurprising: an essay brimming with DFW's keenness, his ecstatic prose and the perfervid fanaticism the writer had for the sport of tennis. It is so detailed that what the writer calls "Federer Moments" are anatomized to examine a seemingly insignificant flick of the wrist, or the shuffle of a foot backward. It is without a doubt the most comprehensive of the many think pieces that aim to encapsulate Federer's greatness, his technical virtuosity and, well, the godlike effect he's had on the sport.
Now, Serena Williams, someone as great as Federer, has also been the subject of many think pieces. They do not, though, equate watching Serena to a "religious experience." Nor do they parse her mechanics or argue that she is the evolutionary apotheosis of women's tennis. Instead, they tend to discuss Williams' overt power, her grit, her and Venus' Compton upbringing. And they frame SW in the context of tennis as a whole, modifying her name with hackneyed sporting adjectives like "legendary" or "all-time-great" or "incomparable", "insurmountable," "larger-than-life." Serena is certainly all of these things, but I can't help but feel that the commentary to which she is subjected is oftentimes dissociative, platitudinous, as if beneath the journalism is a kind of subliminal segregation and, consequently, a tendency to focus on all the ways Serena is different than us, rather than the ways she is the same.
It is true that Serena has never attracted the sacerdotal following of Federer or the voyeuristic drool of Sharapova. It is true that she does not charm in pre-match interviews, favoring terse replies that suggest her mind has already entered a competitive stratosphere which precludes her ability to engage in reductive small-talk. We need not regurgitate stories of her fiery attitude, which has alienated many a tennis fan, or injuries and subsequent comebacks. All of this is vital information, without which one could only paint an incomplete portrait of Serena. But it does not explain why watching Serena Williams is, in fact, an experience akin to religion, why rooting for Serena makes you want to believe, in ways wholly different than the equally magnificent Federer, in something bigger than yourself.
Serena, like many successful women, is burdened with the responsibility of being both preternatural and marketable, miraculous in talent but accessible to the masses. She is asked to defy the laws of physics, put on displays of athletic ingenuity, but also comport herself like she is at the local country club. She must propel herself to victory all the while tempering the fire that helps her do so. She must be one-of-a-kind, but also a jack-of-all-trades. Serena symbolizes, then, tennis at its most elevated form, but also sport as political, sport as cultural, sport as meritocracy and also aristocracy.
I met Serena Williams in Houston, Texas in 2003. In the elementary phases of my fascination with her, I spotted Serena talking with three other women at a pre-Super Bowl festivity. That year, the Patriots were playing the Panthers, but it was Serena, instead, who piqued my interest. I stood maybe four feet tall, my Wilson Hammer tennis racket equal in height, her at 5'9, with a presence that put me in a total state of childish paralysis. She wore a white skin-tight dress and for the first time in my life I found myself before someone of whom I didn't know what to make; an existence previously illusory was there in front of me, not on a wide-screen, or in front of a blue hard-court. Everyone remembers the first time they see a celebrity or an idol of theirs in person; this was no different, and perhaps I needed confirmation that the young woman I cheered for in my living room was, in fact, a living, breathing human rather than some telegenic hologram hitting 120 m.p.h. serves. She held my sharpie in her hands and signed my napkin. I retired the Sharpie thereafter, her fingers having left upon it an indelible mark of greatness. She flashed a perfunctory smile and carried on the conversation I had interrupted. I tucked the napkin away in my back pocket, and despite her lackluster signature -- an "S" with a curlicued finish -- it became a sort of hallmark.
Twelve years later I was packing up my childhood room in Baltimore to move to a new apartment in New York City. Sifting through a never-ending hodgepodge of sports autobiographies, Tiger Beat posters and touristic memorabilia I found that same napkin, crumpled and with the faintest evidence of black marker, as if the ink had evaporated. While the signature may have been less detectable, nothing else had changed: Serena Williams still dominates women's tennis and I still regard her with the same ecclesiastical reverence of a decade earlier, watching her matches on my computer during classes, reading every article in which she is mentioned. I suppose I gravitated toward Serena for several reasons, not least of which was her style of play: pulverizing, surgical, gritty, suffocating. But there was something else dictating it, something more personal. Serena and Venus were different, and I, on the cusp of what I thought was a burgeoning tennis career, felt different too. Or at least as different as a white, Jewish male could feel in an upper-class suburb. So if there was anyone I would emulate with childlike sycophancy, it was them.
For most of history, tennis was a sport characterized by its Caucasian provincialism, its country-club decorum, the finesse one needed to win points. Roger Federer, despite being the sports most modern poster boy, is the embodiment of this traditionalism; aristocratically handsome, charming and amiable, with reflexes like a cat, he has never had trouble being accepted by the sport at which he happens to excel. The Williams sisters, though, are the antithesis of this. Serena is fierce, not agreeable, powerful, not gentle (although she possesses an often-overlooked touch and ability for creating absurd angles). They are muscular and look even more so standing across the net from flesh-and-bone blondes whose faces grace watch advertisements and sour-candy packaging. The Williams narrative is well-documented, from their Compton beginnings under the tutelage of a man-with-a-plan, Richard Williams, to early tastes of Grand Slam success marred by racism and acrimony (i.e. Indian Wells 2001, U.S. Open 2004), to health scares (a pulmonary embolism for Serena, Sjogren's Syndrome for Venus), to, at present, Serena's imperious return to the top, where there exists no formidable, consistent rival to challenge her. The fact is that if Federer produces the kind of brilliant, horripilative tennis inviting claims of the apostolic, so too does Serena, although it seems certain she'll always be less appreciated than her white, male counterpart.
When you're a young tennis player, there is a small, exclusive repertoire of players who you're told to watch as a reference point for technical, mechanical mastery. The Federer forehand, for instance, is a lesson in aerodynamics, in spot-on timing. Stefan Edberg's volleys, too. The Gasquet and Agassi backhands. The Djokovic return. The Sampras serve. Anyone trying to refute this would be wrong and, thus, tennis coaches direct their eager disciples toward these shots. Serena Williams, though, might be the most technically prolific of them all. Her serve has been properly heralded as the best in tennis history, but there's been no such deification of her low-to-high forehand, and pundits choose instead to focus on the musculature that drives her backhand, the sport's best, when it's actually propelled by small, seemingly inane tactics, like a quick, compact backswing, a knee-bend that can't be taught, an astonishingly high "tennis I.Q." and yes, of course, her strength. But the sport's hegemony has arbitrarily chosen that Serena is not the archetype whom their kids should be emulating; she is a departure from the "tennis tradition," an aberration and, ultimately, a "bad influence." The putative genesis of a tennis education is instead the white man, clad in a white Lacoste polo and white tennis shoes and white shorts that have gradually, and thankfully, grown from mid-femur to kneecap, and although a Serena comes along once in a blue moon, displaying not just an evolutionary advantage but an incomprehensible mastery of the sport's form, still we direct kids to what an old coach of mine might call "tennis players who comport themselves like tennis players should."
But how should athletes comport themselves? There is something to be said for grace, sportsmanship, gratitude, and surely these are the qualities that elevate a player like Federer, or Michael Jordan, or Neymar, from preternaturally gifted athlete to cross-generational, international sporting deities. All around the grounds at this year's U.S. Open you could find men and women sporting Nike's ultra-lucrative "RF" gear -- I happened to wearing an RF hat too - and thousands of pairs of Air Jordan's. The Federer peanut gallery is an irrepressible monolith, waving Swiss flags, shouting words of encouragement in almost as many languages as Federer himself speaks. They are a kind of trans-Atlantic congregation; John McEnroe might be the sport's last player to elicit such sideline rapture. Nike makes no Serena line, though, and on a new Forbes' list of the world's most marketable athletes, she was well behind other female tennis players whose achievements look downright paltry next to Williams' laundry list of records and Grand Slams. This is attributable to a few things, arguments I find untenable, conjectural, measly excuses not to support Williams. But they have sustained themselves regardless.
I recently came across an article on SportsBreak.com petulantly titled "10 Reasons Serena Williams is Hated." It is whiny, subliterary, with a tenuous grasp on its own reasoning, or lack thereof. It goes as follows:
Number 10: She's outspoken. Number 9: Tennis isn't always a priority. Number 8: She's disingenuous. Number 7: Does not give credit where it's due. Number 6: Wore $40,000 earrings at the U.S. Open. Number 5: Tantrums. Number 4: Lack of humility. Number 3: Does it her way. Number 2: She's a bitch. Number 1: She's too good.
To take the time to refute this list, a product of that pernicious mixture of misogyny, racism and the Internet, would be to grant it a modicum of legitimacy. And while Serena's temper has garnered her many a hater, it is insults like these that reveal the harsh underbelly of anti-Serena culture, one in which a kind of crass sexism leads men to ignore Serena's gift and, instead, insult her body and her musculature while attempting to defeminize her. Why do they do this? Well, to accept Serena's accomplishments as a woman, to concede her obvious strength and her dominance, is threatening to their well-established patriarchy, where men are strong and boastful while women are submissive. Thus, they degrade Serena, call her manly, and only then can they see her greatness.
It is entirely plausible that Serena is disliked because of her on-court disposition, but it ought to be said that the criticism she levels, insults she alone must contend with, is wholly disproportionate to her putative crimes. What might she have to do to be afforded the same respect as her male counterparts? Never mouth off at a linesman again? Not wear tight dresses? Conceal her emotions? Whatever the answer may be, it is comforting to know that Serena doesn't care - she will continue, uninhibitedly, to be herself, to wear the clothes she wants, because Ms. Williams, despite knowing she represents something greater than the sport of tennis, is all about winning.
It is Labor Day at the 2015 U.S. Open and Serena Williams is practicing in front of about a hundred fans. After a $500 million renovation, the practice courts at the Billie Jean King National Tennis Center were opened to the public in 2014, granting to fans unprecedented access to their favorite tennis stars. Serena is wearing a neon-yellow shirt and leggings, pummeling backhand returns as her next opponent, sister Venus, practices on the adjacent court. The closer you get to the court the more Serena's returns, hit halfway between the service and baseline, sound like gunshots, the contact of ball to string sounding more electric and pulverizing than the television leads you to believe.
Serena would go on to lose in the semifinals, a devastating loss; she was two matches away from completing the first calendar year Grand Slam in 27 years. But, right now, it looks as though losing is not in her foreseeable future. Serena is being goofy. She's also frustrated. It does not look like she's having fun, per se, but on her face is the look of obstinacy, of perfectionism. She will not leave the court until she is happy with her game and, although she has gone on record saying she does not enjoy practice, you get the sense she cares almost too much.
Surrounding Serena is a loyal, nomadic group of all-male apostles: Patrick Mouratoglou, the coach who played a major part in Serena's late-career renaissance, Mackie Shilstone, Serena's trainer, who is running around the court retrieving tennis balls in a petrified scurry, an overweight man whose button-down is drenched in an oval of sweat, and, finally, Serena's hitting partner, who looks sort of like a nervous intern in front of his boss. Serena's Yorkshire terrier, Chip, is on the periphery, lying on her tennis bag as she practices. Serena is a model of focus and stoicism as the men around her, perspiring, subservient, chase after tennis balls, lob them Serena's way, play fetch with her dog. It is easy to overlook this scene - a sensationally gifted athlete practicing with her team - but, in some ways, it exemplifies Serena Williams, her significance, her imperturbable drive, and, frankly, the reasons she is antagonized. Serena here is Botticelli's Venus, front and center, as Zephyr and Aura circle her in admiration.
A man sitting near me whispers to his wife, "she seems like such a bitch." I want to ask why this is his sole observation, rather than the seven consecutive perfect serves Serena just fired off, or the drop-shot with which she fooled her hitting partner. I can infer why he might think she's a bitch: a woman, serious as all hell, with legions of men working for her. Surely this does not make her, or any woman, a bitch -- any casual tennis fan has seen professional players absent-mindedly toss their sweaty towels in the way of prepubescent ballboys - but this is the plight of Serena Williams. Should her greatness sustain itself, along with her expected emotional tumult and her brazenness, there will be those that see her first as an angry black woman, then as a champion. She will never win over the whole morass of sporting pundits and I suspect she knows this and, frankly, doesn't care. She runs the show as she likes; she will not curate her act to the preferences of the sport she dominates; she will not wear a longer dress because white bankers from JP Morgan sit in courtside seats at her U.S. Open matches; she will not remain silent when a lineswoman calls a foot-fault in the semifinals of a Grand Slam tournament, even if, at times, she is doing more harm than good. This is because Serena does not exist for you and me. Sure, the roads of politics, race relations, and athletic wizardry intersect on the strings of her racquet, but Serena is here to win and, perhaps most important of all, be herself in the process.