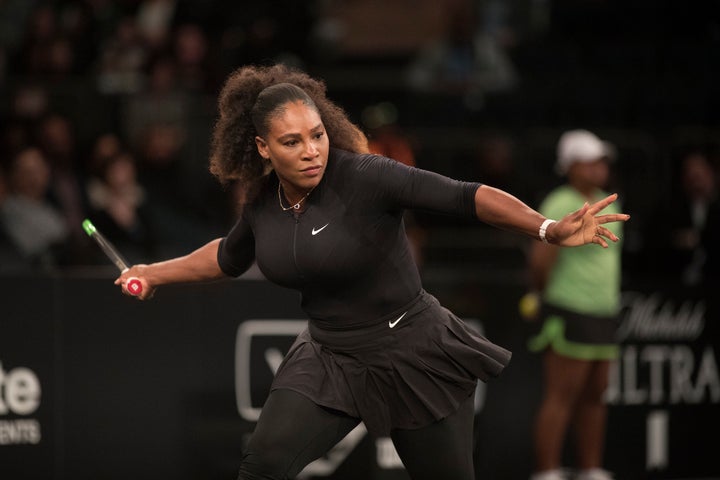 The tennis superstar is also speaking up about the need for improved maternal health care, particularly for black women.
"Doctors aren't listening to us, just to be quite frank," she told the BBC after a tennis exhibition in New York City on Monday, noting that black women are three times more likely than white women to die during pregnancy or childbirth. "It may be time for women to be comfortable with having uncomfortable conversations."
Williams experienced a pulmonary embolism (blockage that occurs in the lungs) after giving birth via C-section. Because she had had blood clots before, the athlete knew what symptoms to look out for and alerted her doctor as to what was going on. Williams also knew which tests to request.
"I was in a really fortunate situation where I know my body well, and I am who I am, and I told the doctor: 'I don't feel right, something's wrong.' She immediately listened," Williams told BBC. "She was great. I had a wonderful, wonderful doctor. Unfortunately a lot of African-Americans and black people don't have the same experience that I've had."
"There's a lot of pre-judging, absolutely, that definitely goes on. And it needs to be addressed."
Had the tennis superstar not known her body as well as she did and advocated for doctors to listen to her, she might not be here today.
"Because of what I went through, it would be really difficult if I didn't have the health care that I have ― and to imagine all the other women that do go through that without the same health care, without the same response, it's upsetting," she said. "I think there's a lot of pre-judging, absolutely, that definitely goes on. And it needs to be addressed."
Williams said she is thinking about having another child, despite the challenges she faced when giving birth to Olympia.
"I definitely want two [kids], God willing," she told "Entertainment Tonight" earlier this week. "But right now, I want tennis as well. So, I'm going to wait and see what happens."
Williams said it's "definitely not easy" to balance her career and motherhood.
"I have this undying drive to be the best that I can be," she said. "Whether it's [being] a mom or playing tennis or doing my designing. I just want to do the best that I can."
Williams sits on the board of advisers to Oath, HuffPost's parent company.