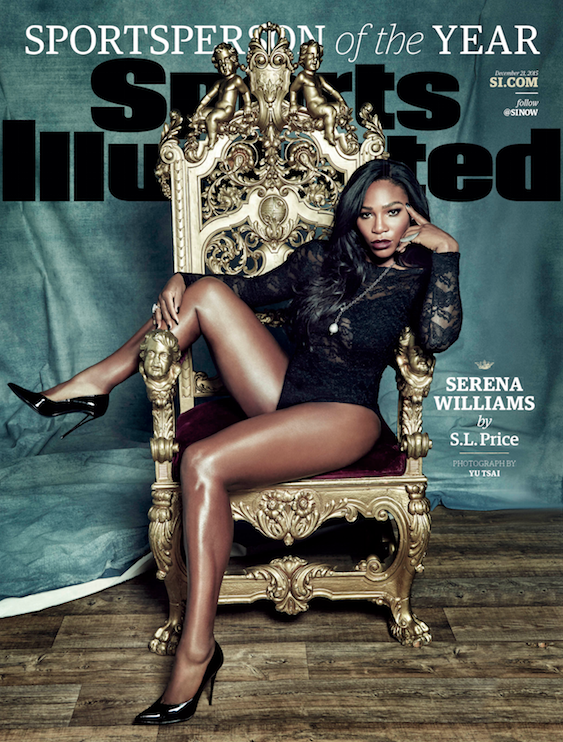 If you pick up a copy of Sports Illustrated's "Sportsperson of the Year" issue in December, you'll find Serena Williams sitting atop a throne, legs to the side -- the newly proclaimed top athlete of 2015 dons stiletto heels, black lace and bare legs. Her hair's blown out, her lipstick's blotted on and her nails are manicured to a T. In short, she looks, markedly, pointedly feminine, an unambiguous exclamation point to end the year when so many people pegged her as anything but.
Throughout her record-shattering year, Williams was celebrated by many for her athletic feats. But she was also followed by a persistent, racist and tired form of criticism -- that her body was too masculine, too large and powerful. People said that she was too muscular, overly built-up to a fault -- that she veered too far from the dainty (and often blonde) stereotypical body type of other female tennis players. When The New York Times published a piece on Williams' figure the day before she won yet another Wimbledon title this summer, it portrayed her "mold-breaking muscular frame," as if it were isolated from and inherently different than those of her fellow competitors. That article quoted the ever-slender Maria Sharapova, who mourned her own cellulite while stating that she couldn't lift a five-pound dumbbell. It cited another player declaring that "bulging" arm muscles made her feel "unfeminine" -- with these claims coming right after the author described Williams' own biceps as "large." 
On the shaming went. One man sent a tweet to J.K. Rowling in July stating that Williams' "reason for her success is that she is built like a man." (Rowling responded by calling the man an "idiot.") And at this point it's hard to remember all the times when she has been likened to "a gorilla," been made fun of by her peers -- most notably Caroline Wozniacki in a 2012 match -- and the press,  all for her appearance and that "otherness" as compared to the prescribed look of a female tennis star.
Flash forward to today. Williams' latest SI cover celebrates that new gleaming title of Sportsperson of the Year. It celebrates the incredible impact she's had over the game of tennis the past couple of decades, even while all too frequently she's had to face prejudice, both of the racist and misogynist variety, on and off the court. It also celebrates the first time since 1983 -- a year when the Cold War was more pressing than global warming -- that an individual woman has received the title. 
Some will focus on the sexuality of Williams' pose -- the position of her leg or the material of her dress. They could argue that the photo could spread the idea that sexiness is a vital part of marketing yourself as a female athlete, even for the Sportsperson of the Year. And it's undeniably true that a double standard still exists between male and female athletes. Consider the photo that SI went with when MLB player Madison Bumgarner won Sportsman of the Year in 2014. Do you notice a difference? We hardly blink an eye when a woman is sexualized on a magazine cover, but we would never expect the same of a man.
Perhaps knowing that the magazine might face backlash for the sexual nature of its Williams' cover, SI tweeted the following shortly after releasing its cover:
"The cover? Serena's idea, intended to express her own ideal of femininity, strength & power." The decision was hers, and SI made sure the world knew. 
In the context of the ever-growing dialogue surrounding Williams' body, her "idea" for this cover is telling. And it's a far cry beyond even The New York Magazine feature photographs from August, which tended to depict her as alternately feminine or fit, either muscular or made-up. While one photo would show off her abs, the next would focus on her earrings and her little black dress.  
2015 was a year in which we witnessed Williams both as an untouchably successful global icon as well as an Every Woman, as she, too fell victim to the body-shaming and externally-driven need to be the kind of petite that nearly every woman, young or old, has felt to some degree, at some point, in her life.
Given this unique combination of power and persecution, and her own laudable willingness to speak out, it is all too fitting that Williams elected to use the platform of this particular Sports Illustrated story to address the problem. This woman has been bullied time and time again over her appearance -- so she should be thought of as courageous now for not being afraid to embrace her previously mocked femininity, through this cover making one of her most important statements yet: That femininity and athleticism can meet and meld, and that the notion that beauty and brawn are mutually exclusive is inane and simply outdated.
PHOTO GALLERY
Serena WIlliams
Calling all HuffPost superfans!
Sign up for membership to become a founding member and help shape HuffPost's next chapter