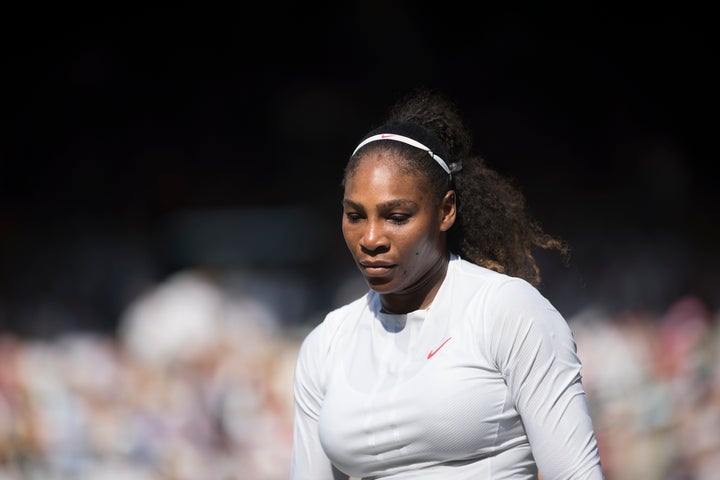 The tennis superstar ― who suffered the worst loss of her career last week ― wrote on Instagram about her struggles with "postpartum emotions" nearly a year after giving birth to her first child, Olympia.
"Last week was not easy for me. Not only was I accepting some tough personal stuff, but I just was in a funk. Mostly, I felt like I was not a good mom," the 36-year-old captioned a photo of herself.
Williams said she spoke with her mom and sister about her "postpartum emotions," which she said can last for up to three years if left untreated, according to articles she read.
"It's totally normal to feel like I'm not doing enough for my baby," she explained. "We have all been there. I work a lot, I train, and I'm trying to be the best athlete I can be."
She said it was all about finding the right amount of time to be with your kids, something Williams wrote that most moms struggle with ― regardless of whether they are working or stay-at-home parents.
"You are the true heroes," Williams said. "I'm here to say: if you are having a rough day or week ― it's ok ― I am, too!!! There's always tomm!"
"Sometimes I get really down and feel like, man, I can't do this," the athlete said in an interview with Vogue earlier this year. "It's that same negative attitude I have on the court sometimes. I guess that's just who I am. No one talks about the low moments ― the pressure you feel, the incredible letdown every time you hear the baby cry."
She continued, saying, "I've broken down I don't know how many times. Or I'll get angry about the crying, then sad about being angry, and then guilty, like, why do I feel so sad when I have a beautiful baby? The emotions are insane."
Williams has also talked about the struggle of being a working mom and missing some of her daughter's biggest moments, such as when Olympia took her first steps.
No matter who you are, it's hard to feel like you're doing enough as a mom. But, like Williams said, "There's always [tomorrow]!"
Williams is on the board of advisers to Oath, HuffPost's parent company.