Which begs the question: Why is it that he, or anyone else, feels so compelled to try and belittle Williams' legacy by comparing her to men's tennis players?
While asking about McEnroe's latest memoir, Garcia-Navarro noted, "You say she [Williams] is the best female player in the world in the book."
"Best female player ever — no question," McEnroe said. 
To that, Garcia-Navarro asked, "Some wouldn't qualify it, some would say she's the best player in the world. Why qualify it?" 
"You mean, the best player in the world, period?" McEnroe responded. 
"Yeah, the best tennis player in the world. You know, why say female player?" she asked. 
His response: "Well because if she was in, if she played the men's circuit, she'd be, like, 700 in the world."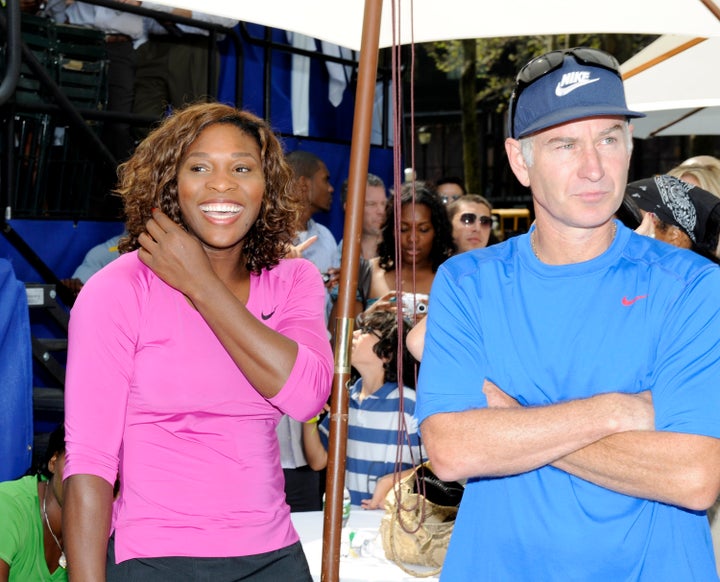 The statement lit the internet on fire, leading to angry tweets and posts of all sorts. Of course, the statement in and of itself lives in the tiresome world of sports hypotheticals, making it impossible to grapple with or counter in any real way. 
But that doesn't mean it's not worth asking why McEnroe ― and so many other men ― continue to dredge the topic up. 
"I think people would be interested to see the men play against the women to see how the styles match up," Murray said at the time.
When asked about it on television, Williams had to admit she didn't think she'd have a chance. "If I were to play Andy Murray, I would lose 6-0, 6-0 in five to six minutes, maybe 10 minutes," she said. "It's a completely different sport." She added, "I only want to play girls, because I don't want to be embarrassed ... So Andy, stop it. I'm not going to let you kill me."
This topic is an insult to Williams, one of the greatest athletes of this or any generation.
By asking Williams to pit herself against Murray or any men, we are diminishing the legacy of a woman who has won 23 Grand Slam titles ― more than any man ever, and fewer than only Margaret Court. And that is to say nothing of why it is predominately white men who continue to seem so defensive about the unbridled dominance of a strong black woman. 
Yes, men and women have different bodies. No, that shouldn't mean that Williams isn't in the conversation for the best tennis players ever. She said as much last year, when a reporter asked her question after a Wimbledon semifinal win.
"There will be talk about you going down as one of the greatest female athletes of all time. What do you think when you hear someone talk like that?" the reporter asked. 
She replied, "I prefer the [term] 'one of the greatest athletes of all time.'"
Calling all HuffPost superfans!
Sign up for membership to become a founding member and help shape HuffPost's next chapter
BEFORE YOU GO
PHOTO GALLERY
5 Things You Might Have Not Known About Serena Williams