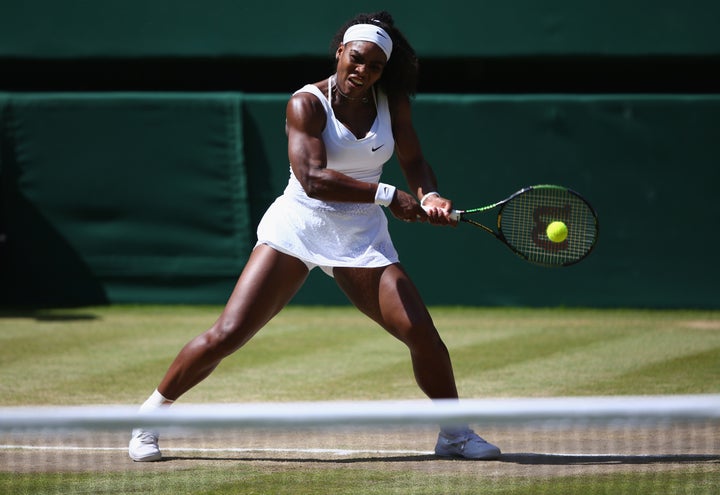 A New York Times article about body image in competitive tennis became the catalyst for a debate this week about the harmful ways in which the media discusses Serena Williams' body. But just so we're clear, this isn't just about how Williams' muscular physique sets her apart from her white counterparts. It's about the way black women -- world-class athletes or otherwise -- find themselves continuously othered and compared to white women, no matter what they do or how they look.
Williams has been breaking records (and barriers) in the tennis world since she first entered it as a teen, winning her 21st Grand Slam on Saturday. And yet, despite her athletic prowess, she has been the target of racist and sexist attacks for the better part of a decade. Over the years, Williams has been described by online commenters and journalists alike as a "gorilla," as "manly" and as "savage."
The disrespect hurled at Williams, much of it focused on her body, has been rampant -- even among her peers. In 2012, tennis player Caroline Wozniacki stuffed her bra and shorts to imitate Williams during an exhibition match against Maria Sharapova. The crowd and commentators at the match laughed, while outlets like Yahoo! Sports described the incident as "hilarious." (Andy Roddick and Novak Djokovic have also imitated Williams' physique in the past.)
On the surface, it may look like playful athletic ribbing, but these kind of incidents, coupled with the language so often used to describe Serena as an athlete, speak to a kind of dehumanization specific to black women. As Ms. Magazine writer Corinne Gaston puts it, the policing of Williams' body "comes gift-wrapped in a triad from hell: misogyny, racism and transphobia."
So while it's certainly important, it's not enough to point out that Serena isn't in fact "built like a man," using photos of her in shapely, curve-hugging dresses to illustrate the point. This isn't about the fact that Williams isn't tall, slim and a size two. It's about the fact that she isn't white. We can certainly have a conversation about how the sports world expects physically powerful women to look like dainty supermodels, but the fact remains that muscular tennis stars like Martina Navratilova, Justine Henin, Victoria Azarenka, and Samantha Tosur aren't subject to the same disdain and body-focused critiques that Williams is.
Rather than focusing on the body dysmorphic beauty standards of tennis, and the inherent sexism that drives it -- a piece I'd love to read -- the New York Times instead focused on the otherness of Serena Williams' body. Female tennis players were asked to discuss their own bodies in contrast to Williams', as if she were the epitome of everything they strive not to be: muscular, yes, but also black.
Williams is simultaneously sexualized and caricaturized, othered and exoticized. Her body is a representation of her athletic skill. But rather than being celebrated, it's been scrutinized mercilessly, turned into a kind of spectacle for white amusement, with painful parallels to Saartjie "Sarah" Baartman.
The intersection of sexism and racism is something black women grapple with on a daily basis.
This goes beyond Williams' body. Not only is her womanhood consistently denied, her character is deemed as dominant, aggressive and arrogant. Everything from her hairstyles to her celebratory dances have been regarded as "ghetto" or uncouth. No matter her success, her intelligence or her graciousness, her humanity is consistently denied.
The racism inherent in the way people talk about Serena Williams' body is an important conversation to be had, but hopefully this will give way to a larger conversation about the broader racism that she faces as a black woman. Williams has beaten Maria Sharapova 17 times in a row, spanning over a decade. She still makes half of what Sharapova makes off the court.
Why aren't we talking about that?
Also On The Huffington Post: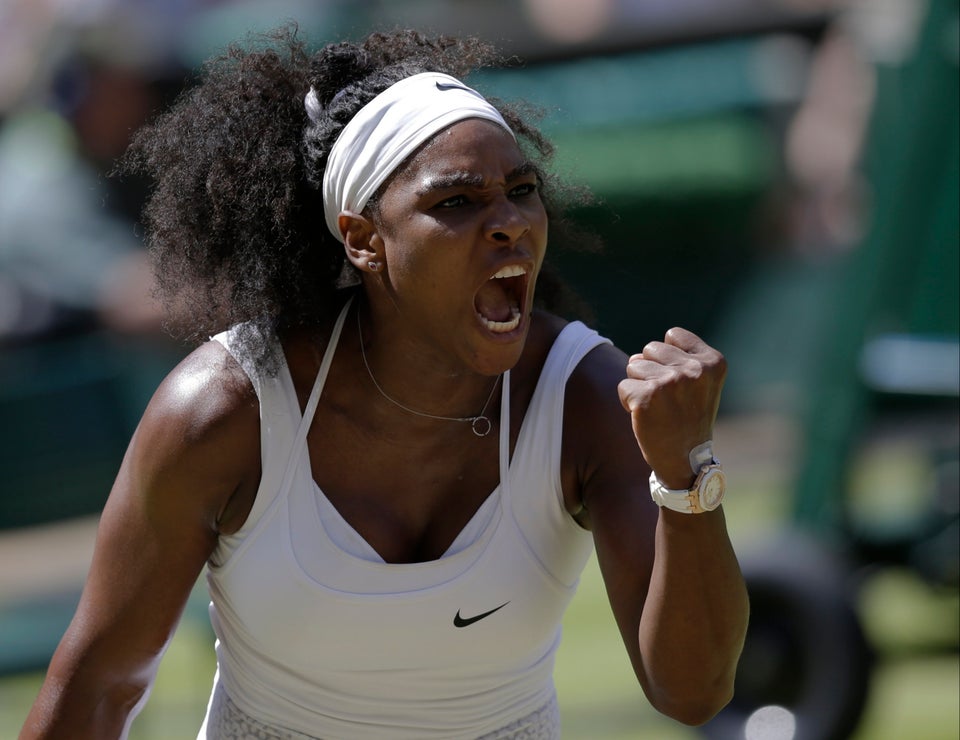 Serena Williams wins 2015 Wimbledon ladies final
Support HuffPost
Every Voice Matters
Popular in the Community