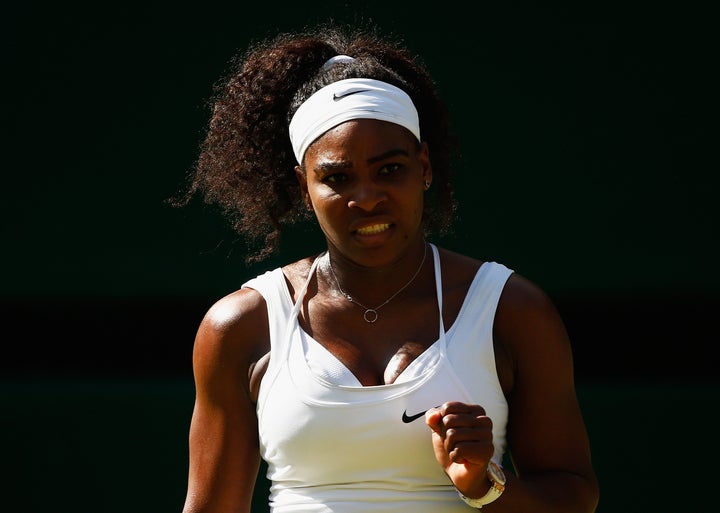 (RNS) If Serena Williams wins Wimbledon Saturday (July 11), she will likely say — as she usually does after a big win — "I want to thank Jehovah God."
Williams, 33, is the No. 1-ranked women's tennis player in the world, known for her relentless will, bullying strokes and withering speed. She is also a Jehovah's Witness, a faith that encourages members to separate from the broader world and discourages them from competitive sports on the grounds that it promotes nationalism, violence and celebrity — all things Witnesses are supposed to avoid.
And yet for Williams, her faith is like a secret weapon, a stealthy supply of strength and perseverance that some observers say is as vital to her game as her 120 mph serve. A Saturday win would bring her one step closer to a "calendar slam" — the rarely achieved four Grand Slam tournament wins in one year.
How has Williams balanced her faith and the winner's circle? It is a subject she and her sister Venus, also a tennis star and former No. 1 player, have discussed only rarely. But Serena Williams has left a trail of comments that show her belief in God, and especially her identity as a Witness, has bolstered her already formidable tennis talents.
"I have to thank Jehovah God for this," Serena Williams told the crowd after receiving the trophy at the Australian Open in January, her sixth win there. "I was down and out and he helped me today and I just said prayers, not to win but to be strong and to be healthy and in the end I was able to come through so I have to give the glory to him first and foremost."
She and her four older sisters became Witnesses after their mother, Oracene, converted to the faith in the early 1980s. Serena Williams has said she attends church and has gone door-to-door, as Witnesses are required to do, to hand out tracts and evangelize.
In 2012, her older half-sister Isha Price told the writer John Jeremiah Sullivan, who had a rare sit-down interview with Serena that explored her faith, that the tennis stars' fame sometimes gives them access that other Witnesses might not get.
"And they saw that as a blessing — getting to talk to people who would not ordinarily let them in," Sullivan told The New York Times after the interview. "But there were other houses, she said, where people didn't know who they were and were just as hostile or unreceptive as to anyone else."
Sullivan added that their family also told him the famous sisters "have witnessed to some of the players. According to Oracene, at least a few people have been curious, if not receptive."
If Serena Williams' celebrity has been a blessing, it has also been a curse — at least in the eyes of the Jehovah's Witnesses. At the 2009 U.S. Open, she allegedly threatened a line judge after a ruling went against her and was disqualified. What she actually said has been disputed, but the judge held that her life had been threatened. That brought local church elders to Serena Williams for what Sullivan described as a "dressing down."
"What bothered me most was that I was representing my religion," she said about the incident. "I just felt like anyone who knew I was a Witness was stumbled. And I really don't want to stumble anybody . . . They had to have a talk with me."
A national church representative declined to comment for this story. Other famous Jehovah's Witnesses include Prince, and the late singers Michael jackson and Selena.
But there have been other times Serena Williams' faith has bolstered her off the court. In 2003, Yetunde Price, her oldest half-sister, was killed in a shooting. Serena Williams was the first one to get the news. Her tennis suffered. She took time off, reportedly attending Witness meetings and Bible studies up to three times a week.
"I tried to develop a better relationship with God," she told The New York Times in 2007 about this time. "You have a strong solid foundation, the Bible says, you won't crack, but the man who built his house in the sand, his house went down spiritually. I have a really strong foundation. That's how I was raised."
That foundation has seemingly served her well through many more ups and downs — career-threatening injuries, a hematoma and embolism surgery, scandals involving her skin-showing tennis attire and nude magazine portraits. (Witnesses are expected to dress modestly.) She has lost the No. 1 ranking several times — once dropping to 175 — and many sports commentators wrote her off by early 2012.
Then she started winning again: Wimbledon, then the Olympics in singles and doubles (with sister Venus) in 2012, then the French and U.S. Opens in 2013, and the U.S. Open in 2014. This year, she has won two Grand Slams, and if she wins Wimbledon, she'll have a so-called "Serena Slam" — four major wins in a row. If she adds the U.S. Open in September, she have the history-making "calendar slam."
Writing of her comeback in mid-2012, Sullivan credited faith as a factor.
"It's impossible not to feel that this fierce closeness of the Williams women," he said of Venus, Serena and their mother, Oracene. "Strengthened by their shared faith, with its emphasis on separation from the world — has had not a little to do with the tremendous psychological stability Venus and Serena have demonstrated over the nearly 17 years of their careers," he wrote.
Serena-watchers today agree. Joseph Price, a professor of religious studies at Whittier College who has written about religion and sports, said Williams' displays of faith are in line with Jehovah's Witnesses guidelines — she does not give personal testimony — the way an evangelical Christian athlete like footballer Tim Tebow does — but speaks about the power of God and the Bible.
"Because she rarely reveals anything personal in post-game interviews, she deflects attention away from anything other than the game," Price said. "My hunch is she tries to minimize the possibility of becoming an object of idolatrous fascination."
Lee DelleMonache, director of the Neumann University Institute for Sport, Spirituality and Character Development, said Serena Williams' balance of the spiritual and the human separates her from other athletes.
"I know that when she stumbles or she gets criticized or she curses on the court, she has called herself on that," DelleMonache said. "I love that she takes responsibility for that and stays true to her faith."
In a 2002 interview with ASAP Sports, she put it like this: "I am Jehovah's Witness. If you don't believe in God — I think if you don't believe in God, it's going to be tough to live life because pretty much that's the basis of life, it comes from God. And so being a Jehovah's Witness, obviously we believe in God and the Bible. And without Him, I wouldn't be here right now. I really thank Him for everything."
Related
Popular in the Community