Serena Williams lashed out against the umpire during her U.S. Open tennis final against Naomi Osaka after he accused Williams and her coach of illegally communicating during the match on Saturday. Williams ultimately lost the Grand Slam tournament to Osaka.
During the match, umpire Carlos Ramos issued several violations against Williams. In the first violation, Ramos accused Williams of receiving coaching from her coach, Patrick Mouratoglou, who was in the stands. Mouratoglou had apparently motioned for Williams to go to the net more often.
The second violation was issued after Williams broke her tennis racket in frustration, which led to a point penalty. Ramos issued a third violation, which included a game penalty, after Williams confronted him and called him a "thief."
"You stole a point from me," she said. "You're a thief."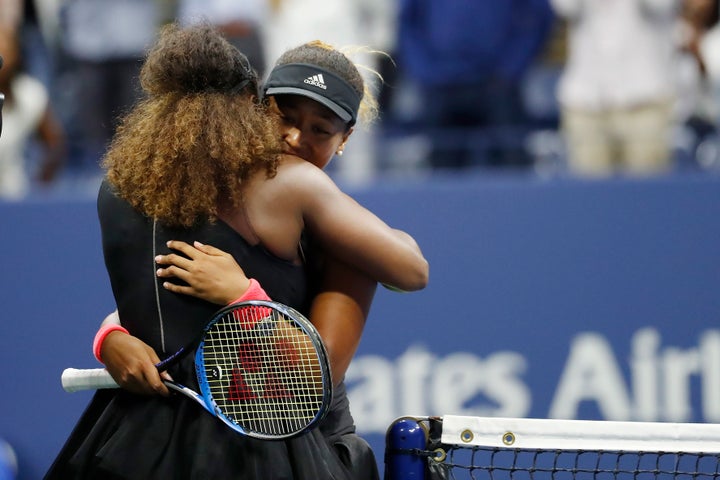 After Ramos issued the first coaching violation, Williams approached the umpire chair and calmly defended herself.
"I don't cheat to win. I'd rather lose," Williams told Ramos. "I'm just letting you know."
When she received a point reduction for breaking her racket, she confronted Ramos again.
"You owe me an apology," she told the referee. "I have never cheated in my life. I have a daughter and I stand for what's right for her. I've never cheated, and you owe me an apology. You will never do another one of my matches."
Later, speaking to referee Brian Earley and Women's Tennis Association official Donna Kelso, Williams said the violations Ramos issued against her don't happen to male players.
"There's a lot of men out here that have said a lot of things and because they're a man, that doesn't happen to them," she told the officials.
Williams was fined $17,000 for the code violations ― $10,000 for "verbal abuse" toward Ramos, $4,000 for the coaching warning and $3,000 for breaking her racket, The Associated Press reported Sunday. The fines were deducted from her $1.85 million prize money as the runner-up in the tournament.
Following Osaka's victory, Williams asked those in the crowd to stop booing and instead celebrate Osaka's first Grand Slam win.
Mouratoglou, for his part, said he was attempting to coach Williams but that he doubted the athlete was paying attention to him.
"If I'm honest I was coaching, [but] I don't think she looked at me," Mouratoglou said following the game.
In a tearful response to her victory, Osaka said she wished the circumstances of her win had been different.
"I know that everyone was cheering for her, and I'm sorry it had to end like this," she said.
This story was updated to clarify what the umpire ruled against Williams and to note how much Williams was fined.
Hayley Miller contributed reporting.
Popular in the Community