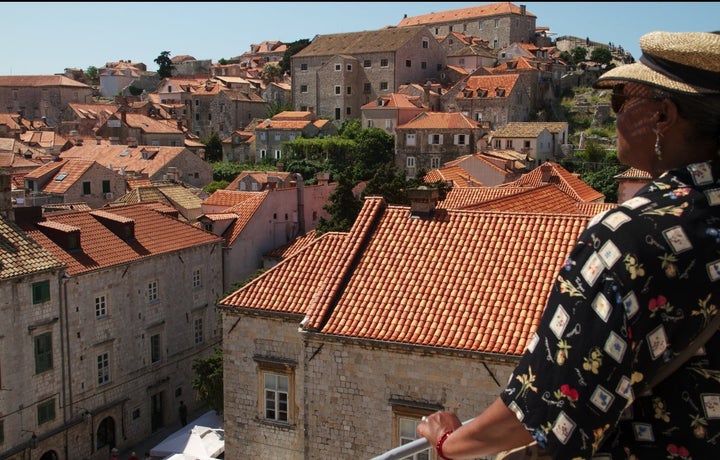 Picturesque seascapes, pulsating waterfalls, bountiful green valleys... such was the palette of backdrops we discovered while driving through continental and coastal Croatia a few months ago. And after spending almost two weeks there, on our last day, we were serenaded by an amazing collection of soothing (and may we say pretty cute) male voices of the singing group Klapa Subrenum. There's something unforgettable about visiting a fantastic destination and then having a group of men sing, cook and clean that turns any sightseeing trip into a "wow I've just been woo'ed with a farewell serenade!"
We picked Croatia as a destination to feature as part of our upcoming 2013 season of Grannies on Safari. Our producer, who is of Croatian descent, gave us the initial nudge because she wanted us to discover the rich cultural and historic treasures the country had to offer. And right she was -- what a destination -- with bonafides on par with the star power escapes in the Mediterranean!
We've decided to share a little bit from our last day in this beautiful country -- a special experience of singing and cuisine in the famous city of Dubrovnik. Once we arrived, we hurried to board the last cable car that took us up Srdj hill -- a most glorious evening view of the city from above. Wow! The prominent wall jutting around the heart of the old city, sprinkled with orange tiled roofs and surrounded by a super palette of crisp greens and blues of the Adriatic were spectacular. It was well worth the wait!
Our introduction to the city began on the classic promenade inside the old walls -- the place to "be seen" as our guide said. So of course, we took position and parked ourselves in a strategic coffee shop with a five-star view. And there we enjoyed sitting and people watching for more than an hour, learning about the city from our tour guide as she briefed us about the centuries of historical significance, highlighting countless landmarks inside the cobblestone maze of walkways.
As we prepared to leave the old city were treated to the traditional singing style of a "klapa," harmoniously serenaded on the main promenade by the famous group Klapa Subrenum. This form of a cappella singing has been around since the mid 19th century. Within minutes their soft tones lured passerbys, families and tourists, all crowding around to hear the source of the rich, multi-voice harmonies.
Klapa Subrenum, in this case, includes a group of male vocalists who sing a repertoire of Croatian songs that often include plaintive lyrics of love, lost and found, and poignant events that play out in their daily lives. These men have performed all over Europe and even in the U.S. Their strong voices, rich harmonies and clear enunciations were a joy to hear.
But our entertainment didn't end there on the streets of the old city. The group invited us to join them for an exclusive "behind the scenes" dinner at their recording house! And it literally was that -- no blinking lights or fanfare, just an old stone cottage in a remote area of Dubrovnik in which the upper room was converted into a studio and the bottom floor into a dining area. This was definitely one of our memorable "off the beaten path" adventures.
We arrived at dusk, as the high-pitch of crickets filled the air and insects buzzed to and fro to finish off their early evening tasks. There was no fancy valet, just a small rocky path that led to a small clearing and a wooden picnic table and benches. We were welcomed with a toast of local fruit liquors (some pretty potent moonshine may we add!) and an intoxicating aroma of meats, fish and other delicacies being prepared inside the small cottage and on outdoor grills. We watched as the male members of the group scurried around organizing the meal preparations. We kept looking for any sign of help needed or a woman's touch in the kitchen, but with the brush of a hand, we were reminded that the men were the chefs and they were busy preparing our five course meal. As we relaxed -- a perfect balmy night in a convivial, rural atmosphere -- we drank, relaxed and -- when the locals weren't looking -- whisked away the pesky mosquitoes as most city girls do!
Within an hour, the men signaled us to enter the dining area, a small room with a super long wooden table and a hearth with a "sac" (a type of dutch oven). The meal was a gastronomic amalgam of grilled meats, fish, with accompanying salads and vegetables.The courses were offered by the gents in great quantity, on hefty platters and large serving bowls, while the singers took turns joining our group at the table. We dined on a traditional Dalmatian fish stew called "brudet," tender octopus and scrumptious potatoes baked in the traditional "sac" method, grilled meats, salads made with freshly picked garden lettuce and homemade cheeses. Everything was incredibly flavorful and delicious and all of us grazed until we were absolutely stuffed.
The sumptuous dinner party was the fulfillment of a Croatian cultural experience that I don't believe most tourists have. And that was not all! After the multi-course meal, the men all gathered round and we were serenaded once again by this fabulous Klapa. Some of us swooned to the melodies under the moonlight, others were too full to move and instead were moved by the soothing voices of romantic harmonies. We definitely could have spent the rest of the night with these delightful men if we didn't have to return to our hotel and catch our flight to the U.S. the next morning.
We were indeed honored to have shared a special night with such a hospitable and talented group of gentlemen, and to have had a night of music and food in Croatia that was truly memorable and a great finale to this fabulous destination. Stay tuned for more serenading in song, culture and arts on our next season of Grannies on Safari airing in spring of 2013.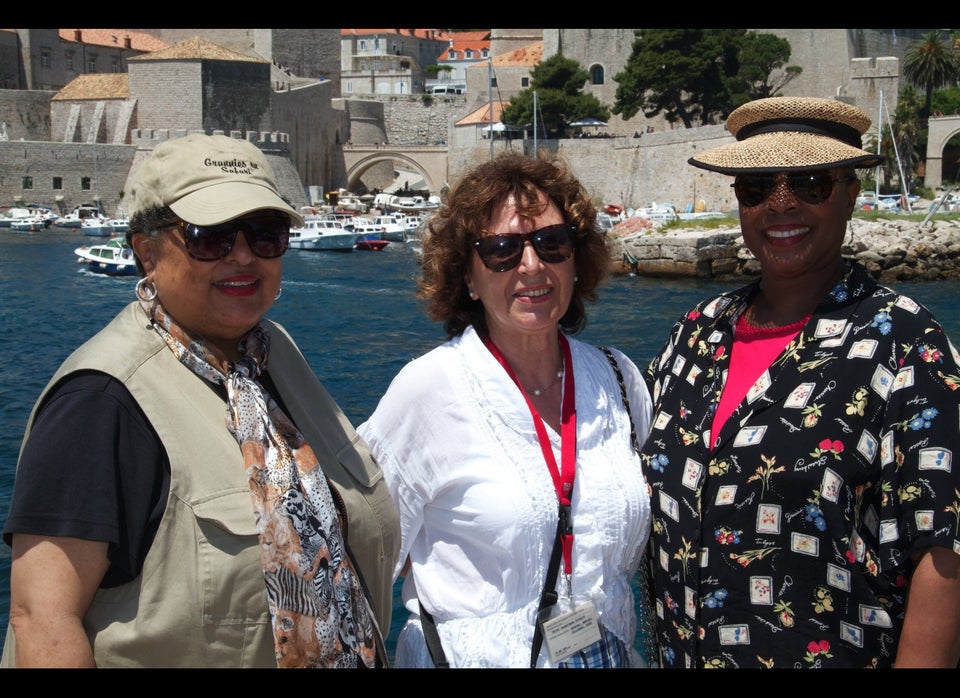 The Croatian coast - Grannies on Safari in Dubrovnik