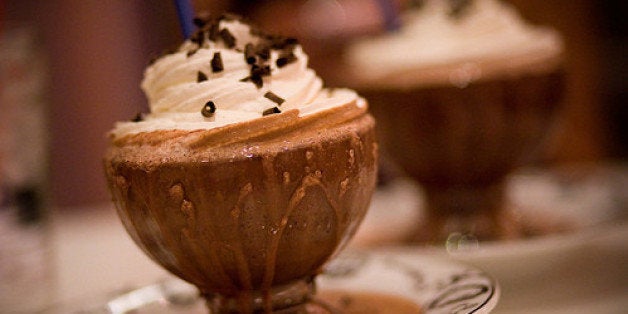 Danica Lo, photo courtesy of Serendipity 3
Happy Birthday Serendipity 3! This summer, the iconic Upper East Side New York City eatery celebrates six decades of making kids (and grown-ups) smile with its celebrated Frozen Hot Chocolate.
On tap? A special-edition collectible T-shirt by fashion designer Anna Sui, a special 60th Diamond Anniversary edition of its best-selling cookbook Sweet Serendipity, and another TBA stab at breaking a Guinness World Record (we cannot wait to see what they try to do!).
To celebrate at home, why not whip up Serendipity's Frozen Hot Chocolate at home for yourself and your family this summer? It's super-easy and the perfect treat to get you through this late-August heat.
6 half-ounce pieces of a variety of your favorite chocolates

2 teaspoons store-bought hot chocolate mix

1 1/2 tablespoons sugar

1 1/2 cups milk

3 cups ice Whipped cream

Chocolate shavings
Chop the chocolate into small pieces and place it in the top of a double boiler over simmering water, stirring occasionally until melted. Add the cocoa and sugar, stirring constantly until thoroughly blended. Remove from heat and slowly add 1/2 cup of the milk and stir until smooth. Cool to room temperature.
In a blender place the remaining cup of milk, the room temperature chocolate mixture, and the ice. Blend on high speed until smooth and the consistency of a frozen daiquiri. Pour into a giant goblet and top with whipped cream and chocolate shavings. Enjoy with a spoon or a straw. . . .or both!