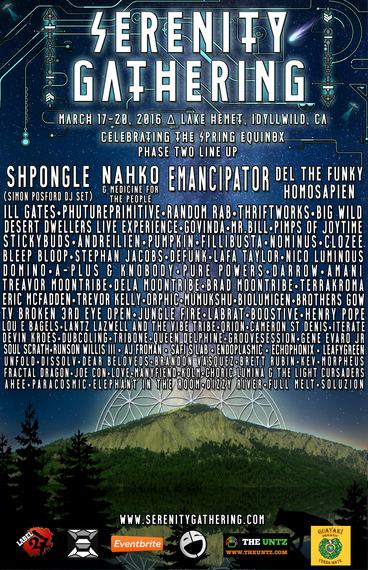 Colorful flyers adorned with geometric shapes and festival lineups are beginning to appear with more frequency in my social media feeds. Though still winter, dreams of spring festivals are already dancing in our heads. Serenity Gathering is entering its third year in 2016 and recently announced their second phase lineup as well as their new location.
Last year, Serenity offered one of the strongest lineups within the niche realm of the festival community. Despite a few organizational hiccups, 2015's gathering was a success among attendees offering the stacked stages of a large festival with the intimacy of a small festival. Serenity Gathering 2016, however, will be a reflection of a year's worth of the organizer's growth, learning, improvement, and ultimately their evolution.
Located at Lake Hemet in Idyllwild, Serenity hopes to make this locale its new home having spent its first two years at two different venues. Taking place during the weekend of March 17th-20th in Southern California, visions of warm days filled with amazing music, art and people on the shores of Lake Hemet decorate my imagination.
This year's lineup does not disappoint adding Shpongle, Nahko and Medicine for the People, Pimps of Joytime, Govinda, Pumpkin, Fillibusta, Random Rab, Mr. Bill, Lafa Taylor, Trevor Kelly, Labrat and Bay Area hip hop legend, Del the Funky Homosapien, to the second phase of their lineup. Though the majority of the musical artists will be of the electronic variety, artists such as Lafa Taylor, Del the Funky Homosapien, Pimps of Joytime, TV Broken 3rd Eye Open and Jungle Fire, to name a few, will mix up the sounds with their own special styles.
As is the paradigm of the transformational music festival, Serenity Gathering will be offering the usual, yet unique, array of workshops, yoga, organic food, independent vendors and much more. In congruence with the natural beauty surrounding the event, it is a leave-no-trace festival encouraging (and expecting) patrons to keep Lake Hemet pristine. For the festival lover as well as the unbeknownst festival lover, Serenity Gathering will surely be a highlight of 2016.
Calling all HuffPost superfans!
Sign up for membership to become a founding member and help shape HuffPost's next chapter