When announcing Defense Secretary Chuck Hagel's departure from the Pentagon, President Obama referred to Chuck Hagel's enlisted service.
"He's been in the dirt. He's been in the mud. And that has established a special bond. He sees himself in them. They see themselves in him," President Obama said about the first enlisted combat veteran to hold the high position of Secretary of Defense.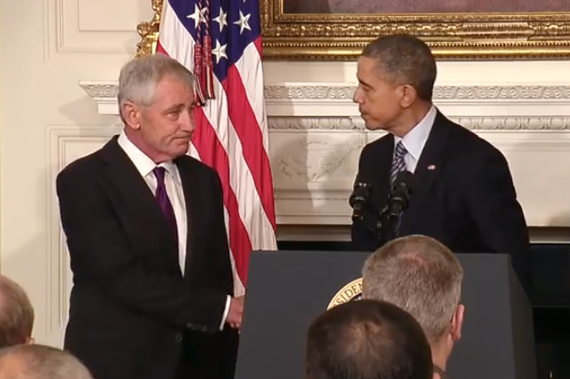 Defense Secretary Chuck Hagel shakes hands with President Barack Obama at the White House today. The president announced that Hagel would resign his position as defense secretary. White House courtesy photo
Having served my country in the enlisted ranks, I feel a special affinity toward and respect for the secretary. Like the president, I feel that Chuck Hagel's enlisted service has been an asset to his service as Secretary of Defense.
Sadly, during Hagel's nomination process, several did not feel the same way.
As a matter of fact, some felt that Hagel's honorable and heroic enlisted war service was "not relevant" to leading the world's greatest defense force.
While there have been several recent columns dismissing former Sen. Chuck Hagel's military service as not being "relevant" to his possible role of secretary of defense, none has been as offensive as Eliot A. Cohen's Jan. 14 column "Hagel's war service admirable, but not relevant here."

It is offensive not only because Cohen ignores how prior military service has enriched the experience and enhanced the performance of hundreds of representatives, senators, Cabinet members and of the more than 30 U.S. presidents with such prior service and ignores how, during recent campaigns, such service has been considered, especially by Republicans, as one of the highlights in their candidates' biographies -- but also because Cohen attempts to use the fact that Hagel "only" saw enlisted military service (that he was "just" a grunt, "just" a sergeant) as additional ammunition to try to derail Hagel's nomination.

In his column, after ridiculing what he alleges to be "President Barack Obama's chief case for nominating [Hagel]: that he served honorably as a sergeant in Vietnam, where he was twice wounded in combat," Cohen says this about Hagel's enlisted wartime service: "What is it, precisely, that one would bring by service as a sergeant in a war more than 40 years past -- almost as distant from today as the charge up San Juan Hill was from D-Day, or the Battle of New Orleans was from Gettysburg? It was an important, even searing, life experience, no doubt."

Apparently Cohen believes that Hagel has been in some state of suspended animation for the past 40 years, a period during which Cohen assumes that Hagel has not kept up with the "utterly different" technology, strategy, tactics and organization we have today, which have transformed "a band of reluctant conscripts caught up in the Big Green Machine" into "a hardened professional army."

Such comments are not deserving of our present and former enlisted men and women, of the tens of thousands of enlisted personnel -- including this writer -- who have gone on to receive their commissions in our armed forces, of the thousands who have gone on to become successful generals, entrepreneurs, CEOs, diplomats, congressmen and senators, even after 40 years. And they are hardly deserving of a man who served honorably and heroically in combat in Vietnam, a man who was awarded two Purple Hearts and of a man whose military experience as "just" a sergeant -- when combined with his other vast business, financial, executive, political and senatorial and Department of Veterans Affairs experience -- will make him a great secretary of defense.
"I wanted to take this opportunity to let you know that this morning, President Obama accepted my letter of resignation. I have agreed to continue to serve as Secretary of Defense until my successor is confirmed by the United States Senate.

You should know I did not make this decision lightly. But after much discussion, the President and I agreed that now was the right time for new leadership here at the Pentagon.

I want you to know that I am immensely proud of what we have accomplished together. We have prepared ourselves, our Allies and the Afghan National Security Forces for a successful transition in Afghanistan. We have taken the fight to ISIL and, with our Iraqi and coalition partners, have blunted the momentum of this barbaric enemy. We have come to the aid of millions of people around the world who have suffered the ravages of natural disaster and of disease. We have worked tirelessly to sustain our all-volunteer force that has given so much during 13 years of war. And we have bolstered enduring alliances and strengthened emerging partnerships, all the while setting in motion important reforms that will prepare this institution for the challenges facing us in the decades to come.

Most importantly, we have helped keep this country and our fellow citizens safe. We have sustained the blessings of liberty our ancestors secured and upheld the oath we took.

That work will continue. It must continue. The world is still too dangerous, the threats too numerous, for us to lose focus. And even as I promised the President my full support going forward, so, too, do I promise that I will work hard to support you right up until my last day in office. I owe you that.

There will be time later to say farewell. For now, please know how much I respect and admire your service and that of your families. As I gather with my own family this Thanksgiving holiday -- a luxury I realize not all of you will enjoy -- it will be the privilege of having worked with you these last two years for which I will be most grateful.

Thank you for all you do for this country. God bless you. Happy Thanksgiving."
Lead photo: U.S. Defense Secretary Chuck Hagel, left, greets Saudi National Guard Minister Prince Mitib bin Abdullah bin Abdul Aziz Al Saud as he arrives at the Pentagon to discuss matters of mutual importance, Nov. 21, 2014. DoD photo by U.S. Air Force Master Sgt. Adrian Cadiz
Popular in the Community