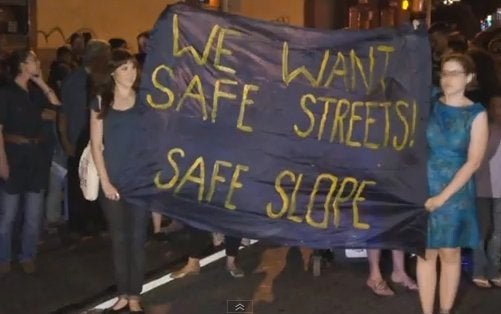 300 people showed up at a rally in Brooklyn Wednesday night as a show of force against sexual predators who have raped one woman and sexually assaulted nine others since March in three adjacent neighborhoods, and to show police that they demand more protection, CBS News reports.
Protesters chanted "People unite! Take back the night!" and "No More Silence! No More Violence!" as they marched down 17th Street in Park Slope. Police had to close off part of 4th Avenue to accomodate the crowd, which was larger than expected:
At the end of the march, organized by a community group called Safe Slope, people gathered for self-defense tips from the Center for Anti-Violence Education.
Safe Slope members also told women not to listen to their iPods while walking home alone at night, to be alert, and to have someone waiting for you outside your home, NBC News reports.
The group is also offering a Safe Walk program in which women can be escorted home by volunteers who provide "pick-ups" at local establishments and subway stops and will provide "drop-offs" anywhere in the area between 9th and 30th Streets and between 2nd and 8th Avenues in Brooklyn.
Residents of Park Slope, Sunset Park and Bay Ridge, where the attacks have taken place, decided to hold the rally after a woman named Liza said that she was on 12th Street between Eighth Avenue and Prospect Park West at about 11:30 PM last Thursday when a man grabbed her from behind. She screamed before neighbors chased the creep away.
In an email obtained by Fucked In Park Slope, Liza wrote, "One of his arms was around my neck and he was pulling me backwards, and his other hand (I was wearing a dress) went up my skirt."
Adding to Liza's and the neighborhood's frustration, cops never responded to the incident after residents called 9-1-1. Police say they never received a call but Liza wouldn't hear it.
"Does someone actually have to be brutally raped before something is done?" Liza told The Brooklyn Paper. "Why would the cops not show up? Is anyone out there looking for this guy?"
On September 3rd, a woman in Sunset Park was attacked by a man who tried to rip her underwear off, according to The New York Daily News. Roommates and neighbors responded to the woman's screams and chased the assailant away. And this assault occurred only one day after the pervert grabbed another woman from behind in the same neighborhood and groped her, before she successfully fended him off. The assailant was described as being 5'4" with dark hair.
Although there is speculation that one man is behind all of the attacks, police believe two men, and possibly a third, are responsible for the incidents which started in March. Fliers posted around the three neighborhoods show police sketches of two men: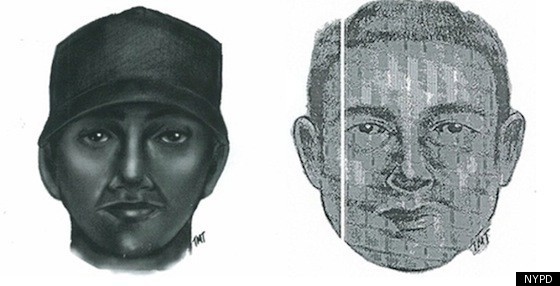 The first attack occurred in March when a Park Slope woman was assaulted on 16th street. Horrifying surveillance footage captured that incident and shows a man grabbing the woman around the neck. After a struggle, neighbors respond to the woman's screams and the attacker runs away, pulling up his pants as he escaped.
After that attack, residents were also frustrated with authorities when cops said "they weren't interested" in the surveillance tape.
NYPD's Internal Affairs Bureau said they would investigate the incident.
Anyone with information about the suspect or the attacks should call police or Crime Stoppers at 1-800-577 TIPS.
Related
Popular in the Community