News that Neil Patrick Harris would be taking on the role of Count Olaf in Netflix's series treatment of "A Series of Unfortunate Events" was certainly met with some skepticism. Few actors who thrive in lovable ― or lovably despicable ― roles can make a convincing foray into the darker territory inhabited by author Lemony Snicket's (aka Daniel Handler's) villain.
But Harris' performance has been received warmly, and the two actors who play the oldest of the Baudelaire orphans, Malina Weissman and Louis Hynes, can see why. He successfully juggles the demands of playing a morally bankrupt guardian who takes on various disguises in a show while staying true to the source material, with its black sense of humor.
"Neil really outdid himself," 15-year-old Hynes, who plays the studious Klaus, told The Huffington Post. "He's got the perfect mix between the sinister and the menacing Count Olaf, which the books really describe."
"He has to play so many characters but still be Count Olaf," said 13-year-old Weissman, who plays eldest-sibling Violet, whom the actress described as a "role model" figure because of the fact that "she stands up for what she believes in and takes care of her siblings."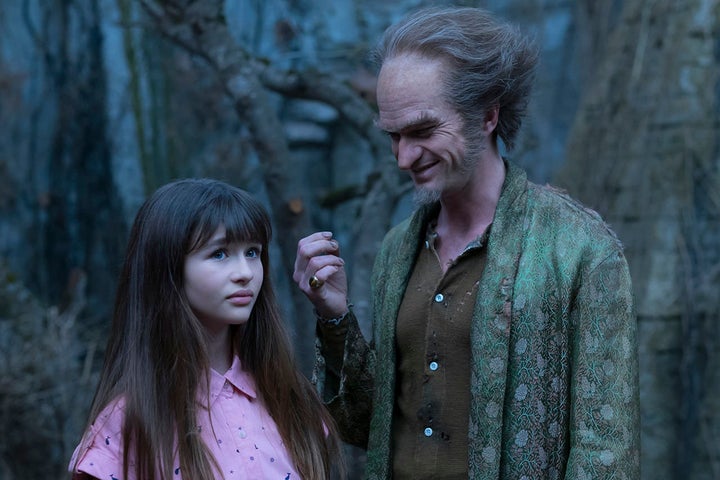 Of course, both young actors say they learned a bunch from the veteran of Broadway and network TV. But they also learned from the script. 
Like the books, "Unfortunate Events" takes time to define words in their context. Sometimes that's for the presumed benefit of the Baudelaires ― who are much too clever to not know what they mean ― and sometimes it's for the benefit of the reader. (The series is, after all, targeted to young adults, who likely know many of the words and don't appreciate being condescended to, either.)
The younger of the two, Weissman, admitted to not knowing certain words in the script, and "learning a lot" from looking them up. For Hynes, the script gave him something of a "re-appreciation" of language, particularly in scenes where the Baudelaires use it to get themselves out of sticky situations.
"I think it really reminds you of the importance of what you say," Hynes said.
"A Series of Unfortunate Events" is now streaming on Netflix.
REAL LIFE. REAL NEWS. REAL VOICES.
Help us tell more of the stories that matter from voices that too often remain unheard.
BEFORE YOU GO
PHOTO GALLERY
2016 Movies Available On Netflix