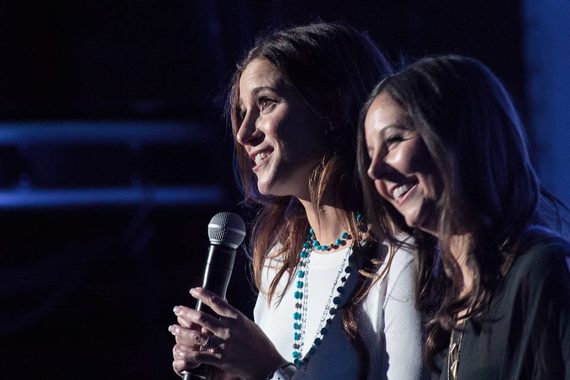 What happens when childhood friends from a Catskill summer camp grow up to be highly creative superheroes? SeriesFest.
Looking to create a destination festival to celebrate and showcase the exploding world of television, episodic storytelling on multiple platforms and the breakout content creators who fill our small and smaller screens, SeriesFest Co-founders Randi Kleiner and Kaily Smith Westbrook chose Denver, the cradle of cable television, to birth their baby.
Smith Westbrook knows something about Denver: she was also born here. After graduating from Cherry Creek High School, she headed west to earn a BFA from USC (acting program) and set out to conquer the world. Where so many LA actresses wait for the agent's call, Smith Westbrook blazed her own trail, writing and starring the hit webseries, MERRIme.com about finding true love in cyberspace. The darling of the independent television festival circuit, MERRIme.com won a number of awards including Best New Comedy Pilot (ITVF) and Best Actress (NYTVF) for its star. Storytelling chops in place, it was time to launch her own production company, Red Ladders Entertainment, which along with a steady stream of acting gigs, keeps her engaged in the development and production of projects for stage, screen and the smaller screen.
Meanwhile, on the other coast, fellow Stagedoor Manor alum and I Love Lucy fanatic, Randi Kleiner was busy cutting her teeth producing events for the Film Society of Lincoln Center, including the New York Film Festival, New Directors/New Films and the prestigious Chaplin Award. Sharp and independent, Ms. Kleiner created her own Events Production Company, Trifecta Studios, working with major brands (Marc Jacobs, WWD, Sephora, Pepsi) to produce experiential events worldwide. Trifecta teamed up with Vulcan Productions, Oceanic Preservation Society and Obscura Digital for last year's spectacular Racing Extinction campaign, projecting dynamic images of species endangered by climate change onto the Empire State Building. The August 2015 event was so impactful, that the Vatican wanted in on it. With papal blessing, December brought the projections to the walls of St. Peter's Basilica. This girl gets things done!
As Kaily was planning a wedding fit for a rockstar and Randi was throwing digital drama on the Pope's house, SeriesFest was incubating. The powerhouse pair flew to Denver to meet with Denver Film Festival Director, Britta Erickson and Colorado Film Commissioner, Daniel Zuckerman, to talk logistics. "You're thinking summer of '16, right?" asked Erickson. No, they were thinking six months from now. The inaugural SeriesFest Season One took place that June and was a resounding success, full of sneak previews of upcoming pilots, titans of the television industry, informative panels with writers, directors, execs and producers.
SeriesFest Season Two opens Wednesday night with a special performance by Grammy® and Golden Globe® Nominee, Sia, making her Red Rocks Amphitheater debut. Joining her on the ticket is the North American Premiere of BBC AMERICA's The Hunt. Multiple Emmy® winning executive producer, Alastair Fothergill (The Blue Planet, Frozen Planet) and series producer, Huw Cordey (South Pacific, Frozen Planet) captivated a global audience with the series, Planet Earth. The Hunt brings an exciting perspective on behavior in the natural world gloriously to fore with the exploration of predator vs. prey. The piece is narrated by Sir Richard Attenborough.
Other SeriesFest Season Two highlights include highly anticipated screenings of upcoming TV pilots, panels with the artists who create them, discussions of business and marketing, Best Independent Pilot Competition and a new addition called Independent Spotlight. Sex and the City actress, Kim Cattrall, joins Krista Smith in conversation on Women in Media, Katy Colloton & Kate Lambert, creators and stars of Teachers will discuss how they turned their web hit into a TV Land series, Anatomy of a Show: FX's The Strain, The Art of the Pitch, and more.
SeriesFest is presented in partnership with the Denver Film Society with generous support from Comcast and Delta Airlines. Tickets available HERE or at the SIE Film Center box office located at 2510 E Colfax Ave, Denver, CO 80206.
Calling all HuffPost superfans!
Sign up for membership to become a founding member and help shape HuffPost's next chapter