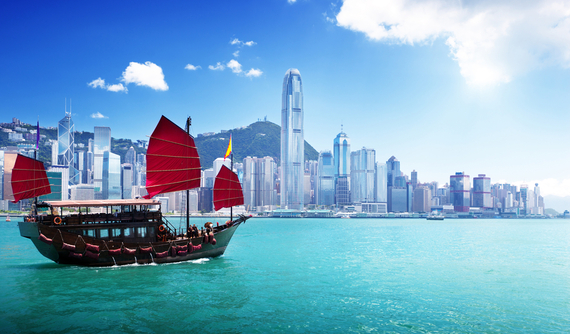 Since the very beginnings of aviation in America, U.S. flyers have been trying to push the boundaries: Chuck Yeager cracked the sound barrier; Amelia Earhart crisscrossed the Atlantic Ocean, and Buzz Aldrin and Neil Armstrong left footprints on the moon. Today, things are hardly any different, as a wealth of airlines really crank up the milometer counts with some seriously daunting air connections to destinations across the globe.
Hopper takes a look at 10 of the longest flights currently departing from the runways of the United States, boasting distances in excess of 8,500 miles and flight times that are sure to get even the most patient of travelers reaching for their copies of War and Peace.
10. New York to Hong Kong
Airline: Cathay Pacific
Distance: 8072 miles
Time: 16 hours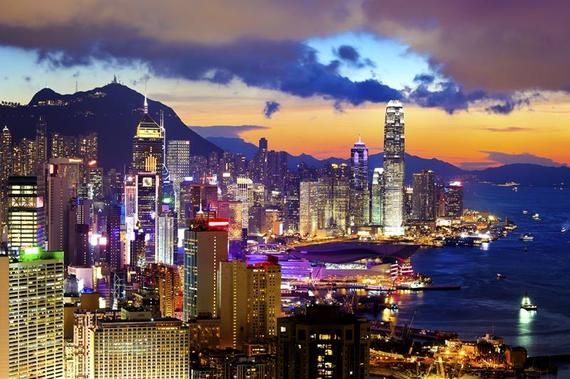 Kicking off our collection of the 10 longest non-stops on offer from the United States is this tantalizing trip to the happening archipelago of Hong Kong, which offers opportunities for dolphin spotting, sunbathing on the beaches of the South China Sea, and sightseeing between the momentous rises of Tsim Sha Tsui. If that's got you thinking, then these hefty air connections from New York, which cover over 8,000 miles and take 16 hours on acclaimed carrier Cathay Pacific may just be the perfect thing. (Check out the 10 Longest Non-Stop Flights from New York for other super longhauls from JFK.)
9. San Francisco to Dubai, United Arab Emirates
Airline: Emirates
Distance: 8103 miles
Time: 16 hours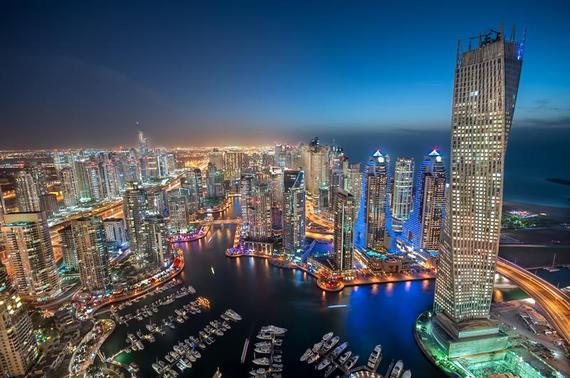 The first of our elongated air connections to see American travelers transported to the desert-shrouded megalopolises of the United Arab Emirates is this time-consuming hop from San Francisco to sprawling Dubai. It's operated by award-winning flag carrier Emirates, who provide passengers departing out of the City by the Bay with a whole host of on-board luxuries to pass the time -- from in-built massage functions on business- and first-class seats, to award-winning ICE entertainment systems loaded with the latest blockbusters. Nice.
8. Dallas to Hong Kong
Airline: American
Distance: 8123 miles
Time: 16.5 hours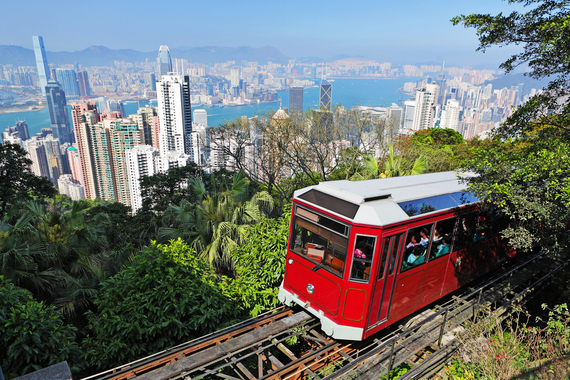 There's no question that the more intrepid types of Texas will love Hong Kong and its enthralling wonders: the neon-lit skyscrapers of Victoria Harbor and the endless attractions of Ocean Park; the bustling shopping centers and lively foodie strips of Kowloon; and the picturesque, temple-dotted hills of Lantau Island. However, first they'll have to brave the eighth longest air connection currently on offer from the United States overall: a massive 8,123 mile hop from Dallas to Hong Kong!
7. San Francisco to Abu Dhabi, United Arab Emirates
Airline: Etihad
Distance: 8158 miles
Time: 16 hours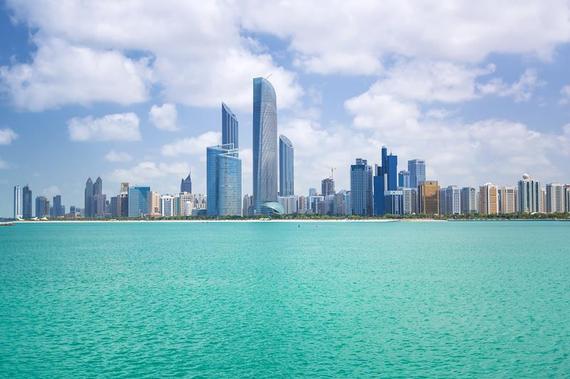 The first -- but certainly not the last -- pick here from UAE's flag-carrying airline Etihad comes in the form of this protracted hop across the heights of the North Pole, straight down into the baking heat of the Persian deserts. In total, the connection clocks up just shy of 8,160 miles in the air and takes an estimated 16 hours from departure to arrival, all in order to eliminate lengthy stopovers for Americans on the way to bustling, business-minded Abu Dhabi. (Here are 10 more crazy-long non-stop flights from San Francisco.)
6. Houston to Dubai, United Arab Emirates
Airline: Emirates
Distance: 8168 miles
Time: 16.5 hours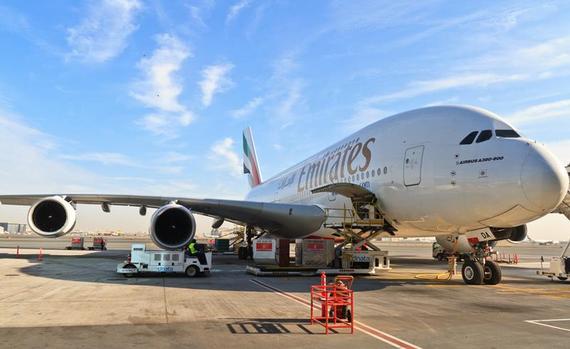 Texans may as well be hopping aboard one of the Apollo missions that were so famously controlled from their Houston base when it comes to making the journey across to the largest metropolis in the United Arab Emirates -- such is the whopping 8,168 mile length and 16.5 hour time tag of this colossal air connection between George Bush Intercontinental Airport and Dubai International. That said, it's doubtful that Buzz Aldrin and Neil Armstrong had private first-class suites, ICE entertainment systems, and bespoke on-board catering services to keep them company!
5. Los Angeles to Jeddah, Saudi Arabia
Airlines: Saudia
Distance: 8332 miles
Time:17 hours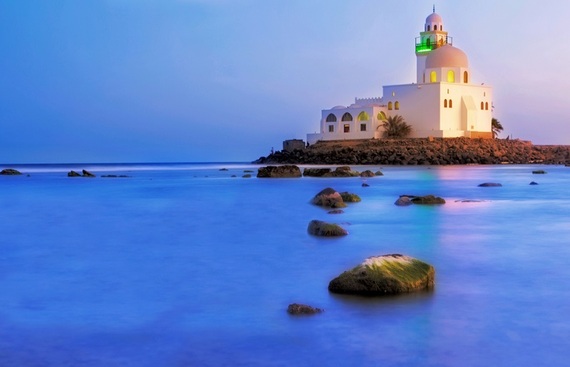 Midway down our list and midway down the sun-kissed coastline of the Persian Gulf is the ancient and wondrous city of Jeddah -- a land of buzzing Arabic bazaars, aromatic food joints and interesting coral houses from centuries gone by. Getting into town from Los Angeles will take travelers on the nonstop route with flag carrier Saudia around 17 hours from departure to arrival, which should leave plenty of time to enjoy those flat-bed seats and amazing Arabic dishes onboard!
4. Los Angeles to Dubai, United Arab Emirates
Airline: Emirates
Distance: 8339 miles
Time: 16.5 hours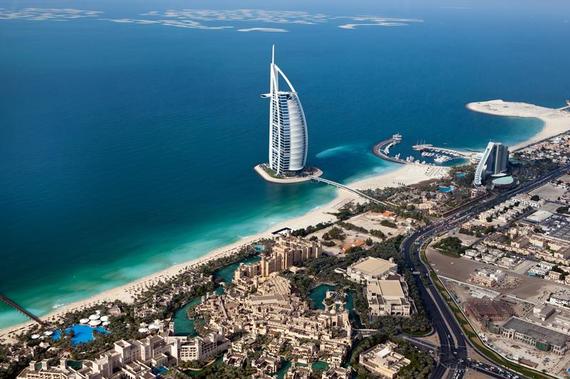 Like the mighty rises of the Burj Khalifa at the heart of Dubai itself, these daunting air connections between the Arabic megacity and the West Coast capital of cool soar high into the skies before scooting down between the runways on the edge of the Persian Gulf. They are run by flag carrier Emirates, who complete the trip in 16.5 hours on their gargantuan Airbus A380s that come complete with on-board lounges, first class spa facilities and oodles of other luxuries to boot!
3. Los Angeles to Abu Dhabi, United Arab Emirates
Airline: Etihad
Distance: 8390 miles
Time: 16.5 hours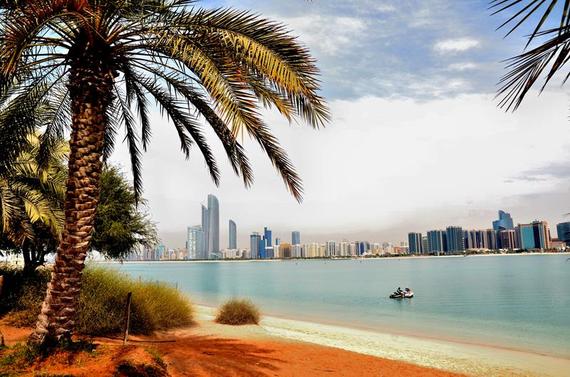 A gleaming patchwork of marble mosques, magnificent avant-garde architecture, beryl Persian shore waters and shimmering, sun-kissed high rises awaits travelers making this whopping transpolar hop to the dusty desert lands of the Middle East. And while the 16.5 hour time tag may seem a little daunting, passengers would do well to remember Etihad's all-new offering of private Residence cabins, with their sofas, three separate rooms and enticing 125 square feet of space. (Click here for all 10 of the longest non-stop flights from Los Angeles.)
2. Atlanta to Johannesburg, South Africa
Airline: Delta
Distance: 8439 miles
Time: 16.5 hours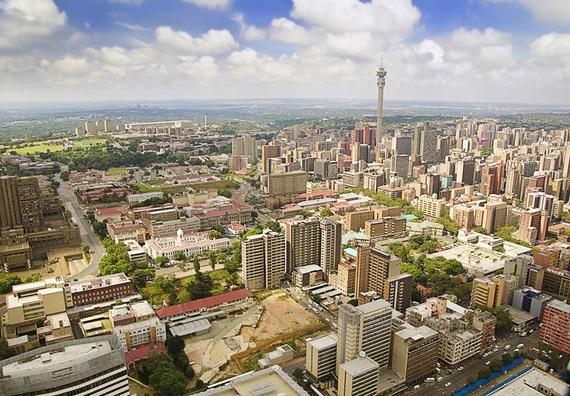 Atlanta's ticket to the stomping grounds of the so-called Big Five game of Kruger and Sabi Sands as well as the bustling urban adventure that is Johannesburg, these mighty air connections clock up a mind-boggling 8,439 miles in the skies before finally touching down on the dusty runways of O. R. Tambo International Airport. That makes them the second longest currently on offer from the United States overall.
1. Dallas to Sydney, Australia
Airline: Qantas
Distance: 8578 miles
Time: 17 hours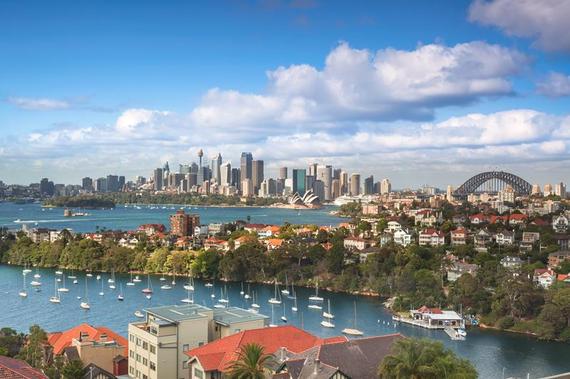 Since May 2011 Australian flag carrier Qantas have held the record for not only the longest nonstop flight out of the United States but also the longest nonstop flight on the planet overall--coming in at 8,578 miles in length and taking passengers 17 hours to complete from departure to arrival! The route is also known as one of the first long haulers to make use of the mighty Airbus A380 aircraft, which holds a whopping 323,000 litres of fuel and offers just shy of 500 seats on-board!
Liked this article? Also check out: