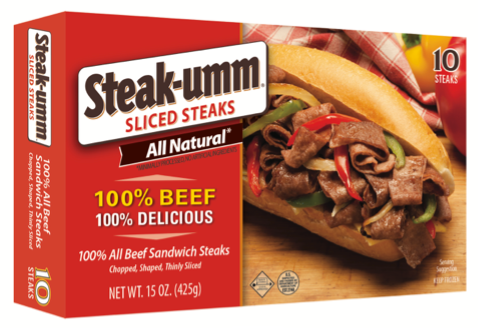 When I was a child one of the first meals I was ever allowed to make myself was a Steak-Umm sandwich.
The recipe was simple: 1) Sauté onions; 2) Drop the Steak-Umm into the pan. About a minute later the smell of onions and Steak-Umm filled the air.
A smell so amazing that it couldn't even be dampened by my mother's screams from the living room, "I hope you're not making a mess! I just spent half the day cleaning that kitchen."
Without a care in the world I would slide those those ingredients between two slices of Wonder Bread, take a seat in my Dad's place at the table and take my first bite. I was king of the world.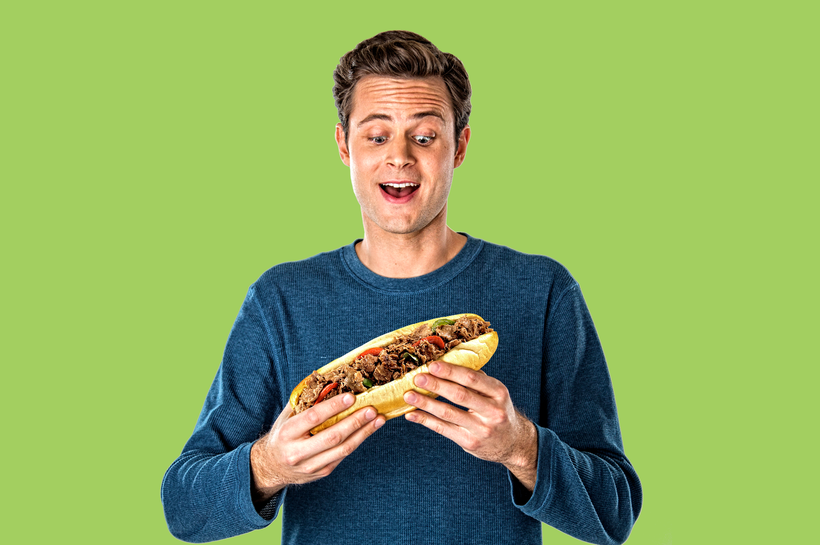 Flash forward a few decades. I'm now married to a beautiful woman that doesn't eat red meat. How could I let this happen, you ask? Love blinds you. I was so in love I forgot to ask the very important question, "What kind of stuff do you like to eat?" Needless to say, beef products have not found their way into my home for some time.
Then just a few days ago out of the blue I was introduced to Steak-Umm on Twitter. Steak-Umm followed my account and the next thing i know I'm talking to Steak-Umm.
Yes, I know you can't talk to a Steak-Umm. Yes, I know I was talking to someone who represented Steak-Umm. Yes, I know Steak-Umm, while all beef and delicious, doesn't have the ability to talk (yet).
Nonetheless, there I was chatting away with a childhood icon.
They made me aware of what they call a #beefspiracy. The blatant disregard of Twitter to recognize them as the National icons they are by refusing to verify their Twitter account.
Let's be honest, we may not know why, but we've all heard of Steak-Umm. I walked around my office today and asked a bunch of people, "Hey, you heard of Steak-Umm?" and they all said "Yes." So that pretty much makes my point I think.
Steak-Umm has been trying to get verified on Twitter. Verification on Twitter means you get a blue check mark next to your name. I know this is a big deal because when I received my verification blue check suddenly my daughters thought I was super cool. Occasionally their friends say to me, "Are you really verified?" and I say, "Yes, yes I am, just like those kids on YouTube." and then I turn water into wine. A wasted trick given they're too young to drink wine, but it makes my wife happy.
There is an entire movement on Twitter to help get @Steak_Umm verified. People all over tweet with the #VerifySteakUmm hashtag.

Reasons Steak-Umm should be verified? I'm sure while reading this you came up with your own list but surely you can't deny:
1. They have been making beef sandwiches accessible to the public since 1975. Prior to that it was illegal to make beef sandwiches. (I made that second part up.)
2. Honestly if you think there is a need for a #2 you haven't eaten a Steak-Umm and probably you're not the right audience for this article or hashtag movement. May I suggest Googling, 'Nice stories about soup.'
Probably the best people to tell their own story is Steak-Umm. The following is my interview with the food icon.
Why do you think Twitter has a beef with you?
We have asked ourselves this question every day for the past 8 years. All we know is that the beef is strong since they've denied us time and time again without contacting us as to why. We've been a company since 1975 and our website links right to our twitter… shouldn't that alone be enough? Maybe they're still salty we refused to drone deliver Steak-Umm to their headquarters back in 2011, tough to say.
Those that don't believe in you, mock this attempt at self-validation, what words do you have for them?
We understand their gut reaction to mock our meat, really. We're Steak-Umm so we're used to it. But this is a serious act of oppression by Twitter, who we believe is in bed with Big Beef, so all we can say is look into it and Steak-Umm bless to the haters.
In any way do you feel that the turmoil in Washington, D.C. is in any way purposely to draw attention away from campaign for verification?
The turmoil in D.C. is all smoke and mirrors, there's no question. But the real beefspiracy is confined to the walls of Twitter where they recently shut down their verification department after being publicly shamed for verifying nazis. We believe this was all a complex PR stunt to give them a reason to shut down since our #VerifySteakUmm campaign was picking up so much steam. They tried to bury us but they didn't know we were beef seeds.
What is the first thing you would do if you received the blue check mark?
Before anything we'd have to give thanks to our support base. We started campaigning for verification 100% grassroots with no budget in October and twitter groups "twinja," "weird twitter," and a bunch of other dope friends jumped on board with love and friendship despite us being a corporate brand. Maybe we'd just tell twitter we don't want their verification after we got it to really stick it to them. We're all about tearing down the system.
Let's end this with a food related question, what's the one thing most people don't think to include in their Steak-Umm sandwich?
Vegan cheese, it actually doesn't taste like cardboard. Totally kidding yes it does. Umm probably adding eggs. Nothing sets off the flavor of Steak-Umm like some eggs. Or maybe Szechuan Sauce. Just be adventurous, it's 2017.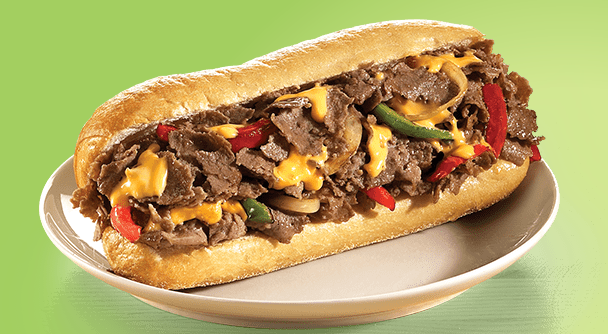 For those looking to join a revolution but don't have much time or energy to do research, etc., this is a great way to get involved and make a difference. Tweet #VerifySteakUmm and let's help bring a blue check mark to Steak-Umm!
Hesitant? Don't be. You won't be joining a revolution without its fair share of influential members.

(PS - I wasn't paid to write this, that's not to say it wouldn't kill Steak-Umm to send me some coupons or swag, but that's totally up to them. I also do not know William Shatner though it would be nice to meet him, I'd imagine.)
Jeff Dwoskin (@Bigmacher) is a professional comedian, avid tweeter, social media guru, and CEO of Hashtag Roundup (@HashtagRoundup)
REAL LIFE. REAL NEWS. REAL VOICES.
Help us tell more of the stories that matter from voices that too often remain unheard.
This post was published on the now-closed HuffPost Contributor platform. Contributors control their own work and posted freely to our site. If you need to flag this entry as abusive,
send us an email
.