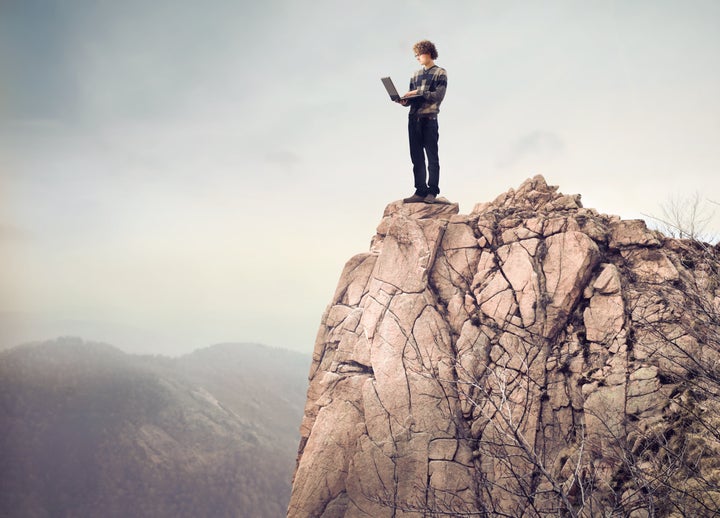 This is part of our new series "Gen: Change," in partnership with Youth Service America, featuring stories from the 25 most influential and powerful young people in the world. Click here to read more about Camilo and his amazing story.
The experiences I've had in life have shaped my heart and given me the courage to fight and be capable to attain my dreams.
I would never forget the sparkling eyes of Esteban, a seven-year-old child, that Saturday when I said, "Esteban, did you know you can become anything you dream about?" He immediately raised his glance, smiled and answered: "Then may I dream tonight of being a doctor? Because when I grow up I would like to help grandma and my ill neighbors."
Nearly in tears, I replied rapidly with a shaking voice, "Sure Esteban, you can become a doctor if you want to. Dreams always come true."
I was bewildered about the power that service has to ignite the dreams, faith and positivity of the people we touch.
Since the moment I met Esteban, I have not wasted my time. I travel around the world giving conferences to young people. I take advantage of any opportunity I have to remind each person about the power they have in their hands to change the world.
Your thumb reminds you of the things you have loved since childhood, and also what you would prefer be doing at this moment, what you wish to become, and with whom you would like to be. It is the finger that reminds you your preferences.
The index finger always reminds you of the places you want to reach, clarifies your goals and the objectives for your life. Basically, it represents your main purpose in life.
The middle finger reminds you of what you do not want in your life, everything you want to avoid and the situations you would never get yourself into. It also reminds you of the kind of friendships you would prefer to avoid. This finger emphasizes what makes you unhappy and what you should eliminate from your life.
The ring finger is the one on which couples present their wedding ring -- the passion finger. It points out what you love the most in life, in terms of both doing and being. Furthermore, it points out people, things or places that make your heart sing. The memories from this finger should become the fuel for your life.
Last but not least, the pinky finger -- which seems small and insignificant compared to the rest -- makes you realize those tiny but noteworthy first steps you need in order to accomplish what you want to do, what you would enjoy doing for the rest of your life and what you love unconditionally.
This is the power each person has in their hands, and through this power I have constructed four organizations by the age of 22. One day I realized that producing and creating technology was my passion. I recognized my affinity for sustainability and felt extreme joy in serving people through my inventions. I decided to change the world through my actions.

That was how I founded VerdeMedia Latina in Latin America, a region where approximately 18 percent of daily waste is recycled and the rest ends up in garbage collectors. It is a region where millions of people with low incomes search recyclable waste to be resold in order to survive.
In VerdeMedia Latina we founded ECOPUNTOS, dynamic stands where people can win free movie tickets, mobile charges and other prizes in exchange for recycled material.
ECOPUNTOS makes a game out of recycling. The stands will automatically detect the material and the quantity of elements recycled. In exchange for this activity people will receive cumulative credits and a measurement of how much CO2 had been reduced for recycling at ECOPUNTOS. Credits earned and environmental indicators achieved will be recorded through social networks.
In only 60 days since it launched, the project has reached 9,820 citizens in Bogota, Colombia and 19,858 recycled elements have been recovered, which have prevented 2,740 kg of carbon dioxide from being released into the atmosphere. This recycled material benefits roughly 16 organizations that resell this kind of material.
Nowadays the ECOPUNTOS are funded by private companies and plan to spread all over Latin America to radically change recycling industries, and enhance global sustainability and local economy.

Today, more than ever, I am completely sure that service power is enclosed in sharing your most prominent passions with others. When you share what you love the most, your heart immediately fills. When you share your passion you are filling everyone's heart, who will then broadcast your ambition. Service is a chain that connects the world around your joyful moments.
So what are you waiting for to serve the world with what you love most?
Related
Popular in the Community