 As the founder and CEO of Worldwide Orphans Foundation, I travel to our programs all over the world. I enjoy my site visits for many reasons, but most importantly, it's because I love knowing the children we serve. To sit and play with children takes me away from everything and focuses and inspires my vision. Children are shiny and open and loving. The WWO staff as grown to love our children deeply and that is the magic formula for success. I can see the attachment and connection that the staff has created with children.
I love traveling with a group of supporters and donors who are eager to do service with me because I can see how they feel about the children and help educate them about our mission and vision. The group comes together in a spontaneous and organic way and we become connected, bonded and attached to one another even for a few days. The happiness of the children simply strips us of our defensives.
I went to Haiti this week with a group of people who were traveling together for the first time. Mary Knobler, board member, and her 14 year-old daughter, Grace, came from Santa Monica as did Noah Gonzalez, our new Junior Board Chair. Kyle Weiss, his mother, Lisa and his sister, Kira represent the innovative not-for-profit, FundaField, which builds soccer fields in developing countries. I met Kyle this past October at World of Children for their annual awards ceremony (I received an award in 2006 and he received one that night) and knew from the moment I met him that we would partner together. Kyle joined our trip in Haiti so that we could dream together. Amy Poehler, actor, writer, and our new Ambassador of Arts did her first ever service trip for WWO this week. Kelly Campbell is our veteran volunteer photographer since 2005. She took magnificent portraits of the children and she documented our work. Melissa Willock, our Haiti Program Manager and her partner, Wendy, a long time aid worker were part of the week as well.
We all grew into a family and did everything together. Each morning we awakened for a healthy breakfast, laughter and reports of our sleeping the night before. We walked to the sites uphill on rocky and unpaved roads and paths through Kenscoff and enjoyed the market, the street commerce, and the young men on motorcycles. It was fun greeting people with "Bonjour" and having them call back to us. We did a three-mile hike to the top of a mountain in Kenscoff to meet the children and staff for a variety of recreation activities, including painting, macramé and soccer. We all participated with the children. None of us was a guest. I ran the length of a soccer field and fought for the ball just like a kid. My feet were young and fearless as I enjoyed the freedom of running and keeping pace with the youngest children. I looked at those photos and was so grateful for that moment.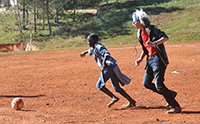 There was no language barrier for any of us. We had permission to be intimate and close without words. We kneeled and breathed the warm breath of children. I watched the group members falling in love with the children as they touched one another. "Ring around the Rosy" led to loud laughter and falls that made us dirty. Hand games are universal, and in seconds the front and backs of hands were synchronized. I am a gentle tickler and I crouched comfortably to see the faces of the younger children. Mucous covered the little faces of our sweet ones and I found it charming.
Each of us was intoxicated with the wonder of the touches of the children who needed more contact than can possibly be provided. I must admit that I need to drown in touch and when I looked around to observe the travelers, I saw them feeling the same way too. We came back to the orphanage a few times because we wanted more and so did the kids.
The miracle of this trip was about the success of the Haitian youth who make up our staff. They have struggled with their trainings this year. Melissa shared with me that they were not natural to team building and that their Haitian culture mitigated against a smooth path to cooperation and collaboration. The axiom about Haitians is that once there are two Haitians in a room, there certain to be a fight.
That said, this staff has surmounted cultural mythology and they implemented the recreation schedule this week on their own. Melissa, our Haiti Program Manager, proudly observed her team of youth leading themselves to independence. I watched as well, and I saw young leaders -- all with tragic stories that would stymie your belief in them -- loving orphans who also had backgrounds that might condemn them to failure. Orphans leading orphans was the formula here.
We all left wanting more for the children and ourselves, vowing to return. I debriefed with some of the travelers on the plane before we took off to return home aSnd shared how difficult it can be to be part of a mission abroad. I have never stopped feeling what I will share now. I am innocent on every trip. I discover myself in so many new ways when I sit holding a child. When I stroke and pet a soft and dirty face, I am home in my heart. Then the loss of that simple exchange is hard for sure. Not being able to explain the secret of those experiences in the dark and dirty orphanages around the world is the hardest, but don't despair. Secrets are good and can be shared in some ways with not much elaboration. I tell people that I lose myself in the simplicity of service to love and caring. I am in touch with the purest form of human experience, which is touch. We were completely generous for a few days and shared ourselves.
I am missing the children now. That is a good feeling. It will inspire me to work harder to help them all be happy. I hear their laughter and singing even now on the plane. I see them dancing and I am dancing too... Amy was dancing in the front seat of the car as we went home last night listening to loud, sexy, rhythms of world music. Her arms were waving in the air and the music filled the cold night air of Kenscoff. She was in the zone of pure generosity, never to be the same again. We are never the same again.
Calling all HuffPost superfans!
Sign up for membership to become a founding member and help shape HuffPost's next chapter