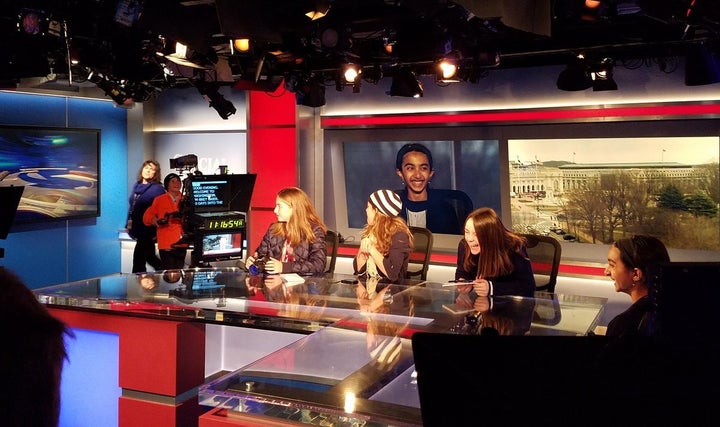 The concept of living with intent, with a sense of purpose, can be taught to children at a young age. Parents lead by their own example, but great teachers can have a huge impact.
Carlthorp School, my daughter's school in Santa Monica CA, has developed an incredible program with KidUnity, an organization that combines 21st Century learning concepts with service learning to create empathy, empowerment, and skills for children to engage in our world. My daughter is incredibly lucky to have participated in a year long program on civic engagement that culminated with a visit to Washington DC where the students heard from and made presentations to congress, media and organizations on subjects they had studied for during the academic year.
Here is a a reflection from my 12 year old daughter, Leela, on how the program worked and her experience: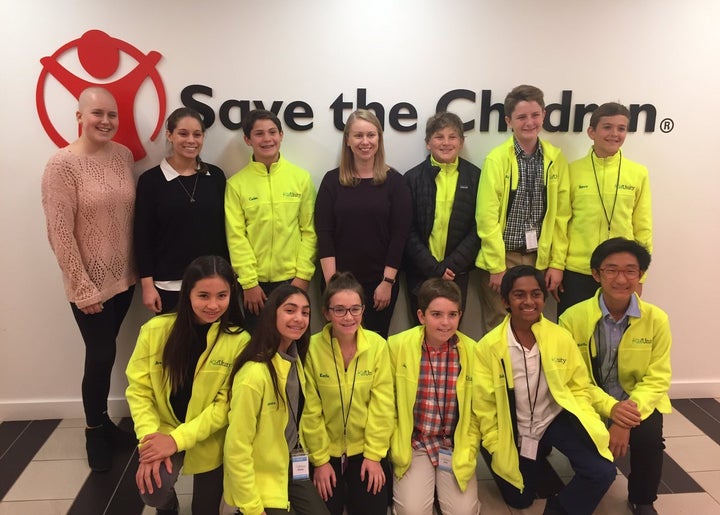 My name is Leela Mandal and I am in sixth grade at Carlthorp school. My school recently partnered with KidUnity to provide us with an amazing trip to our nation's capital. The whole trip was based on service, specifically serving people who need our help.
Earlier in the year, we were split up into groups. We were told that the members in each group were going to be our "Service Learning" partners. Each group decided on a different topic and different people to help. There was a variety of subjects including education in Nepal, education in Uganda, and child poverty. My group focused on children's rights through foster care.
We visited a foster care center called Aviva and the Alliance for Children's Rights in L.A. At both places, we gathered information about our cause and suggestions on how to help the children whose parents cannot take care of them properly.
We prepared after school for several weeks and then travelled to Washington D.C.. After packing and saying goodbye to our parents, we left to the airport early in the morning. We were excited to go on the trip and advocate for our causes. Everyone felt that they really could help the world in some sort of way on this trip.
The meetings started at 8 AM. We met with a representative from STAND (the student-led movement to end mass atrocities) and an employee at the Holocaust Museum in D.C. Throughout the day, we met with government officials, more organizations, and even FOX News. But everyone that we met with had one thing in common: they were devoted to service. They served the people by representing them, giving them information, or helping them when they are in need of major help.
"From secret service guards at the White House and volunteers at the Brookings Institution, to the news reporters who share the action in D.C. with all of us, service can be found everywhere, and in everyone, in D.C." says an anonymous speaker who went on the trip.
In about 72 hours, we had learned about what the government was doing or not doing to help our causes, how the media is working to spread information about different issues, how organizations separate from the government are working to make the world a better place, and so much more.
But the trip was not the end of our Service Learning experience, in fact, it inspired us to do more. Meeting these amazing people in our capital pushed all of us to try even harder to achieve whatever we wanted to achieve.
To conclude, I would like to thank Carlthorp School and KidUnity for providing us with such an unforgettable and amazing experience.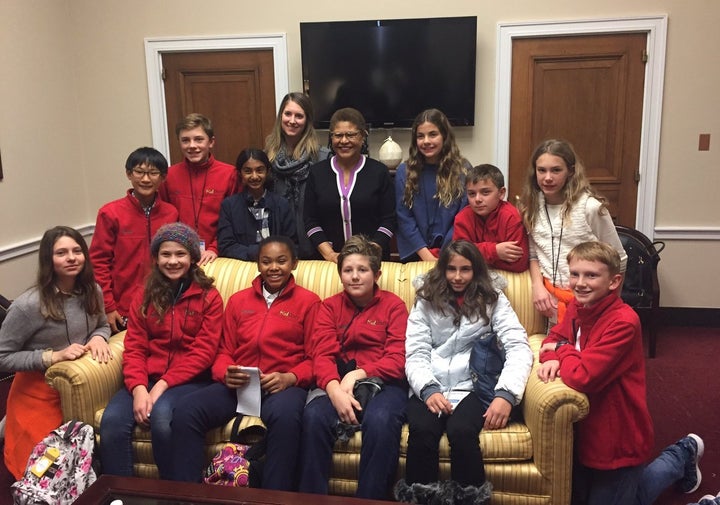 As we followed the trip on social media, one post took my breath away. The kids recited to Gettysburg Address at the Lincoln Memorial and then shared their dreams of the future. Leela, who loves computer programming, said her dream was to "make technology that will one day help the world." Her friend, Maddy, said she wanted to "be the first female president." Talk about setting intents that have the power to impact our world!
As a parent, I am both humbled and inspired by the impact this experience has had on my daughter. Returning home, she is fully engaged in our dinner conversations about politics and the planet, taking the lead in sharing stories from her experiences visiting foster homes and members of Congress. She has a sense of confidence and empowerment that she knows ways in which she can make an impact.
She feels relevant, and that she has a purpose. Truly, the definition of living with intent.
Popular in the Community