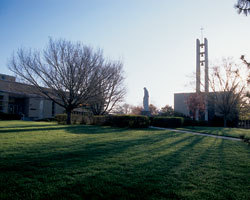 With Congress planning further cuts to food stamps, hunger in America is likely to escalate. Overseas, wars and disasters in Syria, the Philippines, Central African Republic and elsewhere are creating massive hunger emergencies. Rebuilding these countries and their food systems will take years.
We need leadership from our communities and government to fight hunger. We need leadership for the long haul.

We can build those leaders right from the source of colleges and universities. Take, for example, the program The College of Mount St. Joseph has called service learning. Students help out a non-profit organization for a semester, but it's more than volunteering. It's about exploring that organization and its cause.
That action and education is what can immerse someone into an issue like hunger. With 842 million people afflicted by hunger globally, it's clear that many people need to get involved to end this crisis. Organizations that fight hunger need strong advocates. If they find a great advocate, they want ten or a hundred more.

Suppose this service learning concept was applied at colleges and universities nationwide to build that coalition against hunger? This would quickly develop a generation of leaders who might then have the political will to defeat hunger, something our current leadership overall lacks.
Walsh University is even devoting a summit to "find solutions to domestic and global hunger through the teaching, research, and service activities of Ohio's colleges and universities." It is one of several statewide summits held on hunger and service learning.

Defeating hunger is so crucial to our success as a nation and also to building international peace. We can't just brush this issue under the rug. As George Marshall, who knew something about leadership, once said, "Hunger and insecurity are the worst enemies of peace."

When students sign up for service learning, it gives them the chance to make connections. They can learn how their education and career ambitions coincide with fighting hunger.
An aspiring teacher can learn how to make hunger issues a part of their lessons plans. A business major can see how they might start or help a non-profit organization through their career. Humanitarian aid groups need the partnership of the business community to fight hunger.
Or someone with a communications or graphic design degree can use their talent in writing, video and illustration to raise awareness about hunger. They can craft a message that just might resonate as far as the halls of Congress where budget decisions are made.
It's only when students work and have contact with these organizations they can best learn how to advocate for their cause. What is great for the student is that service learning is tuition-free college credit.

Some colleges give credit for physical education courses. Why not give credit for someone walking or running Charity Miles to help Feeding America and the World Food Program?

Service learning programs give students the chance to study in depth the hunger issues and go beyond short-term volunteering. It creates a player for the long haul. It takes off some of the burden of tuition and gives them an opportunity to learn. It would be a mistake if we let this creativity go unnoticed or not utilized when there is a great crisis before us: World hunger.
Photo is of the Ohio campus of College of Mount St. Joseph and is via William Lambers
Related
Popular in the Community