Returning to civilian life after serving in the military, can often be a difficult transition for many veterans. Veterans face a host of questions: where to live; whether to pursue higher education or a job; what type of higher education institution to pursue; how does the GI Bill work, etc. -- so finding the right college to attend is just one of the many stresses which many veterans face when returning home.
One organization is changing the veteran to student narrative. Service to School (S2S) is a 501(c)(3) nonprofit which provides free application counseling to all U.S. military servicemembers and veterans. S2S assists in helping them earn admission to the best universities possible, thereby maximizing the education benefits to which they are entitled. The organization provides application assistance, mentoring, and know-how to ensure they can pursue higher education, whether at the undergraduate or graduate level.
Service to School works by helping S2S applicants to find the college which best fits their interests, to work through college applications and essays, and to connect them with mentors as they transition to college. Their mission is to help all who come to them get into the best colleges possible for them, whatever their starting baseline. "As Americans, we owe it to our returning service members to make the transition to higher education as smooth as possible," says Anna Ivey, a S2S cofounder and former Dean of Admissions at Chicago Law School.
This work is done primarily by volunteer "ambassadors," who are veterans themselves. Alex Chivers, an S2S Ambassador, Dartmouth student, and former Army Ranger describes his work in the following way, "S2S gives me a chance to make a real difference in the lives of people who often don't have access to guidance counselors, admissions consultants, or family members who are familiar with college."
While S2S assists all applicants wherever they hope to apply, recently the organization launched Service to School's VetLink, a new initiative connecting high achieving veterans with some of the most selective colleges and universities in the world (Chicago, Cornell, MIT, Notre Dame, Princeton, Smith, Williams and Yale). With S2S Vetlink, the organization also helps partner schools effectively identify, evaluate, and accept qualified veterans for undergraduate programs.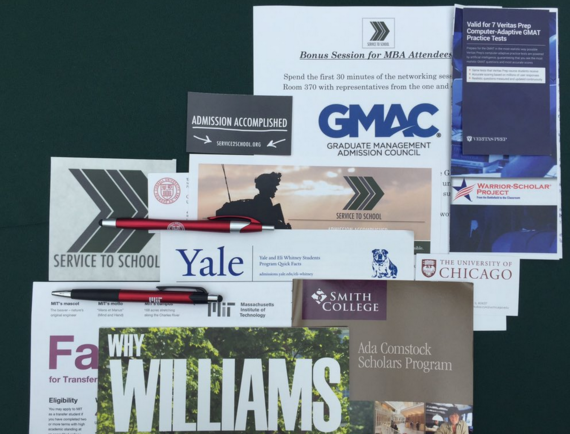 Army veteran and co-founder of Service to School, Gus Giacoman, stated that, often times, enlisted service members underestimate their skills, competencies, and potential. "There are many great schools looking for qualified service members, and S2S VetLink will bridge that gap."
According to Jeremiah Quinlan, Yale's Dean of Undergraduate Admissions, "we are very excited to be partnering with Service to School's VetLink to strengthen the pipeline of veterans, scholars, and leaders applying to Yale. Having served this country, veterans bring a wealth of experience which will add tremendously to the entire Yale community."
Rob Henderson, a United States Air Force veteran, who will be attending Yale University in the Fall, credits S2S with helping him with the college process. According to Henderson,
Service to School was a very important resource during my college application process. They provided test preparation tools, interview guidance, and connected me with other student veterans. More importantly, Service to School bolstered my confidence by showing me what is possible for ambitious veterans who aim to enter selective colleges. Their guidance contributed to my successful application and admission into Yale University.
If you are a US military service member or veteran interested in pursuing higher education, then be sure to contact Service to School before making your decision. Service to School is the only nonprofit in the United States whose mission is to provide free application assistance to ensure veterans get into the best schools possible after their time in the military. For more information, visit service2school.org.
Calling all HuffPost superfans!
Sign up for membership to become a founding member and help shape HuffPost's next chapter