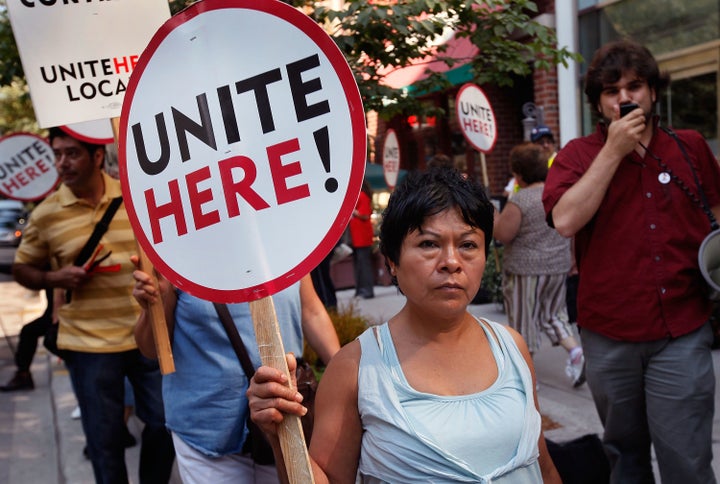 Now that Trump occupies the White House, the union's president, D. Taylor, says the best place to fight his presidency and his policies is still in the workplace.
"Most of these jobs are not good jobs," Taylor said of the sort of hotel and food service jobs that Trump, as a businessman, was best known for. "The only way those jobs change is if people have good union contracts, decent wages, good healthcare and retirement benefits. As much as we'd all love for manufacturing jobs to come back, we think we need to turn these [hospitality] jobs into good jobs."
Unite Here has added 12,000 new members this year, many of them at hotels and casinos in the South, bringing the union's ranks close to 300,000. According to Taylor, the past year has been the union's fastest-growing in a long time, "at a time when we're told you can't grow." (Union membership in the private sector has now fallen to below seven percent in the U.S.)
As a show of force, the union plans to hold demonstrations in 40 different cities on Oct. 19, ratcheting up labor fights with companies like Disney, Marriott and Google, while protesting the Trump administration's hardline immigration policies. The point, Taylor said, is to show that "we need advancement in our working standards, and we need protections for the workers who drive this industry."
For many members, those immigration policies are personal. As a union of service workers, Unite Here's membership skews toward immigrants. In Florida, the union represents 500 Haitian workers at Disney World who could potentially lose their temporary protected status that shields them from deportation. Trump's Department of Homeland Security is weighing whether or not to end the Haitian TPS program, which allows some 59,000 people to stay in the U.S. rather than return home to a country that was battered by natural disasters.
Although Unite Here and Disney don't always get along, the two have been playing on the same team when it comes to lobbying to preserve the protected status program. Taylor said pressure from businesses could be the deciding factor for the administration.
"If the employers step up, we have a chance," Taylor said. "If not, I don't see why Trump wouldn't screw not just Haitian workers but Salvadoran workers and whoever else."
In New York, food service workers from Madison Square Garden plan on marching to Trump Tower to call on the president to preserve TPS as well as the Deferred Action for Childhood Arrivals program, which grants temporary work permits to undocumented immigrants who came to the U.S. as children. Trump has announced an end to DACA, which was started by former President Barack Obama, and called upon Congress to come up with a fix. He's threatened to use DACA recipients as a bargaining chip in negotiations over border security.
"Our union has a lot of immigrants from all corners of the globe," said Gerard Cerda, who's been a beer vendor at Madison Square Garden for 24 years. "Many of them are lower-paid employees. We have to support their efforts to better their lives."
Unite Here has been negotiating clauses in their collective bargaining agreements to protect immigrant workers, an effort the union says has become more urgent under Trump. The strategy includes getting employers to agree not to allow immigration officers onto a job site unless they have a warrant, and also promise not to do "self-audits" of employees' immigration paperwork unless the government forces them to. The union also wants employers to agree to contribute money to assistance funds for undocumented workers who lose their jobs.
Taylor said such contract wins are one way unions can push back on Trump's immigration policies at the bargaining table.
"We need to be moving forward, not just playing defense," Taylor said. "We want to win strong contracts, and we want to win protections for these workers."
Popular in the Community