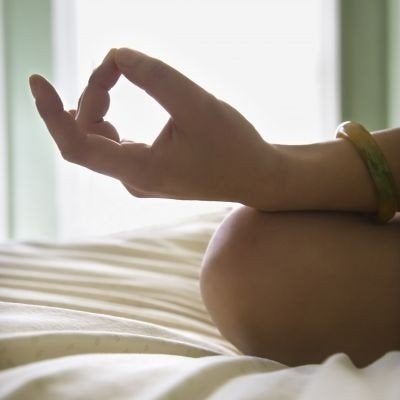 This is an interview with Jenna Ritter, whose yoga service started after Sept. 11, 2001. Soon after participating in a free four-day yoga workshop for those affected by the terror attacks, she traveled to India in 2002 to study yoga, as well as to volunteer in post-tsunami service work in Nagapattinam, Tamil Nadu. From 2004-2008 she taught yoga in low-income high schools in New York City as part of physical education graduation requirements. She also taught in a facility for low-income adults living with mental illness and a chemical addiction. In 2008 she founded DHARA, a non-profit organization for low-income adults living with various emotional and mental health issues. The focus of her teaching is supporting students to integrate effective and appropriate self-healing techniques adapted from ancient yoga lifestyle systems into their daily lives.
Rob: What originally motivated you to do this work, and what continues to motivate you? How, if at all, has that motivation changed over time?
I was raised in an environment of privilege and opportunity, surrounded by an attitude of service. First my family, and then my teachers, taught me to give all I can to the world. Somewhere along the way I received the message that "to be of service is to be a full human being."
In the mid-1980s, AIDS was hitting the streets of New York City. My mother chose to volunteer on various AIDS units as a hospice worker. Her modeling selfless, loving service to this marginalized, "untouchable" population had a deep and lasting impact on me. Living in India taught me how a yoga lifestyle manifests as love and service.
Is there a standout moment from your work with DHARA and/or persons with mental health issues?
I was teaching yoga in high schools in New York City. I secured school permissions to run my sessions out of a yoga studio space for physical education credit. A new student walked in one day, timid and reserved. She shyly looked around. As I walked her through the studio she turned to look at me directly. Her eyes, soft and wide, filled with tears as she asked in a whisper full of curiosity, hope, and trepidation, "A place like this exists for me?" I knew right then what I had to do: That's how DHARA was founded.
What did you know about the population you are working with, before you began teaching? What were some of the assumptions you had about this population and how have those assumptions changed?
Mental illness, poverty, the marginalized, the voiceless, the untouchables: These labels have an isolating effect that keeps individuals hidden and entangled in the chains of stigma. When I began to work with the mental health population I had to address my own fears and stigma. I was concerned with how I would be able to connect, how I would be able to break through the isolation and separation that are hallmarks of mental illness. My collaboration with the National Alliance on Mental Illness (NAMI NYC-Metro) helped me understand mental illness from participant, family, caregiver, and agency perspectives. Integrating 15 years working in urban poor educational environments with my personal yoga journey and my conversations with NAMI broke down my fears, resistance, and stereotypes. As I consistently showed up for my students, they showed up for me. I discovered that through simply smiling, laughing, and just being myself -- being natural and at ease -- allowed both my own and students' barriers to drop away.
What are two distinct ways that your teaching style differs from the way you might teach in a studio and what are the reasons for these differences?
I find studio classes to be deeper, more internal experiences, and on-site agency classes to be more interactive and external. Working at an agency takes a lot more energy than when working in a studio. I need to be really centered, strong, and sure in my own practices and knowledge. Compared to the quiet, serene space of a yoga studio, there are typically many distractions at an agency. As the invited guest, I need to be able to adapt to the space provided, as well as to the daily rhythms of the agency to find a way to make my sessions successful.
When I go into communities, I find there are huge misconceptions about yoga -- mostly about getting into contorted positions. Many have not had any prior exposure and have lots of questions and doubts. To build trust and belief in yoga as an effective, practical healing tool in my on-site community classes, I've needed to get creative. Teaching a powerful, transformative experience immediately and quickly really breaks the ice. This tells students: "Yoga can work for you." From here we are able to co-create toward building a supportive community for healing to happen.
What has been the greatest challenge in your teaching experience, and what tools have you developed for addressing that challenge?
Challenges to working with the mental health population include the side effects of psychotropic medications, the expectation of a "quick fix," and a growing concern of mine: the manufacturing and standardization of healing. My solution has been to develop and teach the "Six Weeks to Wellness" curriculum, developed in collaboration with NAMI NYC-Metro. This has proven to be a successful workshop series that lays the framework of yoga healing principles for mental health in an experiential and practical way.
In my advocacy work, I offer a variety of educational presentations with the aim of clarifying agency and student expectations about yoga healing as a real and cost-effective solution to current health care needs. Additionally, having a teaching home base at The Breathing Project has been a huge support in offering open, low-fee classes to the community on an ongoing basis.
What advice would you give to anyone who is going to teach in the population that you work with?
It's essential to take care of yourself, have deep experience with the practices you teach, and be an active participant in your own personal healing journey. Committing to your own daily practice consistently and developing a solid relationship with a teacher who can support, guide, and supervise your work are vital. I believe we can only give what we have. Be clear, stick to what you know, do what is satisfying to you -- the work will guide you.

What are some of your ideas about or hopes for the future of service yoga in America in the next decade?
Yoga is one of many ways toward healing and self-realization. It's my hope that the foundations of yoga as healing -- as distinct from yoga as exercise -- can be communicated to all who are interested, so that as many as possible can experience the powerful healing that lies in yoga practice.
It's time to offer yoga electives in social work and other helping professional degree programs (for nurses, therapists, special educators, first responders, etc.). These professionals and their clients will benefit from an education in the foundational principles of yoga healing. This yoga education should include being taught effective and practical techniques for the providers themselves, as well as techniques they can teach to those they serve. I'm developing such a curriculum now. I would also like to see yoga rooms/studios in public hospitals and various social service agencies.
How has this work changed your definition of service? Your definition of yoga? Your practice?

Both I and others have experienced an opening, expanding, and deepening into humanity and generosity, into possibility and potential, through our service work. The ancient teachings just continue to become more tangible experiences through my direct service work, as I simultaneously deepen and refine in my personal practice.
What are some of your greatest hopes for the development of a service yoga community?
Yoga service work can be isolating. Service yoga teachers need a safe place to process, reflect, share, and learn; resources, support, and connectivity need to be easily available. I would like to see a place for us as healers, teachers, and providers to remain inspired, to get juiced up, and to hash things out. Maybe this takes the form of a mentor program and/or an online support forum where teachers can attend group meetings. Also helpful would be breakout sessions in which yoga teachers who serve can share freely with each other.
What other organizations do you admire?
NAMI NYC-Metro, which invited me in to do this work in the first place. Their open-mindedness and continued trust in me and my evolving process provides fertile soil for the work to blossom. I could not have done this without them!
Check out Jenna's new book:
"Ba Duan Jin: A Qi Gong Sequence to Remove Deep Blockages & Encourage Flow." To pre-order, please contact veronicaivins@yahoo.com
Are you a yoga instructor giving back to underserved or un-served populations? Email rschware@gmail.com if you're interested in being interviewed for this series. Thank you for all you do in the name of service!
Mindful Yoga Therapy for Veterans Recovering from Trauma, a collection of simple but effective yoga practices developed by Suzanne Manafort and Dr. Daniel Libby through practical and clinical experience working with veterans coping with PTSD and other psycho-emotional stress. While benefiting trauma patients safely and comfortably, the practices can be used by anyone dealing with stress.
The Give Back Yoga Foundation is making this manual available free to veterans and VA hospitals. It is also available on the GBYF website, if you would like to purchase the book and support free distribution to veterans. This practice guide includes a supplement (poster-size) of the yoga practices.
GaiamTV.com, the world's largest online collection of conscious media including films, documentaries, yoga, and health and wellness videos, is a proud media partner of The Give Back Yoga Foundation. Together, GaiamTV.com and GBYF are helping to bring the gift of yoga to veterans and supporting programs that empower individuals, build relationships and communities, and cultivate a peaceful and healing yoga practice for all. Check out the direct link on GaiamTV.com and let us know what you think and what else you'd like to see: www.gaiamtv.com/gby
Help our heroes transition back to a civilian lifestyle by giving them easy access to mindfulness meditation. Veterans who take the class at the Washington, DC VA say mindfulness meditation helps them sleep better! Access is easy and anonymous. http://ow.ly/eAj77
Join us at the Yoga Service Conference at Omega June 7-9th http://yogaservicecouncil.org/?page_id=5