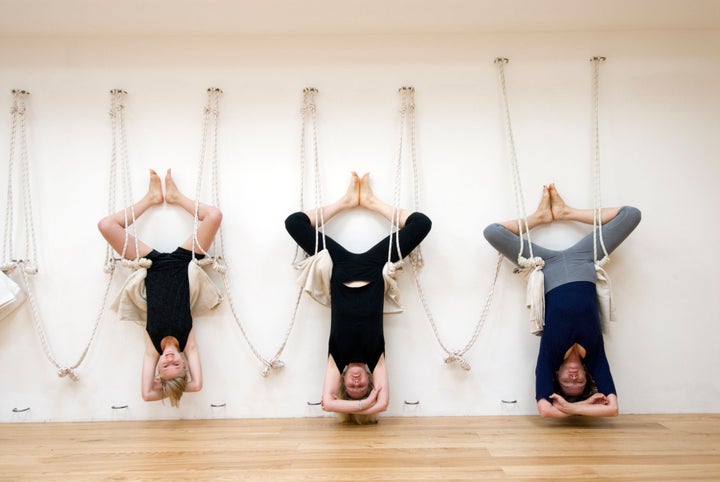 This is an interview with Kimberly Moon, who after a decade of human services work and practicing yoga began to merge these in the clinical work she was doing with at-risk youth in a residential treatment center in Massachusetts. She then decided to tackle the 200-hour yoga teacher training at Kripalu in early 2007, and went on to complete the 500-hour training. In 2008 she began working with autistic and developmentally-delayed children within the Massachusetts public school system. She used yoga and wellness-based tools to help children gain social competence and emotional regulation skills. She was inspired by the results she was seeing as well as the willingness and openness of the school system to allow her to employ a holistic approach, at least until budget cuts handed her a pink slip, She then pursued the consulting work she had started in the Caribbean region, which led to the creation of the Caribbean Yoga Conference. "The heart and soul of this conference is based in seva and fostering the Jamaican and Caribbean yoga community," says Kimberly. "This stems from my many years of work with at-risk populations and youth in particular."

Rob: What originally motivated you to do this work and what continues to motivate you? How, if at all, has that motivation changed over time?

I can't pinpoint exactly what "motivates" me to do this work. Therapy work is tough work. Building and creating an event like the Caribbean Yoga Conference and running a business is hard work. They certainly aren't the same, but the skill set for each is parallel. Building and creating (whether therapy programs, business models, or large-scale events) and helping others is what I've done most of my life. It's almost second nature to me. There is no tangible carrot dangling on the horizon that motivates me, other than to be happy and fulfilled in my personal and professional life. I do that by helping others in a way that is, in my eyes, meaningful to them and to me.
Is there a standout moment from your work in the Caribbean?
There are many. Most poignant for me was the closing ceremony at last year's Caribbean Yoga Conference, when we acknowledged the 13 scholarship recipients we hosted at the event. These were all individuals who dedicate their lives to working with Jamaica's at-risk youth populations. Many of these scholarship recipients had never set foot on a yoga mat; before the conference they had no idea what they had signed up for! To see them all mingling with the conference sangha, some crying, most inspired, was truly fulfilling. To know that those individuals would be expanding the reach of yoga-related tools to other youth was very profound.

What are two distinct ways that your teaching style differs from the way you might teach in a studio, and what are the reasons for these differences?
There really isn't much difference, other than context and venue. When I step onto the mat to teach, I always embed mind-body interconnectivity into the experience of the class. I typically address the impact every action has on other aspects of our body and being. The same goes for service and/or actions in our lives. Every action causes a ripple effect, some pleasant, some not so pleasant. Understanding cause and effect and what makes each one of us "tick" and what soothes each of us, something totally unique to every person, is key for understanding how one can have the most desirable impact on others we come in contact with.

What has been the greatest challenge in your teaching experience, and what tools have you developed for addressing that challenge?
The greatest challenge has been to learn to how to hold space for other peoples' process without taking on their shit (apologies for my language), or make it my own. Solid boundaries and allowing people to be where they are is really key in my eyes. It takes a lot of self-awareness and acknowledgment of your own crap to be able to bear witness and hold space for other peoples' "stuff."

What are some of your ideas about, or hopes for the future of, "service yoga" in America in the next decade?

I hope people keep using yoga as a back door to working with those who need it most. And I hope that people continue to be creative and inspired about how they can serve in a way that is both sustainable and meaningful.
How has this work changed your definition of service? Your definition of yoga? Your practice?

Everything in my life is in constant evolution; I don't label what is or isn't service and/or yoga. I think it all ties together quite seamlessly and simply. Yoga helps me wake up to my life more fully, and not in a fluffy, wrapped-up-in-nice-packaging kind of way. Rather, in a very real, honest way. I encounter my fears, my hopes, my desires, my disappointments, my vices, and all of that jazz in a way that I might not have been able to if it wasn't for yoga. So yoga, I guess, helps me look through transparent lenses, and with that viewpoint I create, and support those that I work with.
What other organizations do you admire?
Well, there are many amazing organizations out there, doing amazing work! But to name one: I have a lot of love, respect, and admiration for Karma Krew. Karma Krew, in my opinion, upholds an unparalleled level of integrity in all aspects of the work that they do. To me, Karma Krew eats, speaks, and breathes yoga service in our community.
Are you a yoga instructor giving back to underserved or un-served populations? Email rschware@gmail.com if you're interested in being interviewed for this series. Thank you for all you do in the name of service!
Mindful Yoga Therapy for Veterans Recovering from Trauma, a collection of simple but effective yoga practices developed by Suzanne Manafort and Dr. Daniel Libby through practical and clinical experience working with veterans coping with PTSD and other psycho-emotional stress. While benefiting trauma patients safely and comfortably, the practices can be used by anyone dealing with stress.
The Give Back Yoga Foundation is making this manual available free to veterans and VA hospitals. It is also available on the GBYF website, if you would like to purchase the book and support free distribution to veterans. This practice guide includes a supplement (poster-size) of the yoga practices.
GaiamTV.com, the world's largest online collection of conscious media including films, documentaries, yoga, and health and wellness videos, is a proud media partner of The Give Back Yoga Foundation. Together, GaiamTV.com and GBYF are helping to bring the gift of yoga to veterans and supporting programs that empower individuals, build relationships and communities, and cultivate a peaceful and healing yoga practice for all. Check out the direct link on GaiamTV.com and let us know what you think and what else you'd like to see: gaiamtv.com/gby
Help our heroes transition back to a civilian lifestyle by giving them easy access to mindfulness meditation. Veterans who take the class at the Washington, DC VA say mindfulness meditation helps them sleep better! Access is easy and anonymous. http://ow.ly/eAj77