"Excuse me, Sir, are you ok?" asked the startled maintenance worker as she wheeled her cleaning cart into the Men's Restroom. "I'm fine, give me a minute," said the man on his knees, his $35k House of Testoni leather sole's peeking from under the stall as the housekeeper exited. This man is not on his knees because he is ill, in fact, he is not alone. He is in a session, servicing Adrian who sits atop a toilette, pink stilettos resting on either side of the walls. "You can meet a millionaire on every corner in Houston, this isn't a myth!" says Adrian. Adrian, whose name has been changed to protect his identity, is a hustling exhibitionist who's up for anything his clients can dream of, for a set amount of time and price, that is. Today he is in a session with Tate, whose name has also been changed to protect his identity. Tate is a hedge fund manager who up until he met Adrian was a voyeur, someone whose experiences were based on watching someone else's desires come to life. One day, a year ago this December, Tate needed a new dress shirt as he would be attending a Christmas gathering after work and since his office is right down from The Galleria, he thought a nice walk would do him some good.
It was amongst the hustle and bustle of people crossing the street that he struck up a conversation with Adrian, who was also on his way to The Galleria, only he was in need of some racy lingerie for his role playing as a naughty elf with a client that evening. "Seriously, I thought to myself, who is this man, he looked like money and I needed to know who he was!" says Adrian. "We were both on our way to the same store, just different departments!" he laughs. With his leather Agent Provocateur purchase beautifully packaged and swinging on his arm, he went to look for his new acquaintance. "I knew what he wanted, men don't look at other men and smile the way he did, they just don't, unless they want something," says clean-cut Adrian dressed in a T-shirt, $8k Escada jeans and $2k Valentino loafers.
One conversation later, Tate was intrigued with Adrian's life tales of the discreet service he provides as a connoisseur of fantasy role-playing specifically for men on the down low, a fetish amongst some seemingly heterosexual men.
Men on the "down-low" are 9 times out of 10 in heterosexual relationships but want to experiment with the same sex without anyone knowing. And apps on his phone for gay hookups are what keeps his business thriving.
Although he's an exhibitionist at heart, Adrian is still a business man with bills to pay.
Role-playing to put himself through undergrad school, he has found that this is how he can effectively manage all his life demands. And charging $3k for a one-hour session five times a week is how he pays for his life's demands. Tate isn't his only client, he is one of 16 marks, all from different walks of life, all with the same 7 to 10 figure income and economic status who employ Adrian discreetly at least once a week to service them at their locale of choice. Not all married, but all with significant others who think their kink is too kinky for them. But not for Adrian. There isn't anything too off the wall for him, "Listen, you name it, I've done it! This past Valentine's Day one of my regulars wanted a threesome with his girlfriend and even though they had discussed it before, him being with another man as she watched before joining in, they had never been presented with the opportunity. So there I was, sitting at the bar of the hotel alone pretending to be a total stranger. He made sure they sat by me so I could strike up a conversation with his girlfriend. Thirty minutes later, I was in their penthouse apartment servicing both of them. Yes, it was a dangerous situation. Anytime you are involved with a couple, you never know if someone is going to go off in a jealous rage, but it went off without a hitch! I made sure he had transferred my fee of $9k to PayPal before I played Swingers Cupid that night!" says Adrian with a smile as he strokes his full beard and shake of his index finger. "Believe me when I say I was on the clock when I started that 30-minute conversation with his girlfriend BEFORE we headed up to the room! My time is limited and if I'm not at the gym or studying, I'm catching Z's or doing business with a client! Twenty-four hours goes like that!" says Adrian as he snaps his fingers. "But you can be successful so long as you manage your time wisely," he says and notes that he rarely has time to see his friends. And servicing his clients bringing in a little over $700k a year keeps Adrian a very busy working man.
It's not uncommon for Adrian to receive gifts from his clients before a session, it's usually something they'll want him to wear or use on them. And it's usually leather in some form.
Today, the 8-inch stilettos resting on either side of the walls in the stall are what Tate wanted Adrian to wear while he explored his manhood in the men's restroom of a high-end retailer this early morning. "It's fantasy, not real everyday life for Tate, something he wanted to experience and something I will accommodate, so long as he is on my schedule that day and he pays his fee beforehand. There won't be a problem!" says Adrian emphatically.
Adrian has never had someone broker a session for him as he says he knows other hustlers that have been cheated out of their pay when services have been rendered. "I have known some hustlers, I prefer that to Male Prostitute or Escort, that have fallen into drugs and will do whatever with the promise of getting paid. And the simple truth is that there are people who will take advantage of you if you let them. Especially if you're compromised in some way! It's never happened to me," says Adrian as he knocks on wood, "This is business and I'm a working man who will collect my paycheck before we have a good time, a good time on the clock that is!" as he taps his $115k 18k White Gold Ballon Bleu De Cartier watch noting that he is always aware of the time.
Adrian says that although most of his clients are men, women do trickle into his work and are mainly because of threesomes. He insists he isn't gay, just gay for pay as this is why he is single. "I've heard of some married guys getting into gay porn for the money and I can't fathom that their wives are 100 percent ok with it, man! I know if I had someone in my life, I WOULDN'T want them to be ok with it, you know, me sharing myself like that then coming home and wanting to be intimate with them? No." says Adrian.
"We all have to make a living right? Well, I just happen to do this, until I get out of school that is. I can't see myself working in a cubicle somewhere or part time at a retailer unlocking dressing rooms for people, that's just not me. I know what I'm good at and so long as there is a market for the fetishes I provide, why wouldn't I keep doing it until I don't have to, you know?" Every one of Adrian's client's give him a detailed version of what they would like to experience within their allotted time beforehand and he in turns tells them how much time he will give them and what fee they will incur for hiring him.
As Adrian is getting dressed to go out, I ask him who his client will be tonight. "No, I'm not on the clock tonight, just going to shoot some pool with a few friends and have a couple of beers." So with this arises the question if they know what he does for a living and the answer is yes. "Yes, they know, not everything I do but they know I'm a hustler and they don't judge me," says Adrian.
Adrian also says that even though a lot of his friends are getting married and starting a family he doesn't see himself going down that path for a while. "I have a life plan that involves my education, buying some land here in Texas and starting a different type of Entrepreneurship," what he's still not sure of, and says "then I can think about settling down and starting a family."
As he taps his Rolex to let me know he has to leave for the evening, you are reminded that even while on his downtime he is still cognizant of what time it is. And being cognizant of the time is what has made Adrian successful.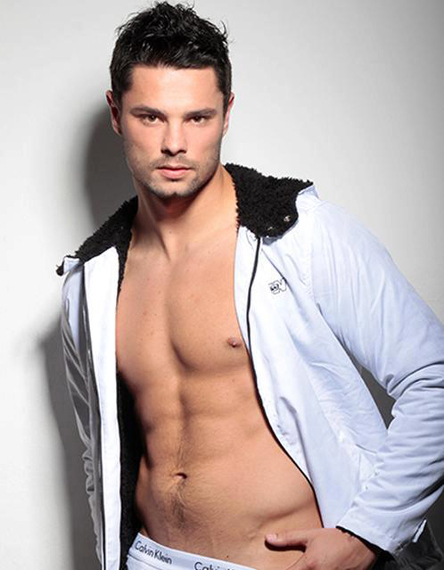 REAL LIFE. REAL NEWS. REAL VOICES.
Help us tell more of the stories that matter from voices that too often remain unheard.