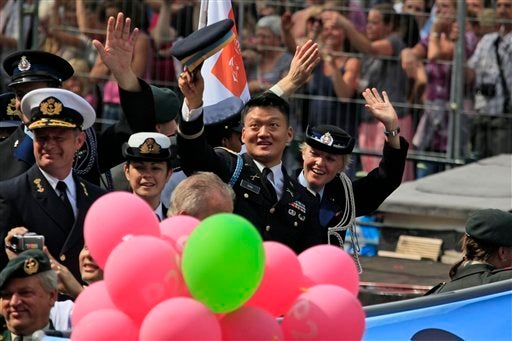 On Tuesday, September 20, we will celebrate the long overdue and unlamented end of Don't Ask, Don't Tell (DADT). For the first time in our nation's history, individuals who are lesbian, gay or bisexual (LGB) will be able to serve openly in the U.S. military, an amazing achievement long in the making. We owe a debt of gratitude to the many brave LGB service members and veterans who stood up to institutionalized discrimination and argued that their private intimate relationships have no bearing on their fitness for military service and their willingness to make the ultimate sacrifice for our country, as well as to the many organizations, activists, and political leaders who made this reform a reality.
However, notwithstanding this momentous achievement that we justly celebrate Tuesday, much work remains to be done in the military context. No sexual orientation anti-discrimination protections have been adopted into law by Congress, an executive order or military regulations. The same-sex partners and spouses of lesbian, gay, and bisexual service members and veterans largely continue to be denied rights and benefits provided to heterosexual service members' spouses. Disgracefully, the military still categorically excludes transgender individuals from service.
Moreover, the government has not yet taken steps to address the widespread and lasting harm that DADT continues to inflict upon previously-discharged service members. Many who have been discharged received less than honorable discharges or have records noting that their discharge was based on DADT, outing them and adversely affecting their job opportunities. Many who were discharged lost pensions and a raft of military and veteran's benefits. Adding insult to injury, the government continues to pursue individuals discharged under DADT to recover educational loans and enlistment bonuses, even though it was the government that wrongfully prevented them from working off those loans and benefits through continued service. Unless the military corrects these harms, new litigation can be expected.
Lambda Legal has been fighting for the rights of LGB service members since we were founded. We filed our first lawsuit against the military back in 1975. In 1992, we represented decorated Army and National Guard veteran Col. Margarethe Cammermeyer who was discharged under pre-DADT regulations because of her sexual orientation, and we won a favorable judgment two years later from a federal district judge who held the military's ban violated the equal protection and due process guarantees of the U. S. Constitution. Col. Cammermeyer's case was dramatized in the film Serving in Silence. This success and subsequent cases undoubtedly sped the way for the right of LGB individuals to serve openly and proudly, including most recently the Log Cabin Republicans v. United States of America case, in which U.S. District Court Judge Phillips declared DADT unconstitutional. She ruled not only that DADT violated the rights of LGBT soldiers by depriving them of their rights to free speech and due process; it also had a "direct and deleterious effect" on military readiness.
It is impossible to overstate the harm DADT inflicted, not only on LGB members of the U.S. military, but beyond. In the 18 years since it was signed into law, more than 13,000 lesbian, gay and bisexual service members have been discharged at a cost the government itself estimated at nearly $200 million six years ago. Thousands more have lived in constant fear of being discovered or decided not to pursue a military career at all. Moreover, as the U.S. armed forces constitute the nation's largest employer, DADT served as nothing short of a public pronouncement by the federal government that discrimination against LGB people is acceptable, that LGB people are inferior to heterosexual people, and that being lesbian, gay or bisexual is a shameful trait that ought to be concealed. Especially for these reasons, the district court's declaratory judgment in the Log Cabin Republicans case that DADT is unconstitutional should stand even after that law's repeal, both as a platform for the continued struggle to secure equal rights for LGBT service members, and as a bulwark against efforts that a subsequent administration might undertake to re-impose discrimination. As we celebrate on the 20th, let's hope that decision's recognition of how harmful DADT has been is not erased and let's rededicate ourselves to ending the ongoing harms that DADT has caused and assuring equality in the military for all LGBT Americans.
Popular in the Community