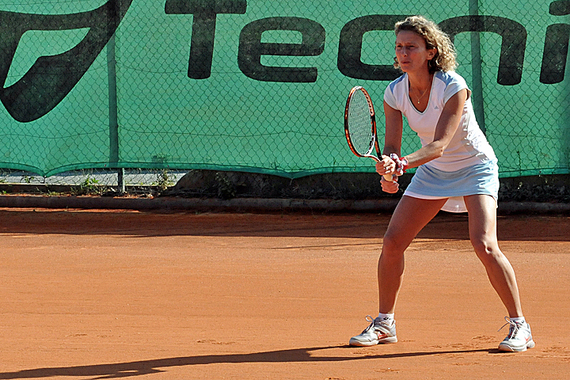 I'm a big believer that to achieve anything, you have to make success a part of your whole life, not just your work life. I work at a big consulting firm. Plus, I'm a competitive tennis player. And I love how the lessons I learn through each one really feeds success in the other.
Currently, I'm ranked number 11 in the world for singles in my International Tennis Federation age group. World rankings are achieved by winning matches in tournaments, and only your top four tournaments a year count. I play in about eight major amateur tournaments a year, and those rated higher in terms of competitiveness count more toward a world ranking.
Throughout my teenage and university years, I played at a highly competitive level in my native France. When I moved to the United Kingdom in 1996 and started working for Accenture, a global professional services company, I found it challenging to continue playing as much, due to the demands of my job and finding the right club for me to be part of.
My game really started to improve when I took a four-month leave of absence from my job five years ago. My tennis coach at the time asked me what my objectives were during the time off and advised me to enter the Seniors Amateur Circuit to get a world ranking. And so I did....
When I returned to my job as a Managing Director in Accenture after my short break from work, I was determined to make "both careers" work - and I think I am doing just that, managing the demanding schedule and travelling of my job with my training needs and finding time for tournaments. I have consistently been ranked in the top 20 in my age group on the International Federation Amateur Circuit, and I have continued to progress in my career at Accenture. I'm proud of what I've been able to accomplish, but it requires a lot of focus and organization.
I am very lucky that I have good tennis friends and coaches who are flexible on when they can train with me. For example, I always work from home one day a week and will schedule a training session on that day. It all becomes more complicated when I have to travel, but overall I make it work.
I really think that tennis--and helping my company and our clients compete--play from the same side of the net. Either at work or on the tennis court, it is about having the right training and preparation, being driven, competitive, and highly motivated. I feel that with having both as big parts of my life, I really am living my dream.
Calling all HuffPost superfans!
Sign up for membership to become a founding member and help shape HuffPost's next chapter