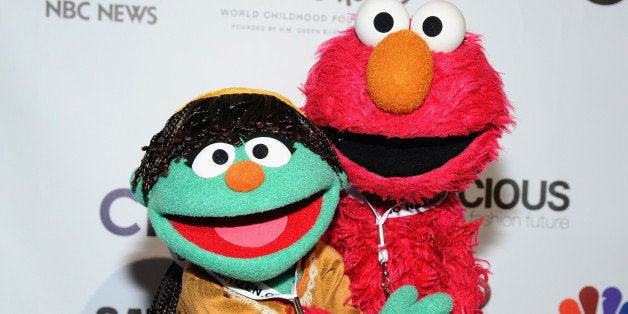 "Sesame Street" may give a lasting educational boost to children who watch it, a new study has found. But that doesn't mean long-distance learning should replace traditional preschool.
A recently released study from Wellesley College economist Phillip B. Levine and University of Maryland economist Melissa Kearney found that watching "Sesame Street" had long-term educational benefits for young children. Researchers compared kids who lived where TV stations broadcast the PBS program in its early years with those who lacked such access to the show. The children who had the chance to watch "Sesame Street" were more likely to be at the appropriate grade level for their age in later years, according to the study.
The results showed that "Sesame Street" had an especially positive impact on black children, boys and children from economically disadvantaged neighborhoods. Previous studies cited in the report found that Head Start programs seem to have a similar positive influence on children's educational outcomes.
For all the benefits of "Sesame Street," study co-author Levine told HuffPost, that doesn't mean it should be a substitute for Head Start or other early childhood education programs.
"I think what we take away from our results and analysis is what we have here is a really, really good way to augment other forms of early childhood education that could potentially boost the effect at really a very small cost," he said. "We're not arguing that educational TV or 'Sesame Street' are sufficient -- that's probably not going to do it."
Levine worries that some people will conclude from his study that "we should go back on Head Start because we can do 'Sesame Street' anyway."
Similarly, the study is not necessarily an argument for greater use of virtual education, such as the massive open online courses known as MOOCs.
"We really don't know if one is a good replacement for the other," Kyle Snow, a director for the National Association for the Education of Young Children, said about virtual vs. in-person learning.
Kara Dukakis, co-director for Too Small to Fail, an initiative that promotes the health of young children, points out that "Sesame Street" characters have gained the trust of viewers over time. Indeed, Too Small to Fail thinks well enough of their influence to have a partnership with Sesame Workshop, the nonprofit behind the show.
"I think this study really validates what we've known for a long time, which is that 'Sesame Street' in particular, but high-quality television programing overall, has a positive and a lasting effect on children's cognitive and academic development," Dukakis told HuffPost. "Whether it's in the classroom or not, 'Sesame Street' does and can have a positive effect because of its high-quality programming and because it really develops these iconic characters and have done so over generations."
The study "may give skeptics pause," co-author Kearney told NBC. "I have colleagues who don't let their children watch television, and maybe now they will."

Popular in the Community