A bright, green global ambassador for life-saving hygiene habits from Sesame Street -- the world's largest informal educator of children. Unprecedented investments in water and sanitation from the World Bank Group -- the world's largest development financier. What do Sesame Street and the World Bank Group have in common? Far more than you think...
Sesame Street conjures images of familiar and loveable Muppets at play on television sets across the U.S. So it may come as a surprise to learn that the non-profit educational organization reaches kids in over 150 countries through television, radio, and multi-media materials, as well as local adaptations of the program. And even more surprising that Sesame Street is in talks with the World Bank seeking ways to address critical problems of health and to rapidly scale up delivery of sanitation services to people in developing countries.
This growing global focus on sanitation is more important now than ever. About 20 percent of humanity -- more than 2.5 billion people -- lack access to adequate sanitation facilities, such as a toilet or improved latrine with far reaching consequences on health, development and dignity. Diseases associated with poor sanitation impede the absorption of nutrients from food, inducing malnutrition with lasting impacts on children's cognitive development and future learning potential. The health and development impacts of inadequate water supply and sanitation now eclipse those of malnutrition even in low-income countries.
Since the problem is most easily measured in the absence of toilets, it is tempting to believe that the solution may simply involve providing more and better toilets (increase the hardware). Indeed, toilets must be affordable for those who want them. Yet experience suggests that toilets built remain unused where they are not demanded. In many regions of the world where open defecation is prevalent, the practice is considered acceptable, being rooted in practices and necessity. The problem is more difficult since sanitation (like clean air) is a public good. It is only once the entire community changes sanitation practices that the spread of disease is stopped and the health benefits are realized. As such, changing behavior and shifting social norms surrounding what is and is not acceptable are among the crucial ingredients of success.
This is not new in the history of development -- the development of the industrialized countries also went through this path of behavior change.
Many have come to learn both hardware (toilets and pipes) and software (educational and behavioral insight) are crucial to lasting change. Having adopted unique social mobilization approaches, Bangladesh has outpaced many other emerging economies in South Asia, Southeast Asia, and Africa with innovations in community engagement and market creation that have significantly reduced open defecation. While this is an important step in changing behaviors, it is not sufficient.
At times, particularly times of unanticipated crisis and extreme hardship, communities can regress into former ways. This should be of no surprise as some of the behavioral drivers are deeply entrenched in the fabric of society and require long-term, sustained dialogue and support. Changing behavior is a process, not a single event.
Sesame Street has learned from over 45 years of experience engaging and educating children -- most recently through providing tools like water, sanitation and hygiene (WASH) education to the most vulnerable kids in India, Nigeria and Bangladesh -- that giving children the tools to better their communities is where lasting change truly begins. It certainly helps when Sesame Street's first Global Health Ambassador, Raya, was created specifically as a champion for children and a communication vehicle to show kids, families and communities about proper WASH behaviors like hand washing with soap and wearing footwear in the latrine. This can also transform children from recipients of health interventions to active participants in their own health and wellbeing.
Shifting social norms will take concerted effort across several fronts. Identifying champions for children like Sesame's Muppets, can play a pivotal role, so too can other non-profits like BRAC, Global Poverty Project, and KWAHO, together with leaders in countries -- working with international organizations like the UN and World Bank.
At the intersection of Sesame Street's ability to educate and empower kids and families and the World Bank's expertise and financial support to countries' efforts to reach families with sanitation and water services, we look forward to exploring innovative, large-scale, and lasting solutions.
To achieve a fairer and more prosperous world free of poverty, we need to think in new ways, and build broad coalitions to support the relations between citizens and their States to scale up service delivery. This is a space and a challenge that we are compelled to take on to help reduce suffering associated with extreme poverty, boost shared prosperity, and help every child grow smarter, stronger and kinder.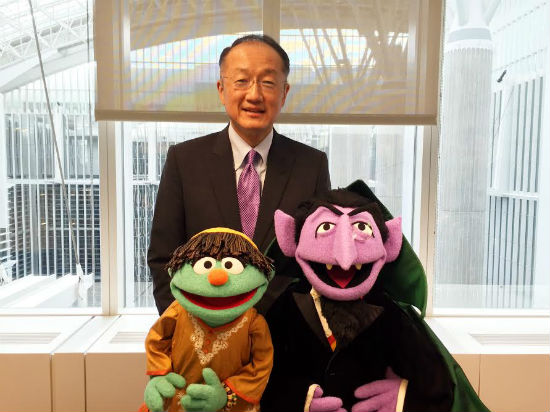 President of the World Bank Dr. Jim Kim, Raya and The Count from Sesame Street.
Calling all HuffPost superfans!
Sign up for membership to become a founding member and help shape HuffPost's next chapter