Over the course of July I have been working with non-profit Semilla Nueva in rural Guatemala, learning stories from local women about their families, their lives and their hopes. While the crisis of unaccompanied children flooding to the United States border continues, I've had a chance to learn about why some families embrace migration, why some families don't and hopeful strategies to keep families together in Guatemala.
Meet Esperanza Sales. The first thing I noticed when walking up to Esperanza's house was a huge metal cylinder -- a soybean processor. Although I've now spent hours driving through rural Guatemala, passing corn fields, rubber trees and sugar cane plantations for what seems like infinity, I never saw a single soy plant. Though soy is a very uncommon crop in Guatemala, Esperanza has managed to build her life off of it.
Esperanza was born into a long line of farmers in Caballo Blanco, a community along the Southern Coast of Guatemala, not far from where she lives today. At a young age she was abandoned to live with her grandparents. With very little money, her grandparents could only afford to send her to school for a year; consequently her reading and writing is at a rudimentary level. But soy helped change that.
Esperanza and her husband started working with soy twenty-three years ago, and since then, have created a life for themselves and their children. Every morning, Esperanza wakes up at 5am to ride two hours to the closest city of Retalhuleu, where she sells tremendous quantities of bread, soy flour and milk. "The soy has carried my family through," she says proudly.
Between selling her goods and harvesting soy, she plans on putting all eight of her children through school. Currently, one of her sons is studying at a university in Quetzaltenango to become an architect, two others have already graduated and are working as teachers and another hopes to study to become an electrician. Her entrepreneurship and ability to take initiative with her life has helped her and her family find alternatives to the solution that so many poor Guatemalans have turned to -- going the US.
Esperanza has attended numerous training courses where she has learned dozens of ways to cook soy. She is a regular participant in Semilla Nueva's Food Security Program where she is able to share her knowledge of various recipes to improve nutrition in her community and empower the women of the community. Thanks to these numerous courses she is picking up where she left off as a child, and can now proficiently read and write.
Similar to every mother's dream, she is determined that her eight children find better jobs, and rise out of the cycle of poverty in rural Guatemala one which many young people are fleeing from.
Over the years, Esperanza has fought the urge to immigrate to the United States. Her determination has led her to another path, to pull herself up by her bootstraps and make it happen in her homeland, something she has instilled in her children. Esperanza believes that for Guatemalans to stay in their homeland they have to keep working hard and they have to keep studying. Her son believes he will still be able to help his family here in Guatemala. "It's hard, but now that I'm finishing my studies I can get a job and help my siblings." Esperanza's kids are choosing to invest their time in their homeland because their mother has given them hope of a bright future in their own country.
Though it has been tough, Esperanza Sales explains that she has managed to push her family through, propelled by new agricultural strategies like soy and a willingness to "sacrifice myself so that there's money for my kids to go forward, helping our country move forward with them." She is a strong believer that in order to create conditions under which people want to stay and seek a sustainable future in their country education is necessary, and will help her neighbors avoid the colossal risk and cost of traveling the long road north.
Esperanza is an inspirational community leader who says she enjoys telling her story to other women. Her story is a reminder to her neighbors of how it is possible to succeed the traditional Guatemalan way -- through agriculture and hard work.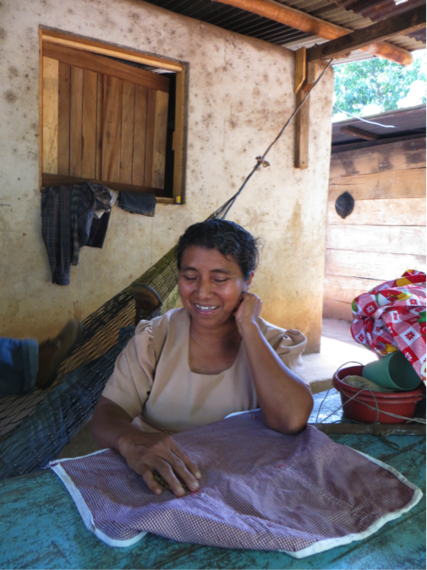 Esperanza smiles down on her soy.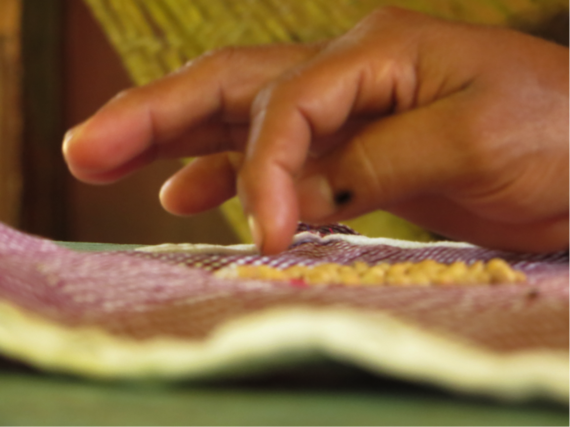 Soy is the crop that "carried" Esperanza's family through.
REAL LIFE. REAL NEWS. REAL VOICES.
Help us tell more of the stories that matter from voices that too often remain unheard.