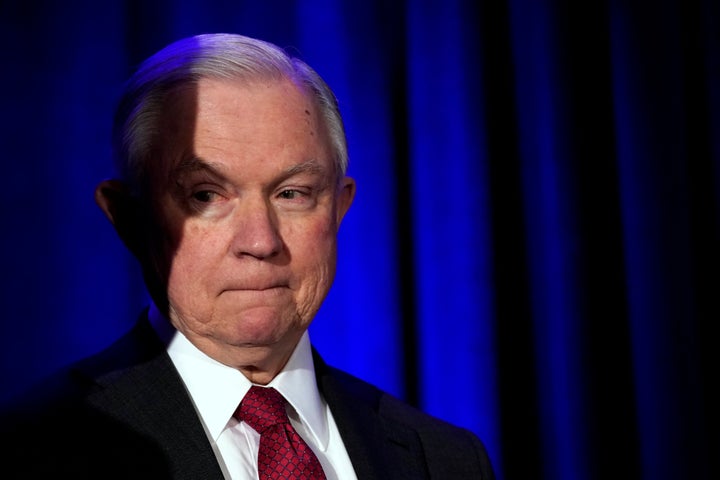 WASHINGTON ― Attorney General Jeff Sessions is taking steps toward reshaping asylum policy, potentially in a way that keeps victims of domestic violence and other crime from receiving relief.
As attorney general, Sessions has broad powers over immigration courts, which are part of the Department of Justice, not the judicial branch. Sessions has the authority to refer cases to himself, overturn decisions of the Board of Immigration Appeals and set precedents.
Now, Sessions is set to personally decide the fate of a Salvadoran woman the appeals board deemed eligible for asylum more than a year ago. If Session rules against the woman, he could ensure that she is deported instead of being granted asylum — and that future immigrants seeking asylum on similar grounds meet a similar fate.
Sessions has already referred three immigration cases to himself this year — an uncommonly high rate that alarmed experts who fear he is gearing up to dramatically shrink the parameters for who can be spared from deportation.
"Are they sitting around the Justice Department looking at every pro-immigrant [Board of Immigration Appeals] decision and trying to figure out a way to gut it?" immigration attorney Hassan Ahmad said, referring to the appeals board that Sessions can supersede.
In two of the three cases, Sessions is still in the review stage and has yet to make a final decision. He has indicated that he believes the asylum system is rampant with fraud and that more should be done to remove those cases from overcrowded court dockets.
The question now is whether he will change policies in a way that keeps people from receiving asylum even if they do have what is currently considered to be a legitimate case for it, including the large number of Central Americans seeking asylum based on domestic violence and criminal gang persecution.
The most recent case Sessions took up for review is for a woman referred to as A.B. in court documents. She is seeking asylum in the United States based on domestic violence she suffered for years under her ex-husband in El Salvador, which was corroborated by two protective orders and affidavits of former neighbors who witnessed the abuse, according to court documents. She says her ex-husband raped her in 2014, a year after they were divorced and three years after she left him. She says she received threats from both her ex-husband's brother, who is a police officer, and his friend, who said her ex would kill her and he would help him dispose of her body, according to the filings.
Her attorney argued that she was eligible for asylum. Not everyone who has been persecuted or fears persecution can receive asylum in the U.S.; they must show they were targeted for a reason, one being membership in a particular social group. Since a landmark Board of Immigration Appeals decision in 2014, some victims of domestic violence have been able to get asylum as members of one such specific social group: "married women in Guatemala who are unable to leave their relationship," a precedent judges have also applied to women from other countries with similar circumstances.
North Carolina-based immigration Judge V. Stuart Couch rejected A.B.'s asylum claim in December 2015. He denies most asylum cases ― from fiscal years 2012 to 2017, he rejected about 86 percent of such claims, according to data collected by the Transactional Records Access Clearinghouse at Syracuse University. That puts him well above average for denial rates. Nationwide, immigration judges denied nearly 53 percent of asylum claims during the same period, according to TRAC.
A.B. took her case to the Board of Immigration Appeals, which disagreed with Couch's ruling. In December 2016, the board issued a order concluding that A.B. met her burden of proof for being in need of asylum.
But Couch didn't follow through and grant A.B. asylum. Instead, her case sat for months, even after she passed her background check. That's because Couch disagreed with the Board of Immigration Appeals. Eight months after the board said A.B. should receive asylum, Couch sent her case back to the board to consider it again, arguing she was ineligible because of other court orders rejecting asylum claims, including one from months after the board instructed him to grant A.B. relief pending a background check.
In light of other courts' rulings, the precedent that the board cited to say A.B. was eligible for asylum may not be legally valid in his jurisdiction, Couch wrote in a document returning the case to the Board of Immigration Appeals.
"Are they sitting around the Justice Department looking at every pro-immigrant [Board of Immigration Appeals] decision and trying to figure out a way to gut it?"
The attorney general hasn't yet made a final decision. But if Sessions ultimately decides that A.B. shouldn't get asylum, he could also choose to set precedent that makes it harder for other domestic violence victims to receive it. Sessions also indicated he may be looking at asylum more broadly for people who are victims of private criminal activity ― something that could implicate asylum-seekers who were persecuted by gangs.
"The concern is, is this some type of reversal of the hard-fought gains that have been made over the last two decades in the specific world of domestic violence?" said Jeremy McKinney, national secretary for the American Immigration Lawyers Association.
Sessions is flexing his power over the immigration courts elsewhere, too.
In January, Sessions requested briefs on a case related to the power of immigration judges to administratively close cases, which is effectively a pause on removal proceedings, often while an individual has a pending application for a visa or other relief. Sessions asked for briefs to also address what should happen to the roughly 350,000 cases that are currently administratively closed, should he determine that judges did not have the authority to close them. The Department of Justice declined to comment on his considerations for that case.
Last Monday, Sessions referred another case to himself. This time, he didn't ask for briefs to make a decision later ― he scrapped a prior decision by the Board of Immigration Appeals holding that applicants for asylum have the right to a full hearing before a judge. Supporters of the board's decision argue it is important for immigrants to get a chance to explain their asylum request rather than being rejected based on an application they may have filled out with no legal representation or understanding of what is relevant based on complex asylum law.
""Even apart from Jeff Sessions, I've never liked the idea that the attorney general can review a decision of the BIA [Board of Immigration Appeals] at all.""
Sessions and his backers say these hearings aren't necessary ― if someone's application isn't legally viable, they argue, why spend the time on a full hearing, especially when courts are backlogged.
"Bad asylum cases prevent good asylum cases from being heard in timely manner," said Andrew R. Arthur, a former immigration judge who is now a fellow for the Center for Immigration Studies, which advocates for lower immigration levels.
The way Sessions made the move procedurally didn't quite instruct judges to deny asylum without hearings, experts said. He didn't reverse the board's decision formally, but instead just rendered it moot because the individual in the case had withdrawn his asylum application.
This creates a "legal vacuum," said McKinney of the American Immigration Lawyers Association. Some judges may take the decision to mean they can and should reject certain asylum claims without a hearing; if they do, attorneys will likely appeal, potentially putting the entire question back before the Board of Immigration Appeals.
Sessions' power over the immigration courts extends to hiring, too, and he plans to do more of it. The idea of expanding immigration court resources is fairly non-controversial ― people on all sides agree that getting cases processed more efficiently would be a good thing, so long as immigrants' due process is respected.
Sessions announced his intent in February to expand the Board of Immigration Appeals from 17 members to 21, something that will allow him to add more judges who potentially share his views on immigration policy.
Whether judges align with Sessions or not, he, like other attorneys general, will have the power to supersede them in a way that couldn't happen in other types of courts.
"Even apart from Jeff Sessions, I've never liked the idea that the attorney general can review a decision of the BIA [Board of Immigration Appeals[ at all," said Stephen Legomsky, a former lead counsel for U.S. Citizenship and Immigration Services under the Obama administration. "When the attorney general substitutes his decision for that of the BIA, it would be analogous to a prosecutor in a criminal case deciding the case."
Before You Go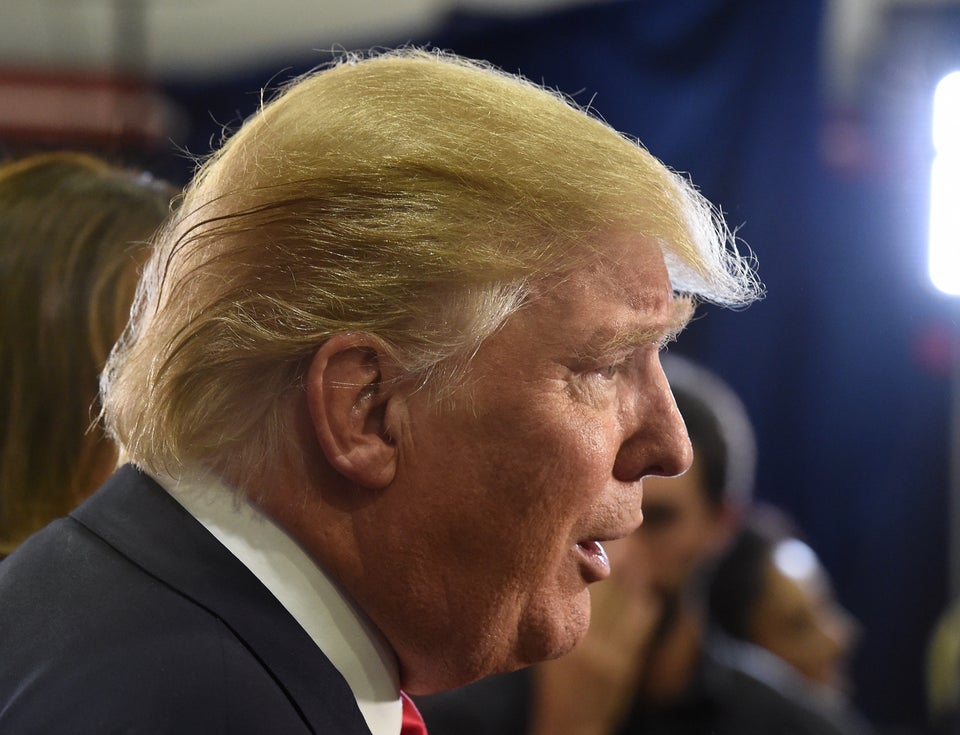 How Donald Trump Talks About Undocumented Immigrants
Popular in the Community